​From community relations to volunteerism to strategic partnerships, discover the many ways Post makes civic engagement personal.
Check out the Post University Magazine!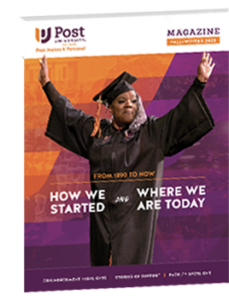 See the impact that our students, faculty, and alumni are having on our campus and on the world around them.
Post University is pleased to announce that its students Jenna Abeyta, Jennifer Riquelme and Alyssa Hughes have been selected as the 2023 Business Women's Forum (BWF) Jaci Carroll Scholarship recipients.
Support the American Red Cross Blood Drive happening on the Post University campus. This blood drive is open to the community and will run from 11 a.m. to 4 p.m.
The 2022 Leadership Greater Waterbury program concluded on June 21 with a graduation ceremony at Post Downtown, recognizing the accomplishments of fourteen professionals from across the greater Waterbury region, including two Post associates.