Ensuring Learning Success in Every Course
Online for better work, family, and school balance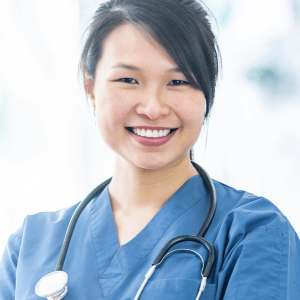 When you join our healthcare community, you will get personal support from enrollment to graduation. Your dedicated Student Success Advisor will guide you through Orientation, registration, and help with any questions you may have. You will have access to our virtual library, Writing Center, tutoring, career center, and more. Within each course, you will interact with experienced nursing instructors and peers, but you will not have set login times or assigned group work. Most of our students work full time, so we believe in flexibility in your start dates and course scheduling; this allows you to earn your degree when and where you would like.
Courses were developed for online delivery by nursing leaders and educators specifically for busy, working professionals. Healthcare management and nursing course work incorporates traditional discussion forums and assignments with innovative technological approaches such as virtual simulations. 
To ensure all students are able to achieve nursing course work and program objectives, our experienced professors will:
Outline objectives at the beginning of each course
Use textbooks and resources written by industry experts
Guide students throughout the learning process
Be available for questions
Direct students to complimentary tutoring for more help on difficult concepts or writing
Provide detailed, timely, and constructive feedback
Textbooks
For courses that require textbooks, students can purchase or rent these from any preferred vendor. Textbook information is located within the course details as noted in the relevant academic calendar: Some courses use other types of materials such as online articles.
Please access the American Sentinel bookstore via the Student Center in Moodle.
New Student Orientation
This short, self-directed course is designed to help students feel comfortable and knowledgeable with the online learning process from day one. Video tutorials and practice activities cover common online classroom tasks, including how to post in discussion forums, upload assignments, and navigate important resources.
Computer Requirements
The following computer and Internet provisions are required:
Computer and processor: 2 – 3 GHz or greater (Intel Pentium or Celeron, or AMD Athlon processors); Intel's i5 or i7 or equivalent is recommended, 5 years or newer
Memory: 1 GB minimum. 4-8GB recommended
Hard drive: 80 GB or larger
Display: 1024×768 or greater monitor and video card
Operating system: 64-bit Microsoft Windows 7 or later versions. Mac OS X
Security: A current anti-virus program
Internet browser: Internet Explorer 9.0, Google Chrome (most recent), Firefox (most recent)
Internet access: Broadband connection is highly recommended; media-rich content is included within courses and externally referenced materials
Audio: Sound card with speakers or headphones
Microsoft Office 2003 or later
Email address
Adobe Acrobat PDF Reader (Free)
Notes:
A web camera and functional microphone are required for courses using Proctor U
Apple computer users in academic programs that require MS Project will need to purchase Parallels in order to run Windows-only software
Google Chromebooks, tablets, and mobile devices will not run certain software applications (ShadowHealth, ProctorU, and SentinelU products such as Sentinel City® and Sentinel Town®)—students with these devices will need access to a laptop or computer to complete activities requiring these programs
Support When You Need
Ready to get into online nursing courses but have some questions about software, hardware or other computer requirements? Contact your admissions advisor now at 866.922.5690 to talk about the technical support we offer through our 24/7 help desk.
Get Started on Your Degree!