Choose Where, When and How to Complete Training
At Post University, we appreciate the dedication of the law enforcement professionals who serve us and our communities. And we're proud to offer the skills training and recertification resources they may need for training credit.
Each Post University Police Recertification course is eligible for considerations of POST-C credit hours towards recertification.
There are no set training times—courses can be completed online, anytime, anywhere, and on just about any device. One more thing: Your first course of this police recertification training is on us, as our thank you for your service.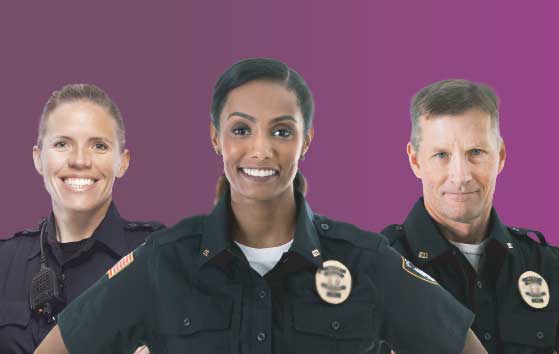 Dynamic Courses
Developed by highly-trained POST-C Certified Instructors
Concise training segments for strong retention of material
Interactive, app-like platform

Self-paced Learning
Available on desktop, tablet & mobile viewing devices
"Stop & Go" as you please with on-demand course materials
Complete courses within your regular work schedule

Cost Saving Benefits
Competitive market pricing
Department pricing available
Individual-based learning to reduce training days, overtime and scheduling conflicts
Consider the Benefits of Online Recertification
"If a police department is looking to send their police officers to a course and they want to save some financial resources, the Post Police Recertification training is the modality that you want to use because it is flexible, it is nimble, it is modern, it is progressive."
– Salvatore Nesci, MPA, MBA
POST-C Certified Instructor
Watch the video to learn more.
Try the Complimentary Cultural Diversity and Awareness Course Today!
This is a self-paced training course that outlines the value and benefits of cultural awareness and diversity by examining key concepts such as mental models, prejudice, discrimination, cultural sensitivity, and effective communication.
This course also meets the POST-C review training credit requirements as approved by Connecticut's Police Officer Standards and Training Council, Field Services Training Division which provides in-service training to Connecticut certified police officers statewide.
Get Started on Your Degree
Police Departments and Sheriff's Offices throughout the country are looking for their next generation of leaders. Post University offers a variety of flexible career-focused undergraduate and postgraduate degree programs for working police officers, sheriff's deputies, and troopers.
Subject Matter Experts (SMEs)
Alexander Wilde
Alexander Wilde was hired by the Bridgeport Police Department in April 2008. After graduating the academy, he was assigned to the patrol division and the S.E.T. (Strategic Enforcement Team), specifically to target areas of the city with significant violent crime. In 2016, Alexander Wilde was appointed to the Bridgeport Police Academy and assisted with the development and instruction of 6 recruit classes. In 2021 he was promoted to the rank of Police Sergeant and was assigned to city housing as the Community Housing Sergeant. In 2022, he was assigned to Project Longevity, which is a comprehensive initiative program to reduce gun violence within the city. Sgt. Wilde is a POST-C certified instructor in the areas of Notetaking and Report Writing, Practical Skills, Use of Less Lethal Force (OC;EDW;Chem/Spec. Munitions), Driver Simulator, Vehicle Control, Pursuit Driving, EVOC, Supervisor/Subordinate Relations, Human Trafficking, and Intoximeter Certification.
Prior to his appointment with the Bridgeport Police Department, Sgt. Wilde was an Enlisted Soldier with the Connecticut Army National Guard attaining the rank of Sergeant First Class as a Military Police Officer. He deployed to Iraq in support of Operation Iraqi Freedom in 2003/2004 and 2009/2010. He served a total of 22 years and retired from active duty in 2016.
Alexander graduated from Naugatuck Valley Community Technical College with an Associates degree in Criminal Justice.
Amanda K. Nardozzi
Amanda K. Nardozzi joined the Naugatuck, Connecticut Police Department in 2001 where she has held numerous positions including Detective Sergeant heading the Youth & Special Investigation Division, Patrol Sergeant, Detective, Patrol Officer, D.A.R.E Officer, and Bicycle Patrol Officer. Since 2004 she has been a member of the federal Internet Crimes Against Children Task Force, specializing in child exploitation investigations.  In 2015 she was sworn in as a federal task force member with the U.S. Department of Homeland Security assigned to the Human Trafficking Task Force.  Amanda was also member of the Regional Traffic Unit and the Departments Honor Guard.
Amanda is an adjunct faculty member at the University of Bridgeport. Amanda is the former Associate Program Chair for the School of Criminal Justice at the John P. Burke School of Public Service and Education, and now the director of the Police Recertification Program at Post University. Since 2006 she has been a State of Connecticut POSTC Certified Instructor in the areas of juvenile law, mental health, sexual assault investigations, rape crisis, and domestic violence.
Amanda graduated from Post University with a Bachelor of Science degree in Criminal Justice, from Nova Southeastern University with a Master of Science degree in Forensic Psychology, from Walden University with a Master of Philosophy degree in Psychology and a Doctor of Philosophy degree in Psychology.  Her areas of academic and research interests are post-traumatic stress disorder and compassion fatigue.
Amanda has been a member of the International Association of Women Police, is a Commissioner for the Waterbury Board of Education and a Board of Directors member for the Boys and Girls Club of Greater Waterbury.
Catherine O'Neill
Catherine O'Neill is a Registered Nurse with extensive experience working in both large academic trauma centers and community hospitals. The majority of Catherine's career has centered on Emergency and Trauma Nursing, which requires skillful management of behavioral health patients. Catherine has served as department charge and chaired several research-based quality improvement committees.
Catherine is currently an off-hours triage RN for one of the state's largest primary care providers, addressing patients' health needs remotely in the early morning and late night hours. Catherine is additionally employed as an off-shift nursing supervisor at a local hospital.
Catherine holds a Bachelor's of Science in Nursing and a Master's of Business Administration, specialized in Healthcare Systems Leadership. Catherine also maintains an active Registered Nurse license in the State of Connecticut.
Christopher Chute
Christopher Chute has twenty five years of Law Enforcement experience. Most of his career was spent in investigations. He is the Chief of Police with the New Britain Police Department. Chief Chute is a certified instructor for P.O.S.T.C. as well as an Adjunct Professor at Post University. He holds a Bachelor's Degree in Political Science/Public Administration and a Master's of Science Degree in Computer Information Technology.
Chief Chute sits on the Board of Directors for the Connecticut Chiefs of Police Association as well as the CT Special Olympics Law Enforcement Torch Run Council.
Chief Chute is a Certified Polygraph Examiner with more than 19 years of experience conducting criminal examinations. He is also P.O.S.T. authorized to conduct pre-employment screenings in Connecticut. He graduated from the Texas Department of Public Safety Polygraph School in 2003. He is a member of the American Association of Police Polygraphists and the past president of the Connecticut Polygraph Association. Chief Chute has received countless hours of continuing education in the areas of Polygraph and Interviewing and Interrogation. He has obtained numerous confessions from murderers, pedophiles, burglars, arsonists, etc.
Chief Chute has extensive experience and training in the areas of Criminal Investigation including: Crime Scene Processing, Crime Scene Photography, Fingerprint Classification, Suspect Identification etc. He holds years of experience authoring arrest warrants and search warrants as well as testifying in court.
Chief Chute is a Certified Computer Forensic Examiner and skilled at acquiring and analyzing data from all types of digital devices. He has conducted examinations on digital devices for investigations ranging from high profile homicides to simple harassment cases.
Chief Chute is a graduate of the 76th Southern Police Institute's Command Officer Development Course and the recipient of the Director's Award for having the highest academic average in his class of 41 students.
Chief Chute is an experienced instructor known for relating course content to real life experiences through demonstrations, hands-on exercises, multimedia presentations, and role playing.
Jared Dillon
Officer Jared Dillon has been an active Police Officer with the Guilford Police Department since 2014. For the past four years, Jared has served as the department's training officer, managing and coordinating the training of all officers within the department, as well as assisting in the department's State, and CALEA Accreditation. He is a four-time MADD award winner, a certified Accident Reconstructionist and member of the South Central Connecticut Traffic Unit, an F.T.O., E.M.T., Draeger Instructor, Fair & Impartial Policing Instructor, and a basic first aid/CPR/AED instructor. Jared is currently pursuing his bachelor's degree in public safety administration.
John Healey
Detective John Healey
Waterbury Department, Waterbury Connecticut
Currently assigned to the Youth Squad
Patrol division (1997)
Vice Squad Tactical Narcotics Team
Promoted

to

Detective

assigned

to

Criminal

Investigations

Bureau

Major

crime

unit

Assisted GTF in latin King investigation

Investigator in Vice squad

Conducted

investigation

into

the

outlaws

Motorcycle

Club

with

Naugatuck

PD

and ATF
States Attorney Class POSTC
Instructors Class POST C
FBI Instructor Class MS-13
ATF Class 1% Outlaw Motorcycle Clubs
Gang Instructor Waterbury Police Academy/Recertification
Awards
Level

2 Department

Police

Commendation

Award

Level

3 Department

Meritorious

Award

Numerous Level

4 Police Excellence Awards

 

Courage

of

Connecticut

Award
Jose Diaz
Lieutenant Jose Diaz has been employed by The City of Waterbury, Connecticut, Police Department since April 2006. Lt. Diaz has worked in various divisions, including the Patrol Division, Police Activity League, Police Explorer, and Training Division. As a sergeant, he was the Officer in Command of the Community Relations Division and helped establish the city's first Mounted Police Unit. He is a member of the Waterbury, CT Police Emergency Response Team, serving as the team's Paramedic/SWAT Operator. Once promoted to the rank of Lieutenant, he worked in the Patrol Division, and is currently assigned to the Internal Affairs Division.
He is a State of Connecticut Emergency Medical Services and American Heart Association Instructor teaching Advance Life Support and Pediatric Advanced Life Support Courses. He is an American College of Healthcare Executives member and an active member of the Connecticut Chapter. Currently, as a Post University Adjunct Instructor in the Criminal Justice undergraduate degree program. I have worked as a subject matter expert and course developer for various courses such as Community Policing and Supervision in Policing for numerous years. I also teach at various collegiate-level institutions throughout the State of Connecticut. 
Lt. Diaz holds a certificate degree from Naugatuck Valley Community College in Connecticut in Paramedic Studies, a B.S. degree with a concentration in Public Service Administration from Charter Oak State College  and a Master's degree in Public Administration from Post University.
Throughout his career, Lt. Diaz has received Excellent Police Duty Awards and Life-Saving Awards.
Kimberly Binette
Kimberly Binette was hired by the Waterbury Police Department in July 2007. In August 2012, she was assigned to the Youth Squad as a School Resource Officer. In July 2014 Kimberly was assigned to the Sex Crimes Unit in the Criminal Investigations Bureau, in June 2015 she was appointed as Acting Detective in the Sex Crimes Unit and in 2017 was appointed Detective. In 2018 she was promoted to Sergeant and appointed as the Sergeant in Charge of the Sex Crimes Unit. In 2021 Kimberly was appointed as Officer in Charge of the Youth Squad. Kimberly Binette is a POST Certified Instructor for the Waterbury Police Academy and Training Division. She instructs Rape Crisis, Domestic Violence, Human Trafficking, Conflict Management, and Arrest and Control. Kimberly is also an Adjunct Faculty member of Post University Criminal Justice Program.
Kimberly Binette was born and raised in the City of Waterbury. She graduated from Sacred Heart High School and Post University where she earned a Bachelor of Science Degree in Legal Studies. She earned a Master of Science Degree in Education from the University of Bridgeport and a Master of Public Administration Degree from Post University.
Lawrence Terra
Academic Background:
Massachusetts School of Law at Andover, Juris Doctor (JD)
Excelsior College / Member of the University of State of New York, Bachelor of Science (BS-Cum Laude), Business
Graduate of the Connecticut State Police Academy 102nd Training Troop
Graduate of the Municipal Police Training Academy 208 Training Session
POSTC Instructor 3376 – Area 208 Search and Seizure 
Professional Background:
Lawrence Terra draws upon thirty-four (34) years of law enforcement experience. Early on in his career, he served as a municipal police officer for five (5) years and a federal law enforcement officer with the U.S. Coast Guard Reserve for eight (8) years. He then served twenty (20) years as a Connecticut State Trooper, rising to the rank of Lieutenant before retiring. He recently served as the second-in-command of the Canton Connecticut Police Department for over seven (7) years and held the rank of Captain. Currently he is an Assistant Police Chief with the West Hartford Connecticut Police Department.
In a separate and distinct capacity he is also a practicing attorney and associated with a private law firm in Connecticut, which handles civil law matters and training for law enforcement agencies.
Contact information:
Email: [email protected]
Phone: (203)828-2368 (Fuze)
Maggie Vargas

Maggie was born and raised in Puerto Rico. She arrived to the United States in 1986. Maggie's journey to becoming a police officer was anything but traditional. The unexpected and unusual opportunity to become a police officer stemmed from struggling with homelessness and being a single mother.  These personal challenges have given Maggie a unique and more inclusive perspective into community policing and the criminal justice system.
Maggie graduated from Naugatuck Valley Community College with dual Associate's degrees in Criminal Justice and Liberal Arts. Maggie continued her education by earning a Bachelor of Science degree in Justice and Law Administration from Western Connecticut State University (Danbury, CT); a Master of Science degree in Education from the University of New Haven (West Haven, CT); and a Doctorate in Public Safety and Emergency Management from Capella University (Minneapolis, MN). Over her career, Maggie has been recognized with several police awards and commendations.
Maggie began her law enforcement career twenty-five years ago, serving a Connecticut municipality for 8 years before accepting a position with the UConn Police Department. Maggie has worked numerous assignments throughout her career, including Patrol, the Detective Bureau, Training, Professional Standards, Policy & Planning, Community Outreach, Clery, and the management of the accreditation process. Maggie was appointed as the UConn Police Department Deputy Chief of Police in March of 2017.
Maggie started the women's self-defense program at UConn that eventually was transformed into what is now called Surviving Violent Encounters. Maggie created the Safety Techniques Awareness Resources Team (START) in an effort to initiate conversations about consent and increase awareness regarding the social problem of sexual assault on our campuses. While supervising the detective bureau, Maggie created the special victim's unit to investigate sex assault through a trauma focused response lens. The goal of this initiative was to strengthen the capacity of officers to provide an effective response to victims of sexual assault from the initial report through the court process.  Maggie was instrumental in laying the groundwork for the Department facility dog program. Tildy our department's first facility dog has a new partner named Carson, who will serve the regional communities thanks to Maggie's expansion of the program.
Maggie prioritizes community engagement and outreach by regularly connecting with the community members she serves at UConn Health and at the Regional Campuses.  Maggie's vision aligns with 21st Century Policing and focuses on improving and nurturing community relations, increasing diversity in recruitment, focusing on officer retention, and modernizing organizational effectiveness. Maggie believes in employing feedback from officers and the community to identify innovative ways to inspire and motivate officers. Maggie currently serves on the Governor's Police Transparency and Accountability Task Force.
Maggie loves dogs and is passionate about senior dog rescue. Maggie volunteers with Cubby's Crusade Dog Rescue where she has served as a foster home, conducted placement and is active in fundraising for the agency.
Maggie is a POST-C certified instructor of the following courses: Suicide Recognition, Leadership, and Field Training Responsibility. Maggie is a member of the International Association of Chiefs of Police (IACP); the National Association of Women Law Enforcement Executives (NAWLEE); the Police Association of Connecticut (PAC); and the Connecticut Police Accreditation Coalition (Conn-Pac).
Mario Caruso III
Officer Mario Caruso III has been a certified member of the Clinton, CT Police Department since 2016 and is currently assigned to the patrol division.
Officer Caruso is a Crash Reconstructionist, Field Training Officer, Firearms Armorer, and a Firearms Instructor. Officer Caruso is a POST-C Instructor in the areas of Firearms, Shooting Decisions, Low Light/No Light, Less Lethal Munitions, and Blue on Blue Off-Duty Encounters
Officer Caruso holds a bachelor's degree in Criminal Justice from Norwich University.
Pete Hsieh
Pete Hsieh is a retired law enforcement officer served with the Federal Bureau of Investigation, Immigration and Customs Enforcement, and Homeland Security Investigations. He is experienced in a wide array of investigative disciplines, including organized crime, human trafficking, terrorism, and special operations, with certifications as a technically trained agent, forensic linguist (Mandarin Chinese), undercover employee, Special Weapons and Tactics entry team member, and crisis negotiator. Pete holds a Bachelor of Science in Engineering from the US Military Academy at West Point, a Master of Criminal Justice from Boston University, and is a Certified Information Security Systems Professional (CISSP).
Ryan Bessette
Lieutenant Bessette is currently a 16-year veteran of the Waterbury Police Department since 2005. He has served in several positions in the patrol and community relations division.
In April of 2017, Lieutenant Bessette was promoted to the rank of Sergeant and was assigned as the Officer in Charge (OIC) of the Community Relations Division. In 2018, he was assigned as Officer in Charge (OIC) of the Waterbury Police Activity League and in September 2021 he was promoted to the rank of Lieutenant and assigned as Officer in Charge of Community Relations, Police Activity League (PAL) and he also serves as the WPD Public Information Officer (PIO).
Lieutenant Bessette is a graduate of Naugatuck Valley Community College where he earned an Associate Degree in Criminal Justice. He later attended Post University earning a Bachelor of Science in Legal Studies and a Master of Science Degree in Criminal Justice from Boston University.
Salvatore J. Nesci
Salvatore "Sal" Nesci retired from the Meriden, Connecticut Police Department in August 2016. There, Sal held numerous leadership positions, including School Resource Officer, D.A.R.E. Officer, Crisis Negotiator, Grants Administrator, Gang Intelligence Unit Supervisor, Community Police & School Resource Officer Unit Commander, Internal Affairs/Public Information Unit Commander, Professional Standards Commander, Acting Captain of Administration, and Acting Captain of Patrol.
Upon his retirement from Meriden PD, Sal became the Police Commander for the South-Central Connecticut Regional Water Authority(RWA) Police Department. The RWA, located in New Haven, Connecticut, provides 46 million gallons of water to 430,000 customers daily. There, Sal built collaborative relationships with local, state, and federal agencies, to ensure the protection of RWA critical infrastructure. Further, Sal was actively involved in business continuity planning, incident command training, and emergency management preparedness for the RWA.
Since February of 2015, Sal has been an associate faculty member at Post University, teaching courses in both the Emergency Management and Homeland Security program and the Master of Public Administration program. In February 2021, Sal's duties expanded when he became the Program Coordinator for the new Police Recertification program. In this position, Sal is leveraging his almost 20 years as a POST-C (Police Officer Standards and Training Council) certified instructor to ensure the delivery of high-quality training courses to Connecticut law enforcement professionals.
Sal holds a Bachelor of Science degree in Criminal Justice, a Master's degree in Public Administration, and a Master's degree in Business Administration, all from Post University. Sal is also a graduate of the FBI National Academy in Quantico, Virginia, and is currently active with the Guilford Police Department.
Sal has been a member of the NAACP, International Chiefs of Police Association, the Connecticut Chiefs of Police Association, and the FBI National Academy Associates.

"The police recertification program at Post University has assisted our officers training needs for the past two years. The format of this program allows our officers to take the courses while they are working, which reduces any overtime costs for the department. I would highly recommend this recertification program to any police department."
Lt. Jeffrey D'Alusio
Director of Public Safety, Naugatuck Valley Community College

"Post University's Police Recertification Program is an excellent way to recertify as a Connecticut police officer. Post University has made police recertification easy to navigate and the offering of classes is impressive and still growing. The class instructors are all POSTC certified, and they bring forward the best practices for all Connecticut law enforcement."
Sgt. Frank Koshes
Training Officer –  Accreditation Manager, Orange CT Police Department

"After hearing about Post University's Police Re-Certification Program, I couldn't wait to sign my department up. Post re-invented re-certification by having it completely online, so each officer can attend class right from their cruiser laptop. They can pause when taking a call, then return when the call is finished. The cost savings is enormous. Post's Re-Certification Program is a must for all departments. "
Chief Edward L. Stephens
Wolcott Police Department

"We have been a member of the Post University Police Recertification Program since July of 2022 and it was one of the best investments our Department has made. The online training is top notch and most all of our officers have commented on how the content and quality of the training is much better than most of the in-person training they have attended."
Rob Sepega
Clinton Police Department
Police Officers whose Department is partnered with the School of Continuing Education's Police Recertification program will receive an email with instructions to access your account and register for course(s). Individual Police Officer wanting to take courses, please go to:
Returning Learners
Finish a course, register for new courses, or get course transcripts
Contact Us
Departments interested in partnering with Post University or individual officers wanting to learn more about our complimentary first course and other courses, let's talk!
Matthew Reilly 
Director, Police Recertification Program
[email protected]
Subscribe Now
Get the latest course offerings and other news, just fill out the form to subscribe to our Newsletter!
"*" indicates required fields
By clicking the button above, Post University has your consent to email you at the information above regarding educational services. Privacy Policy