Majosefina Jacinto, DM, CPA
Program Chair – Masters of Science in Accounting
Contact info
Phone: 203.596.4515
Email: [email protected]
---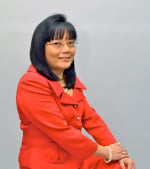 Academic Background
DM, Doctor of Management   Colorado Technical University
MBA, Executive MBA   New York Institute of  Technology
BS, Accounting   New York Institute of Technology
BS, Economics    College of the Holy Spirit
BA, Psychology  College of the Holy Spirit
Dissertation: Accounting Skills in the Workplace for non-accounting business undergraduates: The gap between Stakeholders' Expectations and Academia
Teaching Background
Dr. Ma Josefina Jacinto, CPA known to her students as "Professor Majo" has been an active professor and administrator in accounting at the undergraduate and graduate levels for over 17 year in both ground and online platforms. Dr. Jacinto's teaching debut that led to her career in academia was with business and accounting professionals creating and providing hands-on training in accounting applications approved by NYSED for CPE credits; a niche that she developed in accounting practice when the use of technology was nascent among accounting professionals. Majo started as an Associate Faculty for the MSA program at Post University in 2014.
For over 17 years, she was with Briarcliffe College assuming various roles from an adjunct to a full time evening and online faculty member in Accounting, and most recently the Chair of the Department of Business, Accounting and Technology for both ground and online students.  Majo co-developed the accounting curricula at the associates, baccalaureate and professional levels that were successfully launched since 2003. With her passion for online teaching, she helped build the fully online BBA Management and Accounting programs at Briarcliffe. She was instrumental in launching and rolling out the 1st fully online program at Briarcliffe  which included developing online accounting and business courses; co-developed and tailored the learning management system used to meet the students and faculty needs and trained faculty to use the learning platform.
Majo is very proud to be part of Briarcliffe College accounting graduates since the programs' inception, and a part of the Masters of Science in Accounting at Post University as students' instructor, mentor, and program chair.  Today, they are Certified Public Accountants working in public or private jobs, as school district treasurers, accounting faculty, IRS auditors, fiscal managers of various organizations and institutions, and many other responsible positions on Long Island, NYC, and now Connecticut and beyond. ("My students then and colleagues today!")
Professional Background
Alongside academia, Majo has over 20 years of experience in fiscal administration as the Chief Financial Officer and accounting practitioner in private and non-profit sectors dealing with various industries such as pupil transportation for school districts on Long Island, Upstate NY, NYC and NJ; health care with emphasis in providing care to those affected by infectious diseases, debt service management and the insurance industry.
Specializations and interests in accounting practice include government contracting, bids and RFPs, non-profit accounting, grant writing, auditing, fraud detection and examination, risk management, business ethics and small business management. She specializes in developing, implementing, monitoring, and redesigning financial and operational strategies to preserve company assets and guide the company towards sustainable growth.
Her business management style is guided by "Appreciative Inquiry."
Teaching Philosophy
In teaching, she follows the principles of Andragogy as advanced by Malcolm Knowles.
"Be a lifelong learner. Perform consistently well, communicate effectively, think analytically and speak fluently the language of business = accounting (Jacinto, 2013)."
Professional and community activities
Member, Academy of Management
Member, American Accounting Association
Member, Society of Human Resource Management
Coordinator, VITA – Volunteer Income Tax Assistance program through the IRS
Awards
2013  Faculty of the Year
2009  CEC Excellence in Teaching Recognition, Educator of the Year Finalist – Professional Growth
2008  CEC Student Success Recognition
2007  Briarcliffe College Service to the College, Briarcliffe College Board of Trustees Excellence in Teaching
2006  Briarcliffe College Board of Trustees Excellence in Teaching, CEC Educator of the Year finalist
2005  Grand Marshall – Briarcliffe College Commencement Ceremony
Honors
Inducted into Alpha Beta Kappa Society, 2007
Inducted into Sigma Beta Delta, 2007
Personal Background
Majo enjoys watching basketball and is a huge fan of the NY Knicks.  Mom is her best friend.
Research/Academic Interests
Accounting Skills in the Workplace for non-accounting business undergraduates
Malcolm Knowles Theory of Andragogy and teaching introductory accounting classes to non-accounting business students.
Meta-Analysis of teaching methods in accounting based on the call for reform in the delivery of accounting education by the Accounting Education Change Commission (AECC) in June 1992. The Commission issued Position Statement No. 2, "The First Course in Accounting…teaching methods should focus on student involvement and discovery, not knowledge transfer."
Forensic Accounting
Fraud Examination
Nonprofit management
Online synchronous and asynchronous instruction of accounting courses.
Online Video Courses
Jacinto, M. (2015) Income Tax Preparation Simplified for You – https://www.udemy.com/income-tax-basic-training-prepare-file-your-own-by-0415
Jacinto, M. (2015) Bookkeeping Job Search Guide – https://www.udemy.com/bookkeeping-job-search-guide
Jacinto, M. (2014) Accounting 1 Simplified for You – https://www.udemy.com/accounting-1-simplified-for-you
Jacinto, M. (2014) Accounting 2 Simplified for You – https://www.udemy.com/accounting-2-simplified-for-you
Book & Training Manuals
Castaneda, R., Smith, J., and Jacinto M. (2012). Accounting I and II. Publisher: Words of Wisdom, LLC.
Jacinto, M. (1998) Learn QuickBooks Step-by-Step Visually. Publisher: Resource Management, Inc. Ronkonkoma, NY