Bachelor of Science in Gaming and Esports Management
​Make the Game Your Business with a Gaming and Esports Management Degree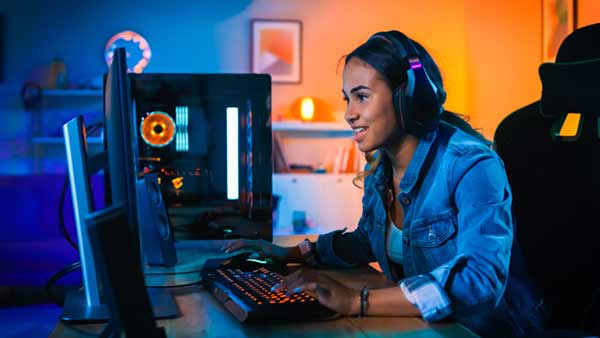 From the latest mobile app to massively multiplayer online games, you love gaming and esports. Have you considered turning your passion into a future? Learn what it takes to go pro on the business side of esports and gaming. Pursue your Bachelor of Science in Gaming and Esports Management, on-campus or online, with Post University.
This program covers a variety of topics within the electronic gaming ecosystem, from esports competitions and leagues to advertising and sponsorships. Courses cover aspects of game design and development, the psychology of video gaming, ethics in gaming, sales, project management, economics, and more. It is designed to offer the insights and skills you could use to pursue a future in the gaming and esports industry.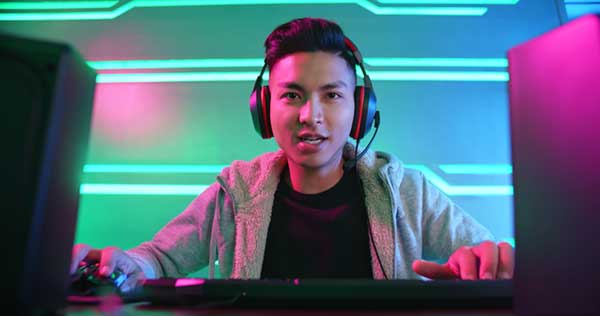 What Could I Do with a BS in Gaming and Esports Management degree?
Post University's Bachelor of Science in Gaming and Esports Management is a blended gaming and business management program. It offers an interdisciplinary approach to exploring various aspects of the business of the gaming industry, including game design, broadcasting, and competitive play. Your program explores essential leadership and administrative skills used in the gaming industry as well as complex business issues, from finances to international market dynamics. It also covers best practices and cultural considerations for streaming and broadcast markets.
Your BS in Gaming and Esports Management provides the kind of education in business and electronic gaming fundamentals you could use to pursue entry-level and emerging opportunities in the field. Or use it as a steppingstone toward a Master of Science in Gaming and Esports Management and more opportunities down the line.
Industry-Focused Curriculum for Professional Skills
Coursework for your program is designed to help you build competencies and professional skills to:
Understand the complex business issues unique to the gaming industry
Apply industry-relevant knowledge to assess gaming and esports challenges
Analyze specific market dynamics to work toward better business outcomes
Plan, execute, monitor, and control esports events
Use best practices, financial insights, and cultural considerations to guide streaming and broadcasting efforts
Recognize and apply knowledge of psychology and physiological issues for healthier people outcomes in gaming
Communicate with professionalism to different audiences
Gaming and Esports Management Degree Concentrations
As you progress in the program, course curriculum can be customized to your career focus with the following concentrations:
Event Planning and Management
Coursework in this concentration covers the essentials of event management of spectator-oriented live events in video gaming, from the sociological impact to branding and marketing strategies to media production.
Entrepreneurship
This concentration explores how to build a gaming and esport management business, from the creativity and innovation needed to start a brand to the business administration skills needed to grow it.
Benefits of Earning an Online Esports Management and Gaming Degree
From the admissions process to the day you graduate, we are with you every step of the way.
Receive support from a personal Post team of advisors focused on your academic success
Learn from industry-experienced professionals in interactive courses
No class times or set login times for your online esports degree
Online courses emphasize practical application of video gaming and esports principles
A Word from Our Program Chair
"Our program offers a blend of traditional business courses along with specific courses in this space to help drive student understanding, knowledge, skills, and abilities in gaming."
Roger Caramanica, Ph., SHRM-SCP
Program Chair, Gaming and Esports Management
Get in the Game with Your Gaming Degree
At Post University, we are focused on your success, in and out of the classroom. A student success advisor will work with you one-on-one to answer your questions and help you address challenges throughout your degree program. On campus or online, we are here to help you achieve your personal and professional goals.
Ready for a bachelor's degree that offers a better understanding of the esports industry and what it takes to pursue a professional future in the field? Contact us to learn more about our Bachelor of Science in Gaming and eSports Management.
Not eligible for Title IV funding through the U.S. Department of Education.
Can you study Esports?
Yes! At Post University, our esports management degree could help you prepare for an understanding of the gaming industry and its unique and complex challenges. It offers a look into the culture and market dynamics as well as how to plan, navigate, monitor, and excel at managing esports events. Courses cover aspects of game design and development, the psychology of gaming, ethics in gaming, what it takes to be an esports manager, sales, project management, economics, and more.
What is an Esports major?
A BS in Gaming and Esports Management blends business management and gaming for a unique understanding of the industry. From streaming to broadcast markets, you will have the opportunity to gain insights on best practices and even delve into game design, project and event management, and gaming psychology. Plus, with two concentrations available—Event Planning and Management or Entrepreneurship—you have the opportunity to customize your education to your career goals.
What is an Esport management course?
When pursuing your Bachelor of Science in Gaming and Esports Management, you will have the opportunity to cover the ins and outs of the industry. Below are some of the courses you could take:
Introduction to Game Design & Development

Psychology of Gaming

Ethics in Gaming

New Media and Streaming Industry

Gaming Project Management
To learn more about degree and individual concentration requirements view the course catalog.
Get Started on Your Degree!
POST UNIVERSITY® 
Varsity Esports Teams