Certificate in Equine Veterinary Assistant
Pursue a Career as an Equine Veterinary Assistant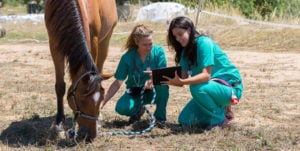 This program is offered on Campus.
You've loved and cared for animals since you were young. You want to help them live long and healthy lives. With Post University's Equine Veterinary Assistant program, you can prepare to pursue a career in an equine veterinary practice, where you will support the veterinarian in treating and healing horses. Our specialized classes and practical learning opportunities at our Connecticut campus will give you the expertise and relevant working experience you need to help equine veterinarians with the critical health care needs of horses—all before you graduate. 
Program Highlights
​Our Equine Veterinary Assistant program explores the roles and responsibilities typically performed by an equine veterinary assistant. These include clerical and office procedures, client contact, patient handling and restraint, pharmacy and inventory management, technical and surgical preparation and assistance, nursing care, laboratory specimen preparation, and assistance with common diagnostic imaging modalities. Core coursework for this Equine Veterinary Assistant program covers general biology, medical and scientific terminology, pharmacology, equine medical management, and more.  
What can I do with an Equine Veterinary Assistant Certificate?
Upon completion of this Equine Veterinary Technician certificate program, you will have the opportunity to get hands-on experience with equine veterinarians and technicians in a semester-long internship. And you'll hone skills for job opportunities involving horses—from the front office side with business management best practices to the hands-on side with insights into horse-rider training and equine wellness. In total, your education is designed to give you the tools you need to pursue possible career paths in veterinary practices, horse riding facilities, equine therapy and more.  
The Equine Veterinary Assistant Certificate is not designed to fulfill the educational requirements for any professional credential, such as a state veterinary technician license. Professional credentials vary by state and include requirements outside of education, which may include exams, background checks, work experience, and more. Learn about veterinary certification requirements, which vary by state, through the National Association of Veterinary Technicians in America: https://www.navta.net/.
​At Post University, we go above and beyond to equip you with the knowledge and skills you need to be a successful equestrian veterinary assistant. Our commitment to your professional goals begins the moment you enroll. You will be assigned an academic advisor—who will address your challenges and answer any questions—and work with our Equine Program Director to ensure you're making the most of your equine education. 
Take the reins of your future. Contact Post University today to enroll in our equine certification program. 
This certificate is only awarded in conjunction with a major or minor in Equine Studies.