Certificate in Equine Veterinary Assistant
Pursue Your Equine Vet Assistant Education at Post University!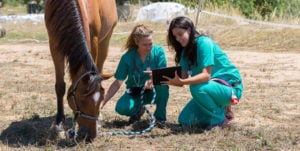 Interested in a future working with horses, possibly in a large animal or equine veterinary practice? Post University is here to help you pursue your goals with our Certificate in Equine Veterinary Assistant program. This program explores principles of equine care as well as the roles and responsibilities typically performed by assistants in the large animal veterinary field, including clerical and office procedures.
Core coursework for your equine certificate program covers general biology, veterinary medical and scientific terminology, horsemanship, equine medical management, and more. Curriculum also covers how to perform typical vet assistant duties, including client contact, patient handling and restraint, pharmacy and inventory management, technical and surgical preparation and assistance, nursing care, laboratory specimen preparation, and assistance with common diagnostic imaging modalities.
What Could I Do with an Equine Vet Assistant Certificate?
Upon completion of this Certificate in Equine Veterinary Assistant program, you will have had the opportunity to earn hands-on experience with equine veterinarians and technicians through a semester-long internship. Your program also explores business management best practices as well as principles of equine care based on a foundation of equine wellness.
The Certificate in Equine Veterinary Assistant is not designed to fulfill the educational requirements for any professional credential, such as a state veterinary technician license.
Post University assists in researching and providing information regarding licensure; however, each state has different requirements for such licensure outside of the required education. Such state requirements may include licensure exams, background checks, certain work experience, and more. It is ultimately the responsibility of each student to manage their own licensure process and to ensure that all requirements are met in order for the student to obtain licensure. Post University does not speak on behalf of any licensing board or body and does not guarantee licensure. Requirements for licensure are subject to change without notice.
Learn about veterinary certification requirements, which vary by state, through the National Association of Veterinary Technicians in America: https://www.navta.net/.
​Industry-Focused Curriculum for Professional Skills
Coursework for your program is designed to help you build the foundation of insights necessary to:
Understand the roles and expectations of equine vet assistants toward patients, veterinarians, and horse owners
Facilitate collaboration among members of the care management team
Develop specialized skills with on-the-job internship experiences
Build professional skills for communicating, critical thinking, and decision making
And more!
Pursue Your Equine Veterinary Assistant Certificate at Post!
At Post University, we are focused on your success, in and out of the classroom. A student success advisor will work with you one-on-one to answer your questions and help you address challenges throughout your certificate program. We are here to help you achieve your personal and professional goals.
Ready for a degree that offers a better understanding of what it takes to pursue a future in the equine industry? Contact us to learn more about our Certificate in Equine Veterinary Assistant program.
This certificate is only awarded in conjunction with a major or minor in Equine Studies. 
A Word from Our Program Chair
"I have always said that most things a person can do in the larger economy, they could find a way to do within the horse industry. There are a lot of different ways to engage with the industry."  
Abby Nemec, MEd  
Program Chair, Equine Studies 
What does an equine vet assistant study?
A student in an equine vet assistant school or program, such as the certificate program offered at Post University, will have the opportunity to learn about biology, common diagnostic imaging modalities, medical terminology, technical and surgical preparation and assistance, patient handling and restraint, and office procedures to help assist veterinarians in ambulatory or clinical practice.
What is the difference between a vet tech and vet assistant?
Veterinary assistants may help with day-to-day clerical work, scheduling, and the feeding and care of animals while working directly under the supervision of a veterinarian or a veterinary technician. 
A veterinary technician can help administer medicine, draw blood, prepare animals for surgery, perform initial checkups, assist in surgery, and more. This career requires a formal education that is not provided at Post. It may also require licensure (depending on state requirements).
Get Started on Your Degree!