Gaming and Esports Management Minor
Make the Game Your Business with a Gaming and Esports Management Minor
This minor is offered on campus and online.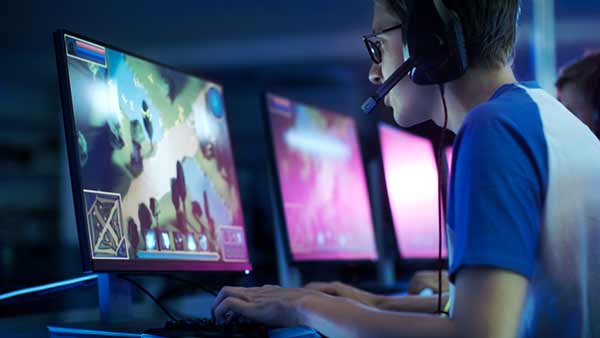 Gaming is a big business. The gaming industry has seen exponential growth in the past decade, in large part due to egaming online with games like Call of Duty, Smash Bros., and Rocket League. But more than just fun, it can be the professional foundation of your future. Post University's Gaming and Esports Management Minor provides a range of skills to build and enhance your knowledge of managerial concepts within the gaming and esports space. The program offers foundational understanding of the industry's timeline, the esports ecosystem, the behavioral implications within the space, and how to create and broadcast events. Comprised of five required recourses with no prerequisites, this minor will help you learn what it takes to become an effective leader within an esports or gaming organization. 
What is Esports Management? 
Esports is a worldwide entertainment industry focused on competitive gaming. Esports management encompasses all of the work that goes on outside of the gaming itself. An esports manager can be responsible for managing individual players, dealing with contracts, interviewing players, handling sponsorship opportunities, and acting as an intermediary between players and team owners. 
Can You Minor in Esports? 
In general, at a university level, gaming programs focus solely on game design and development. Those that do often only focus specifically on the culture and business side of esports, an important but specialized segment of the industry as a whole. At Post University, our esports management minor program covers the entire gamut of the electronic gaming ecosystem—from esports competitions and leagues to advertising and sponsorships and beyond. It's a well-rounded education designed to help you shape the industry's future as business leaders, advisors, and advocates. Your esports online courses cover various aspects of game design and development, including:  
History of Gaming

 

Introduction to 

Esports Management

 

Psychology of Gaming

 

New Media and Streaming Industry

 

Event Planning and Management for Gaming 

 
With a minor in Gaming and Esports Management from Post University, you can turn your natural talents and tendencies into a new career or go on to pursue your gaming degree online with our bachelor's degree in gaming and esports management. 
What Can You Do with a Gaming and Esports Management Minor?
Post University's Minor in Gaming and Esports Management is a blended gaming and business management program. It offers an interdisciplinary approach to learning all aspects of the business of the gaming industry, including game design, broadcasting, and competitive play. It is designed to give you the basic knowledge needed to begin pursuing a career in the emerging gaming and esports industry such as an esports manager and more. You will cover complex business issues, from finances to international market dynamics, and you will gain an in-depth understanding of streaming and broadcast markets to offer insights on best practices, cultural considerations, and more.  
If you are interested in adding this minor to your degree, consider our bachelor's in communications and media studies, business administration, or sport management programs. Contact us today about our on campus or online courses. 
Not eligible for Title IV funding through the U.S. Department of Education.
Get Started on Your Degree!