Graduate Admissions Requirements
Graduate Admissions Process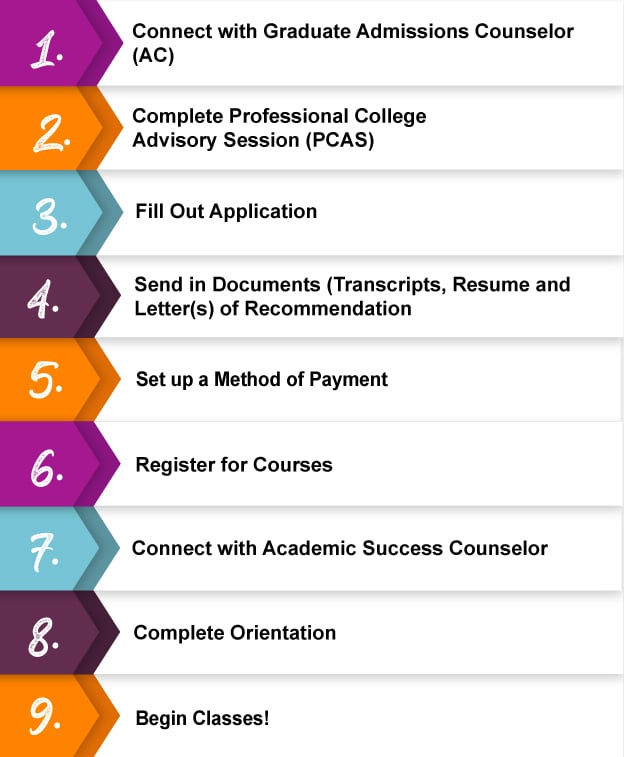 Post University offers an on-campus graduate degree in Master of Business Administration. The program is offered in an accelerated format and is taught by scholarly practitioners. Classes will run provided there is a minimum enrollment for each program.
Applicants seeking to apply for admission to the Main Campus graduate program must provide a complete admissions application and proof of undergraduate graduation or equivalent.  Post University strongly recommends an admissions interview.   
Application for Graduate Admissions
All graduate applicants for admission (e.g., transfer, Military, international) must submit an application to the Office of Admissions and return other required materials to the address below. Along with submitting an application, applicants will need to:
 Have official transcripts from all colleges/universities sent to the address below.
 If an applicant's GPA is below a 3.0, they will be asked to provide a personal statement describing qualifications for Post University's graduate program (250-500 words typed).
 Submission of a letter of recommendation; this can be academic or professional.
 International graduate applicants are required to submit TOEFL or IELTS scores. TOEFL scores should be 80 or higher. IELTS scores should be 6.5 or higher.
 Transfer applicants may be eligible to transfer in up to 9 credits from an accredited graduate program.
Please send the completed application and all other required materials to:
Post University Main Campus Graduate Admissions
800 Country Club Road
Waterbury, Connecticut 06723-2540
Telephone: 800-345-2562 Fax: 203.841.1161
Email: [email protected]
Alternative Credit Options
Within the limits stated below, Post University provides an opportunity for students to demonstrate college-level proficiency in certain subjects where learning has occurred in non-traditional ways, such as advanced placement courses, on-the-job training, standardized examinations, or work experience. Learn more about the Alternative Credit Options
Post University Main Campus Admissions 
P.O. Box 2540
800 Country Club Road
Waterbury, Connecticut
06723-2540
[email protected]
800.345.2562 or 203.596.4555
Fax: 203.841.1163