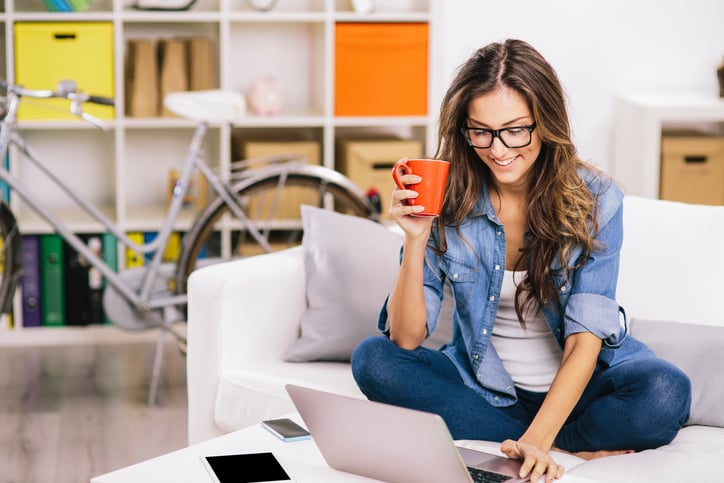 Here are 4 tips to help you decide
Are you undecided about declaring a major? Fear not — doubt is more common than you think. Choosing a major can be difficult. Many students struggle to nail down an early career path, and it doesn't necessarily get easier with age.
A 2015 report from the Bureau of Labor Statistics titled: "Number of Jobs Held, Labor Market Activity, and Earnings Growth among the Youngest Baby Boomers: Results from a Longitudinal Survey" showed boomers held an average of 11.7 jobs from ages 18 to 48. Twenty-seven percent held 15 jobs or more.
Think of your major as a career stepping stone, not a commitment to a lifetime career carved in stone. Here are four simple but effective tools to help guide you onto the right path for start of your journey to a fulfilling vocation.
1. Go with your passion
You know the saying: "If you choose a career you love, you'll never work a day in your life." What excites you? What energizes and fulfills you? Grab a pen or your laptop and make a list of every time you can recall being totally absorbed in an activity, no matter how insignificant or irrelevant the memory seems.
Do you binge watch crime, detective, or legal dramas? Are you fascinated with forensics? Is serving the public and upholding the integrity of the law important to you? The challenging and rewarding field of criminal justice might be just your thing.
A B.S. in Criminal Justice prepares you for a career in public, private, and not-for-profit sectors in law enforcement, security management, and public and private investigation. As our country's need for increased public safety grows, you'll find more openings for police officers and emergency management directors.
Is there something you currently do as a hobby that you can parlay into a rewarding career path? Have you considered using your love for horses to propel you into a B.S. in Equine Studies program?
Do you live for game day and eat, sleep, and breathe professional sports? A B.S. in Sport Management can be your first step to a dynamic, fast-paced career in both U.S. and international sports organizations. The career options are unlimited. Once you know how to apply business and marketing techniques to the sports world, you can carve out your niche.
The sports market in North America was worth $60.5 billion in 2014 and is expected to reach $73.5 billion by 2019. The estimated size of the global sports industry in 2015 was $1.5 trillion, and the U.S. accounted for $498.4 billion of that amount.
2. Go with your strengths
Are you a math whiz? Fascinated by the stock market and all kinds of investment vehicles? Do friends and family envy your analytical prowess when it comes to financial analysis, financial forecasting, and budgeting?
Consider a degree in finance or accounting. A broad range of business employers pursue graduates from these in-demand programs. If you enjoy helping people and organizations make informed financial decisions, a Bachelor of Science in Accounting degree program teaches you to apply practical accounting principles and concepts to modern businesses. You learn the regulations that govern financial reporting and tax compliance and are qualified for a career in local or national businesses, the federal government, or nonprofit organizations. This degree is a great stepping stone if you decide to pursue a CPA or CMA certification.
A career in finance can be very financially rewarding, according to the BLS. Annual salaries include:
Financial Analyst: $80,310
Personal Finance Advisor: $89,160
Financial Manager: $117,990
Financial Examiner: $78,010
Majoring in finance helps you develop extensive knowledge in areas such as investments, capital planning, financial analysis, and international finance while helping you become proficient at managing your finances.
3. Go with your values and temperament
What's non-negotiable for you about a workplace, job description, and community of colleagues? If you need help answering that, take advantage of the many free career aptitude and personality tests online. If you've never taken the Myers-Briggs Type Indicator (MBTI) personality inventory, do it now.
If you already know that you're an empathic, compassionate soul who lives to serve others by easing the physical or emotional pain, you're a natural for a nursing program or a psychology degree.
If you discover you're an introvert who needs silence and solitude to shine in your career, you'll know that loud, over-stimulating work environments and jobs that involve high public contact might not fulfill you.
4. Go with the flow
Remember that choosing a major is just the first of many stepping stones on your lifelong path of learning, experiencing, and experimenting. You can always change your mind and your career path, and it's more than likely you will — many times!