Check Out the University Calendar for Everything Happening at Post!
This Week's Events and Activities

 

News from the Nest

Equine Club Equine Club Presents Jeramie West (AQHA Judge/Trainer)
Monday, April 18, 2022 8:00 p.m. – 9:30 p.m. Eastern time |  Join virtually at event time
Burke Breaking Boundaries Series Power of a Positive Mindset – The Mini Mindset Challenge
Wednesday, April 20, 2022 7:00 p.m. – 8:30 p.m. Eastern time |

Join virtually at event time

Title IX & Disability Office Event Sexual Assault Awareness Month "Students Fight Back: A Focus on Bystander Intervention"
Thursday, April 21 2022 6:15 – 7:15 p.m. p.m. Eastern time | Join virtually at event time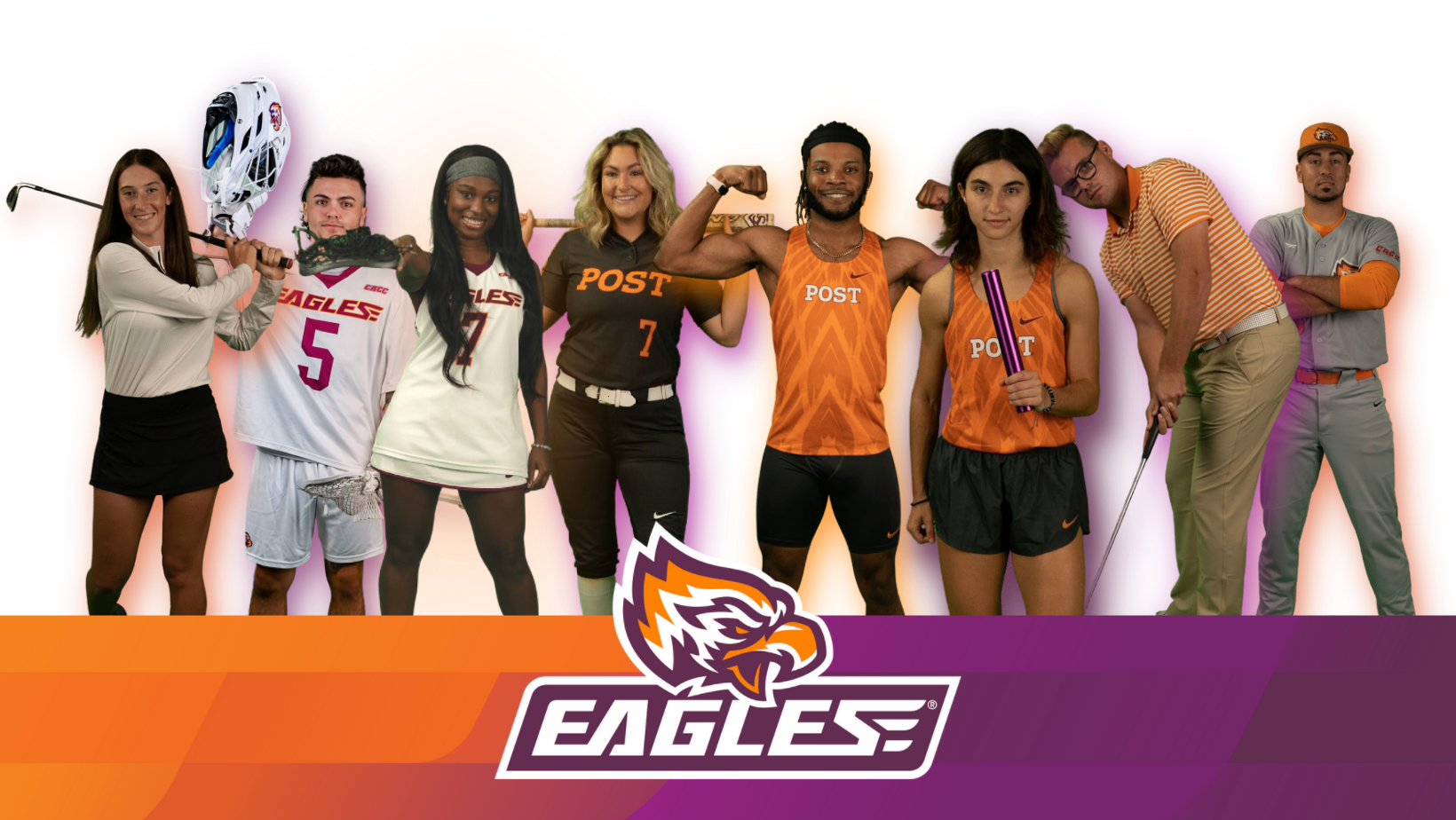 Eagles Fans – don't miss out on any of the action – head on over to the Athletics website for upcoming competitions, season standings, stats, and links to game live streams.
Don't forget to tag your social media posts with #GoPostEagles – we'll share our favorites on the digital screens around campus, on the official Post University accounts, and in this newsletter!
Scholarships Are Important!
Scholarships provide an opportunity for students to earn an education with assistance from an outside source. Scholarships can fill the gap. Scholarships can help decrease the amount of loans needed to complete college.
Points to Remember: Be sure to review the general eligibility requirements, and the application instructions and deadline dates before submitting the application.
View a list of current scholarships you may be eligible to apply for on our additional scholarship opportunities page.
Weekly Wellness Corner
The Weekly Wellness Corner is brought to you by the Counseling Center – here, you'll find content, tips, tricks, programs, and resources to help you thrive as a Post Eagle! 
Let's

 talk about the importance of sleep!
Did you know?
Poor sleep affects mental health by disrupting our circadian rhythms and interfering with our normal sleep stages, thereby throwing our bodies and our brains off-kilter. A sleep-deficient brain has a decreased ability to make emotional judgments and incorporate multiple pieces of information into a decision.
Sleep is sacred and should not be forced. Creating your own sleep routine, whether that is drinking tea, reading a book, or journaling; will help prepare you for a
restful night's sleep!
BIG REMINDER: Your bed should only be associated with sleep so refrain from working or staring at your device for too long before getting your sleep.  
🎉 SPRING 2022 SPIRIT WEEK IS HERE! 🎉
Spring 2022 Spirit Week is Here Eagles!  Check out the many events, activities, and challenges (both virtual and in-person) for our main campus and online students to showcase their University pride and, most importantly, have fun.
Main Campus Spirit Week Events & Activities
 
Online Spirit Week Events & Activities

Monday, April 18, 2022 – Participate in our campus-wide scavenger hunt via the app Goosechase! The team with the most points at the end of the scavenger hunt will win a huge prize! This event will take place all day, and end at 6 pm.

Use code XDV8ZJ to join the Goosechase.
The password is Eagles.

Email [email protected] with any questions.

Tuesday, April 19, 2022 – Student Life Virtual Reality Gaming Truck.  Spirit Week is underway, and join us in the Leever parking lot for a virtual reality gaming truck! There will be VR headsets, Xboxs, Nintendo Switches, PS4s & PS5s, and more!

Wednesday, April 20, 2022 – Show off your knowledge in our game show mania event! In this buzzer-beating game, you will have the opportunity to show off your trivia skills and earn a huge prize!

Thursday, April 21, 2022 – Stressed? Overwhelmed? Join us on the Great Lawn and smash some plates! We will have different items and plates for you to get your anger out and smash them!

Saturday, April 23, 2022 – Grab a team of 4 and test your skills in our Grit N Wit Obstacle Course! You can test your mind and body in this giant course. Winners will receive a HUGE prize! Register in the Res Life Office starting on 3/30.

 

Monday, April 18, 2022 – Our host will ask trivia questions that will be answered on Kahoot. After ten questions, a trivia winner will be awarded. Each trivia answer will also coordinate with a bingo answer, so participants have a chance to win through bingo as well. Winners will read off the trivia answers to confirm their win. Bingo cards will be reset after each winner. Two rounds will be played, resulting in two trivia winners and up to three bingo winners. Bingo and Trivia night held using the teams network, Bingo Baker, and Kahoot.

Thursday, April 21, 2022 – Students will join our event via Teams or Zoom. The event will begin with 2-3 headliner acts, each with 5-7 minutes to share their work. One confirmed headliner is Dean Whitley. Before and throughout the event, students will have the opportunity to sign up to perform themselves and will be given a 2–3-minute time slot. The event will be one hour long, and students will be allowed to sign up until 7:50 p.m. EST or until the times are filled. Students are not limited just to poetry but can also sing or perform a talent so long as it remains appropriate and fits within their time limit. No prizes will be awarded during this event.
April is Academic Integrity Month at Post!
Don't cheat yourself from learning…
Avoid copying/pasting unless you're quoting. It's best to take notes and then incorporate your notes into your work. You can almost never change something enough for it not to be considered plagiarized.
The final 6 submissions for the #AcademicIntegrityMonth Art Contest are in and the winners are in YOUR hands! Cast your vote by completing this survey, no later than April 30, 2022 at 11:59 p.m. Eastern time.  Cast your vote here!
Visit the Academic Policies and Procedures page to learn more about the University's Academic Integrity Policy (click the '+' next to "Academic Integrity."  Academic Integrity Officer Stephanie Dionne has also created some helpful tools and resources to avoid plagiarism.
#PostUViews: Esports Lab Ribbon Cutting!