Check Out the University Calendar for Everything Happening at Post!
This Week's Events and Activities

 

News from the Nest

Equine Club Presents Jazmynn Brown
Monday, April 4, 2022 8:00 p.m. – 9:30 p.m. Eastern time | Join virtually at event time
Student Life Online Playfair!
Tuesday, April 5, 2022 3:00 p.m. – 5:00 p.m. Eastern time |

Join virtually at event time

School of Arts & Sciences – Turn the Page
Wednesday, April 6, 2022 6:00 p.m. – 7:30 p.m. Eastern time | Join virtually at event time
ADP Advising – Time Management Workshops
Wednesday, April 6, 2022 7:30:00 p.m. Eastern time |
> Graduate Students – join virtually at event time
> Undergraduate Students – join virtually at event time
Burke Breaking Boundaries: Overcoming Gambling Addiction
Thursday, April 7, 2022 7:00 p.m. – 4:30 p.m. Eastern time | Join virtually at event time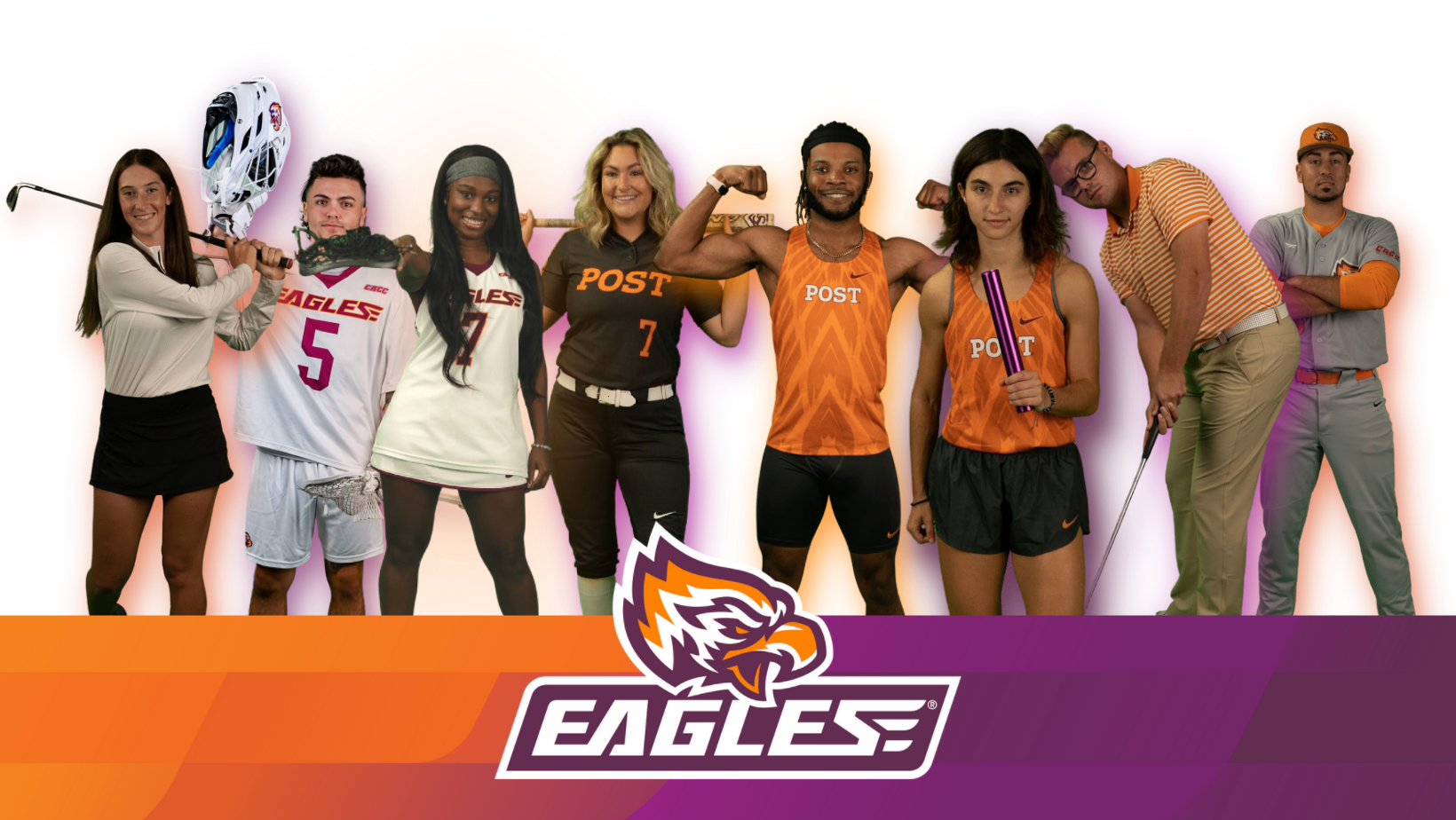 Eagles Fans – don't miss out on any of the action – head on over to the Athletics website for upcoming competitions, season standings, stats, and links to game live streams.
Don't forget to tag your social media posts with #GoPostEagles – we'll share our favorites on the digital screens around campus, on the official Post University accounts, and in this newsletter!
Spring 2022 Career Fair
Tuesday, April 5, 2022 from 11:00 a.m. – 3:00 p.m. Eastern time
Upper main campus for in-person main campus students
Online and virtual main campus students can participate virtually – set-up your account and register here.
Meet with more than 40 potential employers, participate in workshops, listen to guest speakers, and much more.
TIPS TO PREPARE FOR THE CAREER FAIR

The pandemic brought to light the importance of staying connected with one another and placed a renewed focus on connecting using digital platforms and social media.  It also brought to light that sexual harassment, assault, and abuse happen anywhere, including online.  April is Sexual Assault Awareness Month.  This year's theme,
"Building Safe Online Spaces Together," focuses on combatting sexual harassment, assault, and abuse online.  The National Violence Resource Center (NVRC) shares that "for too long harassment, cyberbullying, and sexual abuse and exploitation have come to be expected as typical and unavoidable behaviors online."  Visit the NVRC for more information and to participate in this year's campaign.
Please join us for a virtual event, sponsored by the Title IX and Disabilities Office, "Yes Means Yes: Shame-Free Sex and Safety" on Wednesday, April 6, 2022 at 6:00 p.m. Eastern time.  Join here at event time.  Please contact Director of Title IX and Disabilities Jennifer Labate at [email protected] with any questions.
Weekly Wellness Corner
The Weekly Wellness Corner is brought to you by the Counseling Center – here, you'll find content, tips, tricks, programs, and resources to help you thrive as a Post Eagle! 
Have you ever thought of dropping everything and going on an adventure that caused you to exist out of your comfort zone?
These four friends Ammar, Thomas, Derin, and Matt started their Youtube channel called the "Yes Theory" in 2015. They all started as strangers but had one common idea which was discovering the greatest moments and making the deepest connections with people all over the world. Today, they have cultivated a community of millions of people who act on discomfort in order to achieve a fulling life.
One episode in particular, that perfectly summarizes the purpose and mission of their channel is all about taking a chance on the unknown and meeting life-changing people along the way. This episode is called "Spinning the Globe and Flying Wherever it Lands". These four friends do exactly that, they spin a globe and go to the exact place it lands. What they didn't know was that not only were they going to change some lives but their lives were also going to be changed for the better.
Countdown to Commencement 2022!
Are you graduating?!  If so, send an email to [email protected] and let us know what you're most excited about and what your plans are as you leave the nest. 🦅 🎓
The countdown has officially begun – commencement exercises for the class of 2022 are scheduled for Sunday, May 15, 2022 at the Palace Theatre in Waterbury, CT.  Head over to our official Commencement page for more information and details on the celebrations.  Eligible participants – make sure to check your email this week for more information, including how to reserve guest tickets.  Don't delay – ticket requests are filled on a first-come, first-served basis- get your ticket requests in early!