Check Out the University Calendar for Everything Happening at Post!
This Week's Activities and Events

 

News from the Nest

Center for Academic Success Meet & Greet


Monday, August 30, 2022 12:00 p.m. – 2:30 p.m. Eastern time | Outside Traurig Library

LGBTQ+ Club Meeting
Tuesday, August 30, 2022 6:00 p.m. – 7:00 p.m. Eastern time |

Join virtually at meeting time

Associate Experience Student Employment Info Booth
Wednesday, August 31, 2022 11:00 a.m. – 1:00 p.m. Eastern time | Leever Dining Hall
Thursday, September 1, 2022 | 9:00 a.m. – 12:00 p.m. Eastern time | Fleischer Garden
Welcome Week Home Football Game
Saturday, September 3, 2022 1:00 p.m. – 3:00 p.m. Eastern time | Municipal Stadium or Stream the Game

 
Eagles Fans – don't miss out on any of the action – head on over to the Athletics website for upcoming competitions, season standings, stats, and links to game live streams.
Don't forget to tag your social media posts with #GoPostEagles – we'll share our favorites on the digital screens around campus, on the official Post University accounts, and in this newsletter!
Welcome to Fall 2022 Semester and Term 2!
It's time to get back into school mode!  Here are some important tips and reminders as you get started this semester and term:
Check your schedule on the Student Portal.  Visit http://post.edu and click on the Student Login link in the upper right corner.  Once you are logged in, under "Academics" select "Schedule."  There'll you'll find the courses you are scheduled for, and our main campus students will see when their class sessions will be held and where their classes are located.

Online Students – Participate in your discussion boards as soon as possible
Main Campus Students – Make sure you attend each class session this week

Check your Post email – at least once a day: The University will be sending important information and updates and your Post University student email address is the official way we will communicate with you.
Don't forget about the support provided by the 

Post University Center for Academic Success

 and TutorMe! Both are excellent resources to connect with a peer educator or professional coach/specialist for assistance with challenging course material. They also host workshops on academic skill development and can work with you one-on-one on strategies for personal and academic success. Access TutorMe through the link in your course menu and contact the Center for Academic Success team at [email protected] or schedule an appointment online: http://postcas.acuityscheduling.com.
If you need anything, your advising team is here to help!

Online Students – Contact your academic success counselor or the team at 203.568.1652
Main Campus Students – Visit your academic advisor in Torrance Hall or contact the team at [email protected].
Have an awesome semester and term!
Weekly Wellness Corner
The Weekly Wellness Corner is brought to you by the Counseling Center – here, you'll find content, tips, tricks, programs, and resources to help you thrive as a Post Eagle! 
Six Affirmations for a Peaceful Life
One thing about me, I always get through It.

 

I haven't missed out on anything that Is meant for me.

 

Only interested In progress and peace.

 

I am no longer compromising my boundaries to appease other people's feelings.

 

Just because it's not happening right now, does not mean It never will.

I am only Interested In existing In environments that encourage and support my growth
EthicsPoint by NAVEX Global
EthicsPoint is a comprehensive and confidential reporting tool created by NAVEX Global that enables members of the Post community to work together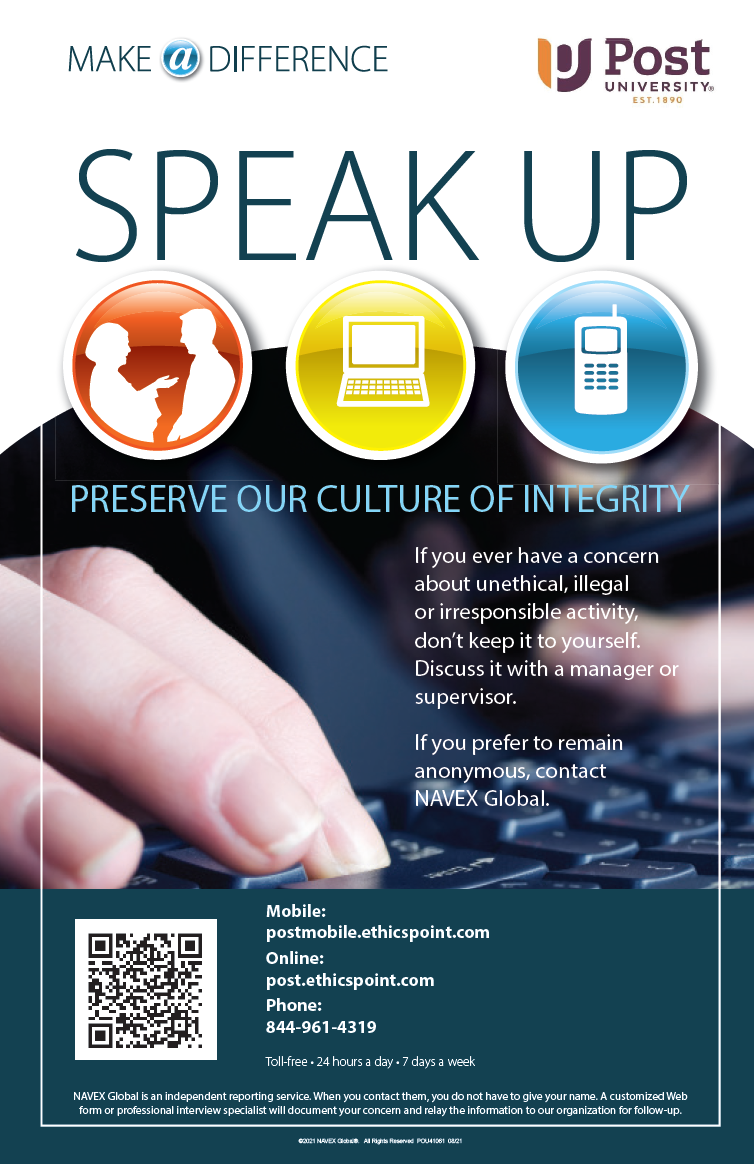 to address possible fraud, abuse, and other misconduct in the workplace while cultivating a positive and inclusive work environment.
Everyone who is a member of the Post University community whether associate, student, job applicant, applying student, or third-party business partner is important to our success. By creating open channels of communication, we promote a positive, collaborative, inclusive work environment and exceptional student learning experiences.
You can learn more about EthicsPoint by reading our blog post here.
It's a New Semester and New Term – The Perfect Time to Set New Goals!
Be a goal-getter!  Design your ultimate college experience by setting goals that drive your actions and cultivate your ability to dream big. Setting purpose-driven and realistic goals is a way to be proactive about your future. The goal-setting feature on YOU@Post is a great place to start blueprinting your dreams.  There are even some pre-made goals that you can customize.  Click the "Set Goals" button below to access YOU@Post and start setting your goals.
YOU@Post is one of the three tools you should use.  Check out our blog on those tools and how you can make the most of your Post University journey.  Start setting your goals now!
#PostProTip: Try Something New
The Fall 2022 semester and Term 2 start this week – here is a great tip from Library Director Tracy Ralston on ways to make the most of your Post experience!