Check Out the University Calendar for Everything Happening at Post!
This Week's Events and Activities

 

News from the Nest

Online Student Government Association Mental Health Panel Discussion
Tuesday, March 22, 2022 7:00 p.m. – 8:30 p.m. Eastern time | Join virtually at event time
Student Life Virtual Bingo


Wednesday, March 23, 2022 6:00 p.m. – 8:00 p.m. Eastern time |

Join virtually at event time

Center for Career and Professional Development "Fashion Show"
Thursday, March 24, 2022 6:00 p.m. – 8:00 p.m. Eastern time | Mattatuck Museum – RSVP by Monday, March 22, 2022 email

[email protected]

. 
Post's Got Talent Open Mic Night
Friday, March 25, 2022 8:00 p.m. – 9:00 p.m. | Eagle's Nest
Visit ResLife in Leever Lower Level to sign-up to perform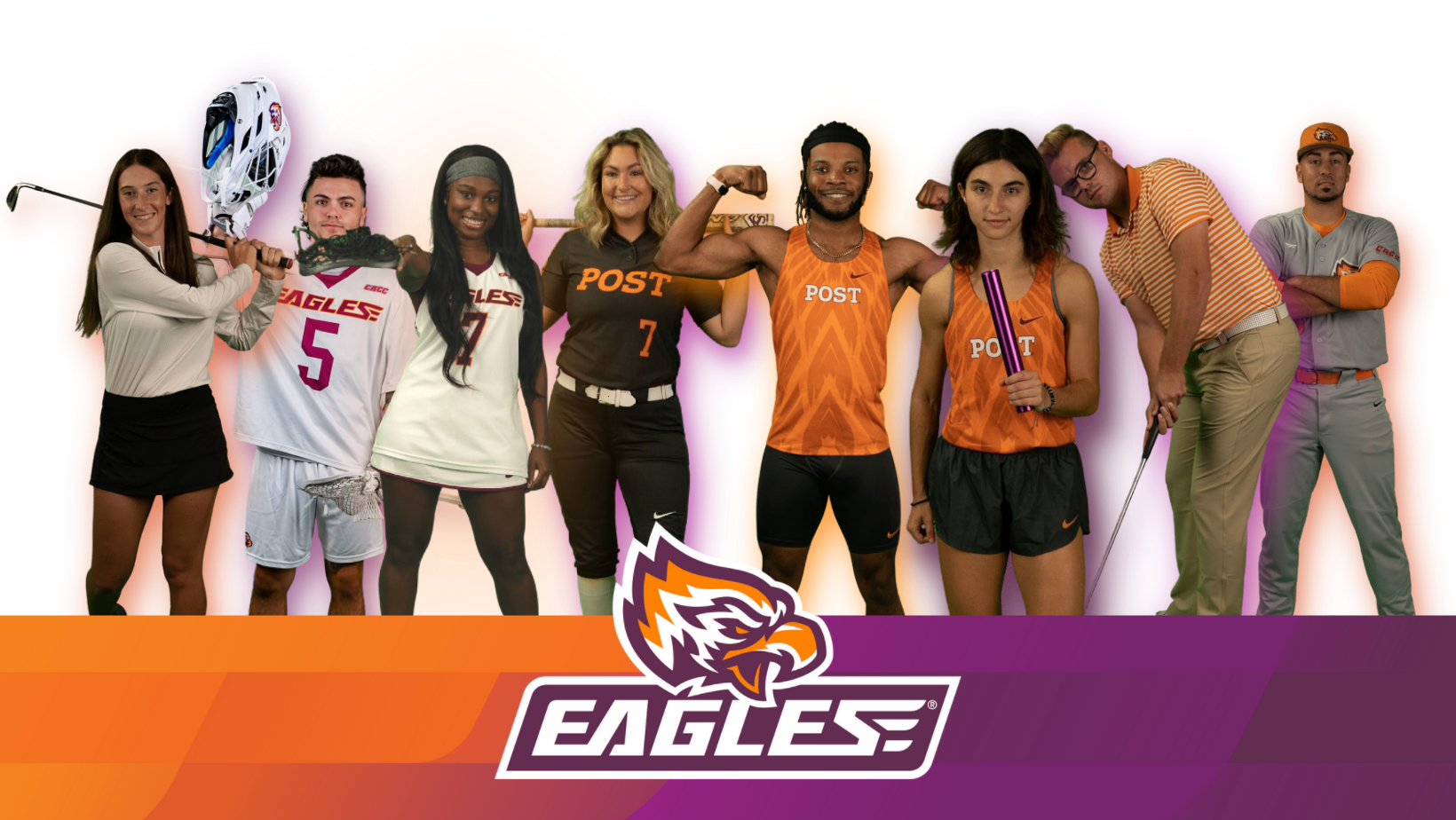 Eagles Fans – don't miss out on any of the action – head on over to the Athletics website for upcoming competitions, season standings, stats, and links to game live streams.
Don't forget to tag your social media posts with #GoPostEagles – we'll share our favorites on the digital screens around campus, on the official Post University accounts, and in this newsletter!
Women's History Month Highlights
Check out all of the events and activities we have planned.  Sponsored by the National Women's History Alliance, this year's theme is "Women Providing Healing, Promoting Hope."  According to the Alliance, the theme is a "tribute to the ceaseless work of caregivers and frontline workers during this ongoing pandemic and also a recognition of the thousands of ways that women of all cultures have provided both healing and hope throughout history."  Head over to the Alliance's website to learn more!
| | |
| --- | --- |
| Post University Movie Night – "Suffragette" | Women's Student Leadership Panel |
| | |
| We're treating you to a movie night in honor of Women's History Month!  Check the University Calendar for a link to watch the movie virtually any time on Tuesday, March 22, 2022. | The Women's Leadership Panel is a student-led panel of female-born and/or woman-identified main campus and online students who hold leadership roles at or outside of Post University. Panelists will describe their experiences and challenges as women leaders and share advice for young women in leadership roles who are likely to face challenges due to sexism, racism, and other oppressions.  Join us virtually on Wednesday, March 23, 2022 at 1:45 p.m. Eastern time. |
⚠ Campus Traffic Alert ⚠
A message from Campus Safety and The Office of the Senior Vice President:
Keeping the safety of students, associates, and Post University neighbors a priority, the following traffic alerts are being shared and will be enforced on campus.  New signage is being installed to remind us all of the proper speed limits and correct routes for exiting campus roads.
Associates and Students are reminded that the North Gate is an Entrance only. Please do not exit the campus onto Country Club Rd. from this gate. The appropriate exit is from the North Parking Lot onto Umberfield Rd.
Additionally, the speed limit on Campus is 10 MPH. Help us keep our pedestrians safe and slow down while driving on campus.
Finally, please obey all posted traffic signs along our neighboring streets, paying closer attention to stop signs and speed limits.
We value our status as a "good neighbor" and are listening to the neighborhood regarding how to keep us all safe.
Weekly Wellness Corner
The Weekly Wellness Corner is brought to you by the Counseling Center – here, you'll find content, tips, tricks, programs, and resources to help you thrive as a Post Eagle! 
For this week, we're encouraging you to think about ways you can protect your peace in real life, but also online. 
We all have different levels of consumption when it comes to news and social media.  However, limiting our consumption of media can benefit our mental health.  One such way to do this is by cutting down on our mindless scrolling of news media and social media apps.  Aubry from the Counseling Center has started to implement "No Scroll Sunday," and it has made a positive difference in not just her screen time reports, but also her mental health. "I started 'No Scroll Sunday' in December when I found myself spending too much time on my phone, she says. "I was scrolling when I could be doing more beneficial things for my emotional well-being, such as reading a book or taking a walk. It's a good way to start a new week."
Not ready to commit to a whole Sunday away from your phone?  Start small.  Set daily screen time limits on the apps you find yourself mindlessly opening multiple times a day.
Don't Forget: EthicsPoint by NAVEX Global
EthicsPoint is a comprehensive and confidential reporting tool created by NAVEX Global that enables members of the Post community to work together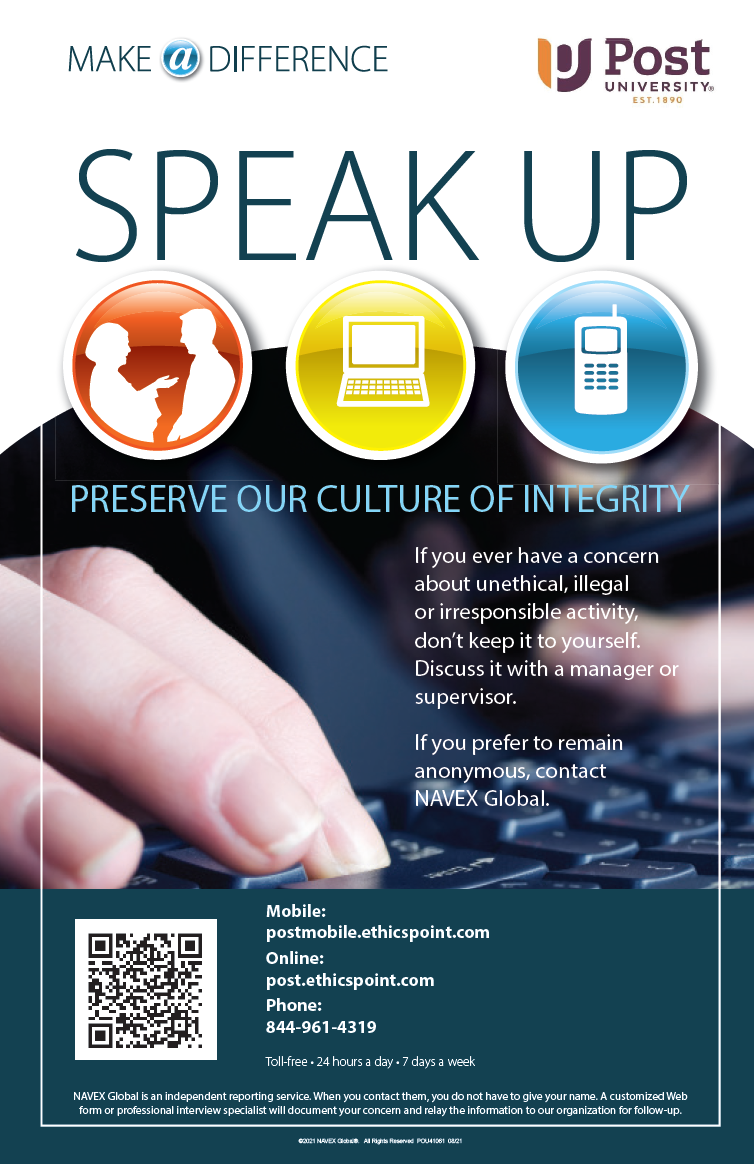 to address possible fraud, abuse, and other misconduct in the workplace while cultivating a positive and inclusive work environment.
Everyone who is a member of the Post University community whether associate, student, job applicant, applying student, or third-party business partner is important to our success. By creating open channels of communication, we promote a positive, collaborative, inclusive work environment and exceptional student learning experiences.
You can learn more about EthicsPoint by reading our blog post here.
Countdown to Commencement 2022!
Are you graduating?!  If so, send an email to [email protected] and let us know what you're most excited about and what your plans are as you leave the nest. 🦅 🎓
The countdown has officially begun – commencement exercises for the class of 2022 are scheduled for Sunday, May 15, 2022 at the Palace Theatre in Waterbury, CT.  Head over to our official Commencement page for more information and details on the celebrations.  Eligible participants – make sure to check your email this week for more information, including how to reserve guest tickets.  Don't delay – ticket requests are filled on a first-come, first-served basis- get your ticket requests in early!