Check Out the University Calendar for Everything Happening at Post!
This Week's Events and Activities

 

News from the Nest

Women Providing Healing, Promoting Hope Nurse's Panel
Tuesday, March 29, 2022 1:00 p.m. – 2:00 p.m. Eastern time | Join virtually at event time
Propaganda and Extremism Today – A Virtual Presentation by the Counterterrorism Education Learning Lab


Tuesday, March 29, 2022 5:30 p.m. – 6:30 p.m. Eastern time |

Register in advance

Trans YouTube Content Creators
Wednesday, March 30, 2022 1:45 p.m. – 2:45 p.m. Eastern time | Join virtually at event time
Effects of Fentanyl in our Community
Thursday, March 31, 2022 6:00 p.m. Eastern time | Mac 116 or virtual livestream
Student Life Dave and Buster's Trip
Saturday, April 2, 2022 1:00 p.m. – 4:30 p.m. Eastern time | Sign up in Res Life – Leever Center Lower Level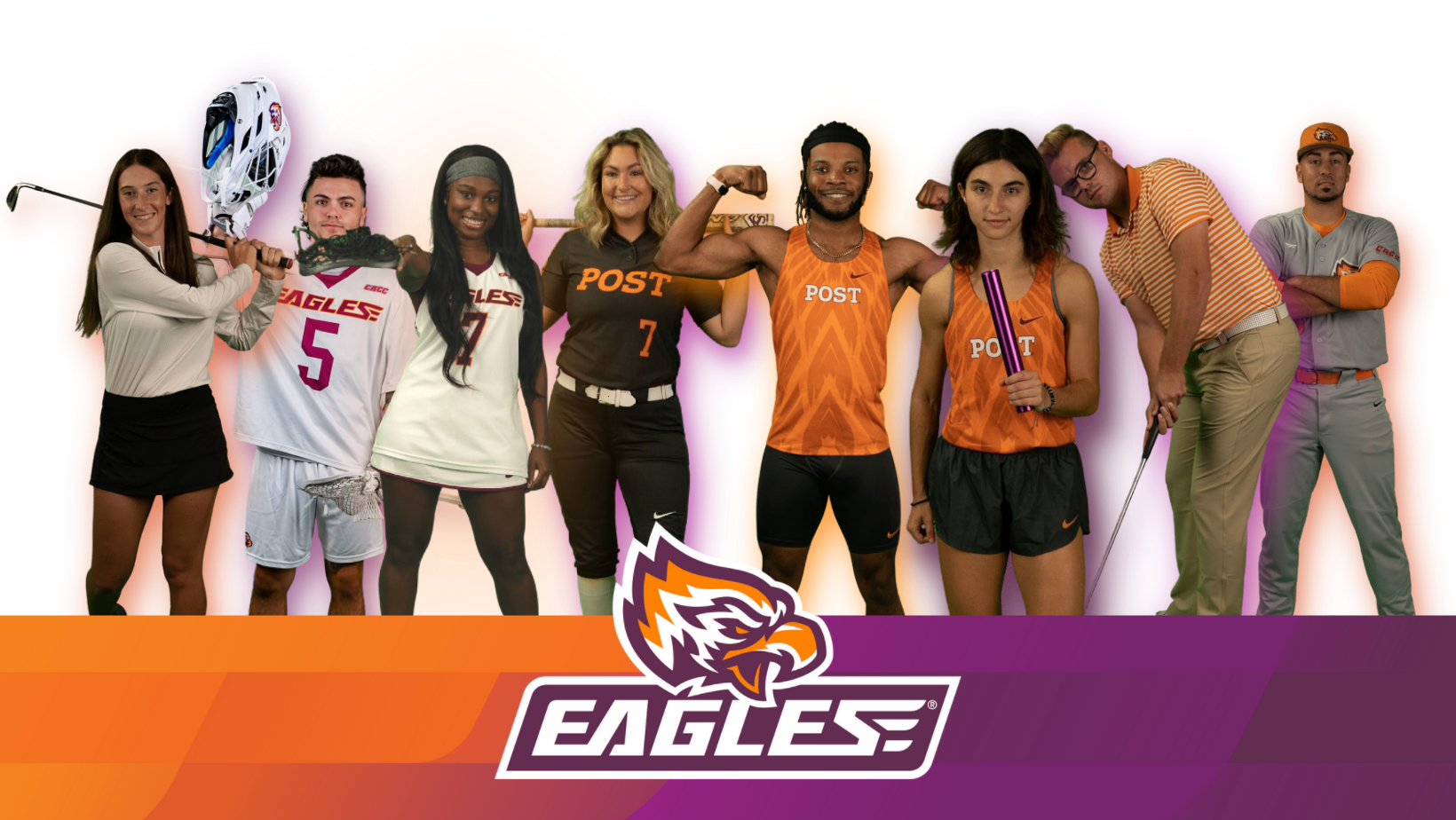 Eagles Fans – don't miss out on any of the action – head on over to the Athletics website for upcoming competitions, season standings, stats, and links to game live streams.
Don't forget to tag your social media posts with #GoPostEagles – we'll share our favorites on the digital screens around campus, on the official Post University accounts, and in this newsletter!
📅 Mark Your Calendar: Student Life Online Playfair! 📅
Tuesday, April 5, 2022 | 3:00 p.m. – 5:00 p.m. Eastern time
Are you an online student who wants to meet other students? Join us for our Playfair! experience!
During this time, you will be able to meet other students you may not have interacted with and get to know them better. This will be a facilitated event filled with ice breakers, deep questions, and a better understanding of each other. Any questions, please reach out to Grace at [email protected].  Join here at event time.
Support our Post University Eagles Football Team
Be The Match

Every 3 minutes someone is diagnosed with blood cancer – will YOU help us save more lives?
For patients fighting blood diseases, like Leukemia and Sickle Cell, a marrow or stem-cell transplant may be their only cure. 70% of patients don't have a fully matched donor in their family – and that's when they turn to Be The Match to find their genetically matched twin. This can be challenging for patients, especially those who are from a diverse ethnic background. Patients are most likely to match someone of their ancestry but, there simply aren't enough registry members of all backgrounds. Please help us change that by registering today!
Post University Library | Wednesday, March 30, 2022 from 10:00 a.m. to 3:00 p.m. Eastern time
Participate virtually: https://my.bethematch.org/PostSaves
Weekly Wellness Corner
The Weekly Wellness Corner is brought to you by the Counseling Center – here, you'll find content, tips, tricks, programs, and resources to help you thrive as a Post Eagle! 
The High Five Habit
"Take control of your life by one simple habit" Mel Robbins 

Sometimes the things that seem silly turn out to be the most impactful habit in your daily routine. Mel Robbins is a New York Times best-selling author and award-winning podcast host that shares tips on how to take control of your own life! One of her popular tips is the High Five Habit. This habit immediately helps boost your confidence and mood to kickstart your day.
How do you do the High 5 Habit? 
When you get up in the morning, right after you brush your teeth, look at yourself in the mirror and set an intention for the day. While thinking of that intention, also think about how you are going to show up, who are you going to be, and what matters most to you to make progress on for the day. After, just raise your hand and high-five your reflection. I know seems funny, but scientifically works! There is so much positive messaging that comes with a high 5 for example, "I believe in you, we got this, let's go, etc." We already associate high 5's with positive representations so when you go to high five for your reflection, you're embodying that positive energy for the rest of your day. 
Congratulations to the 2021 and 2022 Recipients of the Business Women's Forum Scholarship!
"The foundation of success is knowledge. These scholarships will help our students focus on their talent and their education. I am deeply encouraged by the dedication the young women have shown so far. They will no doubt become powerful leaders." -Christina Billings, Associate Director of Career Services
2021 Recipients
Jenna Abeyta (Aurora, Colo.) – Double Major, Bachelor of Science in Accounting and Sport Management
Jae'onna Sutton (Jamaica, N.Y.) – Bachelor of Science in Business Administration
2022 Recipients
Jazmin Andrews (Richmond Hills, N.Y.) – Bachelor of Science in Accounting. Notably, Ms. Andrews was also a 2020 Jaci Carroll Scholarship recipient.
Annunciata De-Souza (London, United Kingdom) – Bachelor of Science in Marketing
Read more about the Business Women's Forum program and the scholarship here.
Take Your Academic Skills to New Heights 🦅
Participate in the Center for Academic Success's Instructional Techniques & Strategies Sessions
Register for these sessions through this link.
Scholarships Can Help Fill the Gap!
An important part of any college student's journey is knowing and understanding all financial aid options when it comes to how you'll pay for your education.  Aside from grants and loans, an important component of this strategy is scholarships.  The University is regularly identifying and updating additional scholarship opportunities that our
students may be eligible to pursue.  Check out our additional scholarships page on the University's website for the current opportunities we've identified and check back often as we're regularly updating those.
Before you fill out a scholarship application, please review the general eligibility requirements as well as any specific requirements before submitting the application to the organization.  This review is important as some scholarships may have unique criteria or exceptions, so please carefully review the scholarships and follow the application instructions, including deadline and document requirements.  To read more on the importance of scholarships, check out this blog.
And, don't forget about the Online Student Government Association Public Service and Education Committee's upcoming virtual event: Town Hall Financial Aid Literacy.  The event is scheduled for Thursday, March 31, 2022 at 6:00 p.m. Eastern time.  Click here to join virtually at event time.