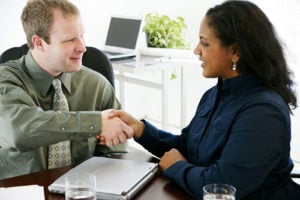 When you're just starting out in an industry, it helps to have more on your resume than just your degree. Interning and having real world, hands-on experience in a professional environment can give you a big advantage over your competition.
Why intern?
Internships have become an essential tool for gaining valuable work experience before graduation. They help answer that age-old question, "How can I get a job that requires experience if no one will give me a job without having experience?"
Here's some evidence that internships can make all the difference:
In a 2011 survey conducted by the National Association of Colleges and Employers (NACE), 86% of surveyed companies claimed that they use internships to recruit college students for future employment.
According to the same survey, 39% of new hires came from within internship programs and almost 67% of interns were offered full-time jobs at the completion of their internships.
Talk to your advisor about how an internship in your major would fit in with your academic courses and contribute to your learning.
To find out about internship opportunities that might be a good fit for you, contact Career Services.

Internship Guidelines
Internships are three-credit courses with a classroom component and a work component. Some are paid, depending on the organization's internship policies.
Requirements
In order to qualify for an internship, you must meet the following criteria:
Minimum Junior status
Minimum GPA 2.5
Course preequisites in your major (Check with your Academic Program Manager)
Maximum 6 credits of internships toward earning a bachelor's degree
Internship in your major
Transportation between school/home and internship site
Apply for Eligibility
Fill out the appropriate Internship Eligibility Form:
Internship Preparation
Start by taking these steps to get ready:
Begin the process one semester or 2 terms before you wish to start working your internship.
Create an account on Optimal Resume, visit Online Career Tools to get login information.
Prepare your resume with the Optimal Resume's online resume builder

,

 and submit it to Career Services for review.
Prepare an outlined cover letter. Use the Optimal Resume's online cover letter builder and submit it to Career Services for review.
Meet with your Academic Advisor to:

Review your schedule to see what times you are available during the week
Plan 10-20 hours per week to dedicate to your internship
Ensure you can perform the work and have enough time for classes, studies and other work if applicable

Search for and apply for an internship: Use your network and contact Career Services.
Prepare for your interview using the Optimal Resume's online mock interview tool, and visit Career Services to discuss.
Secure an internship site before Drop/Add deadline. Students must be registered for the internship course at the same time as they are working the internship.
Internship Job Search Sites
Find your ideal internship through one of these search sites:
Monster College

Intern Here  (For internships in Connecticut and Massachusetts)
Internship/Practicum Limitation Policy
To ensure students at Post University have the opportunity to gain "real world" work experiences, but also to ensure that students pursue and successfully complete their academic studies, students at Post University will be limited to applying no more than six credits of Internship /Practicum towards earning a Bachelor degree. Only in cases where an academic program's curriculum requires a student to have earned a specified number of internship/practicum hours (that exceed six credits) in order to meet regulatory requirements, or in extraordinary cases where the Dean believes more than six credits of internship/practicum as appropriate, may the Dean of the school in which the student is a member waive the six credit restriction. Students may only perform Internships /Practicum within their declared major(s) unless waived in writing by the Dean of their school.
Career Services is not responsible for the content on the websites listed above. The above links are provided as a courtesy to visitors.