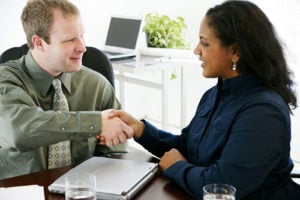 When you're just starting out in an industry, it helps to have more on your resume than just your degree. Interning and having real world, hands-on experience in a professional environment can give you a big advantage over your competition.
Internships have become an essential tool for gaining valuable work experience before graduation. Talk to your advisor about how an internship in your major would fit in with your academic courses and contribute to your learning.
To find out about internship opportunities that might be a good fit for you, contact us.

Internship Guidelines

Internships are three-credit courses with a classroom component and a work component. Some are paid, depending on the organization's internship policies.
Requirements
In order to qualify for an internship, you must meet the following criteria:
Minimum Junior status
Minimum GPA 2.5
Course prerequisites in your major (Check with your Academic Program Manager)
Maximum 6 credits of internships toward earning a bachelor's degree
Internship in your major
Transportation between school/home and internship site
Apply for Eligibility
The Forage
The Forage is an online platform that provides students with access to virtual internships, micro-internships, and other career development resources. Here are some of the ways that Forage can benefit students:
Gain industry-specific knowledge: Forage offers a range of virtual internships that provide students with hands-on experience in various industries. By completing these programs, students can gain valuable knowledge and skills that will help them stand out in the job market.
Build a professional network: Forage allows students to connect with industry professionals and build their professional network. This can be especially valuable for students who are just starting their careers and don't yet have a large network of contacts.
Get a head start on their career: Forage offers micro-internships that can be completed in a short amount of time. These experiences can help students gain real-world experience and demonstrate their skills to potential employers.
Explore different career paths: Forage offers virtual internships in a range of industries, allowing students to explore different career paths and gain insight into the day-to-day work of various professions.
Improve their resume: Completing virtual internships and micro-internships through Forage can help students build a strong resume and demonstrate their commitment to their chosen field. This can be especially helpful for students who are just starting out in their careers and don't yet have much work experience.
Overall, Forage can provide students with a range of career development opportunities that can help them gain knowledge, build their professional network, and get a head start on their career. There is no cost.