Military Support Team – Paul Joseph
​Learn how Post University can help you achieve your career goals with personalized military support.
Meet our Military Support Team and see how we are supporting our Military servicemembers and their families.
Dr. Paul Joseph is joining us from American Sentinel College of Nursing of Health and Sciences at Post University Partner Engagement team. He is originally from Boston, MA, and relocated to Colorado. He currently holds an Associate's of Applied Science Degree in Aeronautical Engineering, a Bachelor of Science in Business/Management, an Executive Master of Business Administration with a minor in Global Management, and a Doctorate in Business Administration.
Paul is a veteran of the United States Air Force where he worked under Air Force and US Space Command within the 21st Space Wing in Colorado Springs, Colorado in many areas of leadership from isolating problematic communication through digital space systems mediums. Paul has lectured in Marketing at the Metropolitan State University of Denver and currently lectures as an Adjunct at Colorado State University-Global Campus in courses such as Principles of Management, Organizational Innovate and Change, Marketing Strategies, Business Communication, Personal Selling, and International Marketing. He is the author of two coffee table quick read books called "The Joseph Success Formula" and "Oh So Fine Jumbleliar, the top 300 questions you must ask in a relationship". In his spare time, Paul spends quality time with his family, kids, and friends, reads motivational books, and researches world policies. He is an avid outdoor enthusiast spending time in the Rocky Mountains of Colorado enjoying skiing, snowboarding, and hiking several 14'ers.
Paul Joseph, D.B.A, M.B.A
Director, Strategic Partnerships
303.223.4776
[email protected]
Post Eagle Program
The Post Eagle Program is designed to help enhance every aspect of the educational experience for our service members and their families with: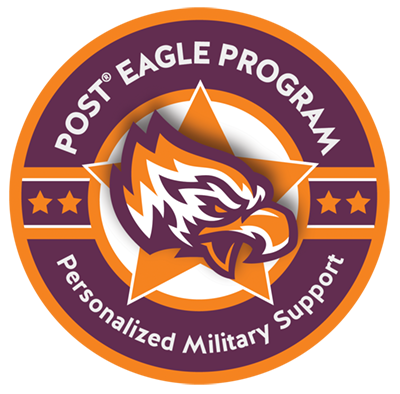 Dedicated support – a team of counselors focused solely on our military students
Financial & benefits analysis – ensuring you receive every benefit for which you qualify
Skills assessment – maximizing credits toward your degree through your relevant experience and education
Career & professional development – services to support our students pursuing their next career or promotion
Why Post for Military
Undergraduate and graduate degrees at a reduced tuition rate
100% online programs. 8-week courses. 6 term starts a year. Accessible 24/7.
No set login times. Small class sizes. Online tutoring help.
Step-by-step support for the admissions process
Flexible credit transfer policy: potential college credit for military experiences
One-on-one instruction from industry-experienced pros
Yellow Ribbon Program participant and listed in DANTES catalog
Career and professional development