Military Support Team –  Reggie L. Cosby
Learn how Post University can help you achieve your career goals with personalized military support.
Meet our Military Support Team and see how we are supporting our Military servicemembers and their families.
GySgt Reggie L Cosby served in the United States Marine Corps from 1984-2005. He served in the 1ST MAR DIV, 2nd MAR DIV, 3rd MAR DIV, 9th Marine Corps Recruiting District, and the Training and Education Command (TECOM) while in service to the country. His subordinate commands include 2Bn 6th Marines, 2nd Bn 8th Marines, 7th Communications Battalion, 5th Marine Regiment, 1st Bn 4th Marines, Recruiting Station Chicago, Recruiting Station Indianapolis, Assault Amphibian Schools Battalion and the Marine Corps Communications and Electronics School. He also served in several MEU's MEB's and MEF's. 
GySgt Cosby's Military Occupational Specialty was Communications, and he reached the Communications Chief 0699 and Communications Training Instructor ranks 0691. 
GySgt Cosby's deployments while serving alongside Allied Forces include: the Philippines, Japan, Thailand, South Korea, Spain, Italy, Morocco, Portugal, Israel, Germany, Norway, Australia, Saudi Arabia, Qatar, Abu Dhabi, Dubai, Somalia, and Kuwait. He also served aboard US Navy Vessels: USS Nassau, Tarawa, Denver, Tripoli, Dubuque, and the Flag Ship USS Blue Ridge.  
GySgt Cosby's personal awards include the Navy-Marine Corps Commendation Medal, Navy-Marine Corps Navy Achievement Medal 3rd Award, Good Conduct Medal 6th Award and the French Fourragere. 
Reggie L. Cosby
Military Field Enrollment Advisor
[email protected]
Post Eagle Program
The Post Eagle Program is designed to help enhance every aspect of the educational experience for our service members and their families with: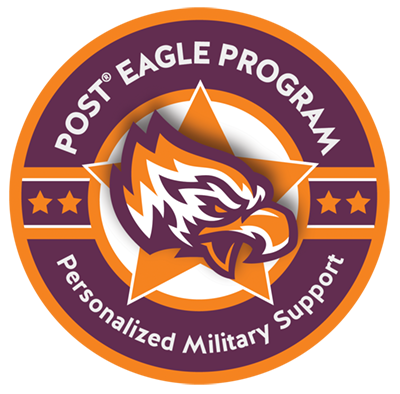 Dedicated support – a team of counselors focused solely on our military students
Financial & benefits analysis – ensuring you receive every benefit for which you qualify
Skills assessment – maximizing credits toward your degree through your relevant experience and education
Career & professional development – services to support our students pursuing their next career or promotion
Why Post for Military
Undergraduate and graduate degrees at a reduced tuition rate
100% online programs. 8-week courses. 6 term starts a year. Accessible 24/7.
No set login times. Small class sizes. Online tutoring help.
Step-by-step support for the admissions process
Flexible credit transfer policy: potential college credit for military experiences
One-on-one instruction from industry-experienced pros
Yellow Ribbon Program participant and listed in DANTES catalog
Career and professional development