Military Support Team – Scott Doughty
Learn how Post University can help you achieve your career goals with personalized military support.
Meet our Military Support Team and see how we are supporting our Military servicemembers and their families.
In 2020 Scott Doughty started working for Post University as a Military Admissions Field Advisor. Scott is a retired Navy Senior Chief Petty Officer with 23-years of dedicated service to our Country. He spent time serving aboard two Submarines and 18 years in Talent Acquisition, Training, and Recruitment. His enthusiasm towards helping others further their education while enhancing marketability through personal and professional growth are unmatched. He especially loves the ability to continue his mentorship to service members, veterans, and their families.
Scott made nine deployments as a SONAR supervisor and rescue swimmer aboard two submarines, the USS Nebraska SSBN 739 (Blue) and USS Tennessee SSBN 734 (Gold). One of his final Navy endeavors led him to pioneer a total enterprise transformation through training, curriculum development, and quality assurance assessments for process improvement. A Maryland native, he has lived all over the United States, but has settled with his wife and three children in the greater Pacific Northwest.
Scott Doughty
Military Field Advisor
203.233.5739
sdoughty@post.edu
Post Eagle Program
The Post Eagle Program is designed to help enhance every aspect of the educational experience for our service members and their families with: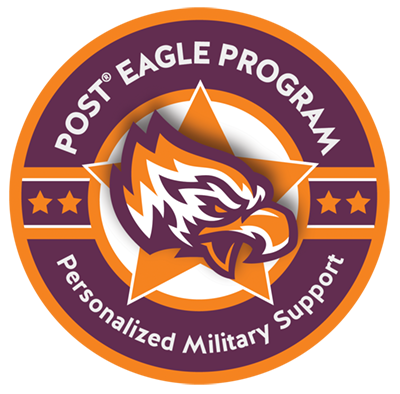 Dedicated support – a team of counselors focused solely on our military students
Financial & benefits analysis – ensuring you receive every benefit for which you qualify
Skills assessment – maximizing credits toward your degree through your relevant experience and education
Career & professional development – services to support our students pursuing their next career or promotion
Why Post for Military
Undergraduate and graduate degrees at a reduced tuition rate
100% online programs. 8-week courses. 6 term starts a year. Accessible 24/7.
No set login times. Small class sizes. Online tutoring help.
Step-by-step support for the admissions process
Flexible credit transfer policy: potential college credit for military experiences
One-on-one instruction from industry-experienced pros
Yellow Ribbon Program participant and listed in DANTES catalog
Career and professional development