Connecticut Society of Certified Public Accountants
Earn a Degree and Get the Education You Need to Succeed!
At Post University, we want to help you get the education and earn the degree you need to succeed! We have partnered with the Connecticut Society of Certified Public Accountants to offer a generous 25% reduced tuition rate towards your degree, a degree that will help you advance your career through the ranks.
With 30+ in-demand, career-relevant programs available online, you'll be able to pursue your degree on your schedule, on your terms. You get the education you want and the skills you need, all while fulfilling your responsibilities on the job and at home.
CTCPA members, their immediate family, and select staff members can take advantage of this discount for all undergraduate and graduate degree programs. Those eligible for the program include:
CTCPA Certified, Associate, and International Members
All non-CPA employees of CTCPA members listed above working in accounting firm offices located in Connecticut
All non-CPA employees of CTCPA members listed above working in accounting or finance departments in offices located in Connecticut.
Immediate family members of the CTCPA members listed above.
CTCPA Student Members are ONLY eligible for the discount when pursuing their graduate degree. They are NOT eligible for the discount for undergraduate degree programs.
Why Post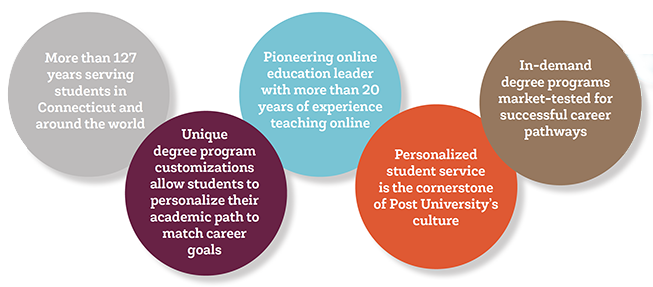 Through this educational partnership, Post University can offer you:
25% Reduced Tuition Rate – for you and members of your immediate household
Online Access – study on your schedule, not ours
30+ Degree Programs – in-demand and career-relevant
Flexible Credit Transfer Policy – finish what you started
Prior Learning, Work and Life Experiences Credit – your knowledge plus expertise may equal college credit
Financial Aid Options – for those who qualify
And One More Thing … Post Makes It Personal®
Our courses are taught by instructors who are educationally credentialed and bring with them valuable industry experience – each one dedicated to helping you achieve success through highly interactive coursework, smaller class sizes, and one-on-one coaching. We're with you every step of the way.
Take the next step.
Fill out the below form or contact us today to speak with your personal Academic Success Counselor, Graduate Programs 203.568.1653 or Undergraduate Programs 203.568.1652.