Welcome! Meet Your Post Representative
Hi, I am Kerry Creasy, the Post University Partner Engagement representative in your area. It's great to meet you!
If you want to gain the skills, credentials, and experiences needed to grow in your profession, then you have come to the right place!
As a representative of American Sentinel College of Nursing & Health Sciences at Post University, I love helping students see their potential and grow in their nursing careers. Our nurses and healthcare professionals sacrifice much of their emotions, personal health, and time when we need it most. It is an honor that I get to be a small part of their educational journey to providing better quality and advanced care to our loved ones. Helping others fulfill their future goals through education is a passion of mine and I am excited to see Post University graduates leave positive impact in their chosen professions.
I have served the education field for 9 years, holding a Bachelor of Science degree in Business Administration from University of Mary Washington and a Master of Science degree in Sports Administration from Georgia State University. I am here to help you on your journey toward your next degree in nursing and look forward to working with you!
Below is my contact information. Please contact me any time if you need assistance or have questions about our university or programs.
Kerry Creasy
Manager, Partner Engagement
[email protected]
484.643.0838
As a nurse, you never stand still. Your career shouldn't either.
Start taking steps toward an advanced degree and apply to Post University today.
Looking to earn an advanced degree in healthcare?
American Sentinel College of Nursing & Health Sciences at Post University offers online nursing and healthcare management degrees that focus on improving patient care and addressing today's healthcare issues.
Post University offers the following programs for RN-licensed nurses:  
Master of Science in Nursing (MSN)
Specializations include:

Case Management
Infection Prevention and Control
Nursing Education
Nursing Informatics
Nursing Management & Organizational Leadership

Doctor of Nursing Practice
Specializations Include:

Educational Leadership
Executive Leadership
Informatics Leadership
Professional Leadership
In addition, we offer these healthcare programs:
Infection Prevention and Control Graduate Certificate
Digital Credentials
Post University also offers 30+ degrees in business, education, law, public service, and more!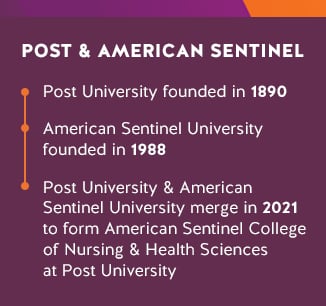 Why Post University for Nursing?
100% Online for your convenience
Flexible format to complete coursework around your schedule
Two ways to learn with our Term-based and SimPath (competency-based) modalities available for most nursing programs
Student Success Advisors for assistance throughout your journey at Post University
Practice-focused curriculum to help you gain real-world skills
No clinical requirements (except for Nurse Practitioner specializations)
Generous Transfer Credit Policy and other alternative credit options
Affordable tuition with flexible payment plans, tuition reduction programs, and scholarships available
Commission on Collegiate Nursing Education (CCNE) Programmatic Accreditation
The baccalaureate degree program in nursing and master's degree program in nursing at Post University is accredited by the Commission on Collegiate Nursing Education, 655 K Street NW, Suite 750, Washington, DC 20001, 202.887.6791.
ACEN Programmatic Accreditation
The Doctor of Nursing Practice program with four specializations within the American Sentinel College of Nursing & Health Sciences at Post University is accredited by the Accreditation Commission for Education in Nursing, Inc. (ACEN): 3390 Peachtree Road NE, Suite 1400, Atlanta, GA 30326, 404.975.5000
Ready to take the next steps?
You provide high-quality care to others every day. Now, it is your turn. Count on American Sentinel College of Nursing & Health Sciences at Post University for the education and support your career deserves.
How can we assist you? Request more information and we will walk you through everything you need to know about Post University and our nursing and healthcare management programs. Or apply now to get started today!
---
*State Authorization, Licensure, and Disclosures for Nurse Practitioner Specializations
Students will need to fulfill additional requirements to become nurse practitioners. While the Master of Science in Nursing (Adult Gerontology Primary Care Nurse Practitioner, Family Nurse Practitioner, and Psychiatric Mental Health Nurse Practitioner specializations) is not designed to fulfill licensure requirements in an individual state, the program may be used to partially fulfill licensure requirements. Professional credentials vary by state and include requirements outside of education, which may include exams, background checks, work experience, and more. Post University does not guarantee licensure. It is the responsibility of individual students to ensure that all requirements are met to obtain licensure. Post University does not speak on behalf of any licensing board or body but does assist students in understanding licensure requirements. The following table shows whether Post University, with completion of the appropriate curriculum, does or does not fulfill the educational requirements for a specific license: Nurse Practitioner Disclosure by State