Reading Time: 6 – 9 minutes
She is a basketball star, campus leader, and top scholar with international business aspirations. See how far Tai Pagan has gone in a short amount of time – and learn how the unique opportunities at Post University brought Tai to one of her happiest moments, at the same spot as one of her biggest disappointments.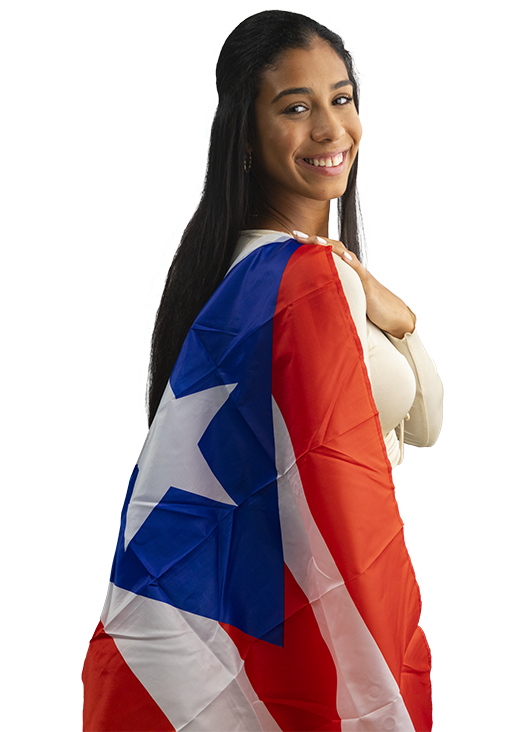 There are people who can light up a room. There are people whom everyone turns to in pivotal moments. There are people who make you realize the world is a wonderful place. Then there are the select few who possess all these qualities, and Taina Pagan – or Tai for short – is one of those people.
Tai exudes positivity. She is well-spoken, bubbly, and effusive. As we join Pagan for a walk in her hometown of New London, Connecticut, she is stopped by more than one person who wants to say hello to her. In a city with more than 27,000 citizens, it quickly seems like Tai is one of New London's most notable figures.
Pagan eventually makes her way down to the historic waterfront area, where Coast Guard ships, antique sailboats, and ferries float on by. Tai likes to come down to the ocean and think about the future, which she does with a smile.
As her Twitter profile proclaims, she feels "so indescribably blessed."

"Little Tai Wanted To Be A Banker!"
So how did Tai Pagan get here? Who is this budding star among us?
She is the youngest of three sisters – Melody, India, and Taina – born to Carmen and Moises Pagan, both proud Puerto Ricans. Sports were always a big part of the family dynamic, as dad was a fine basketball player in his day, and mom was an excellent track and field athlete. Carmen was also the only member from that generation of the family to go to college – something Tai wanted to emulate from a young age.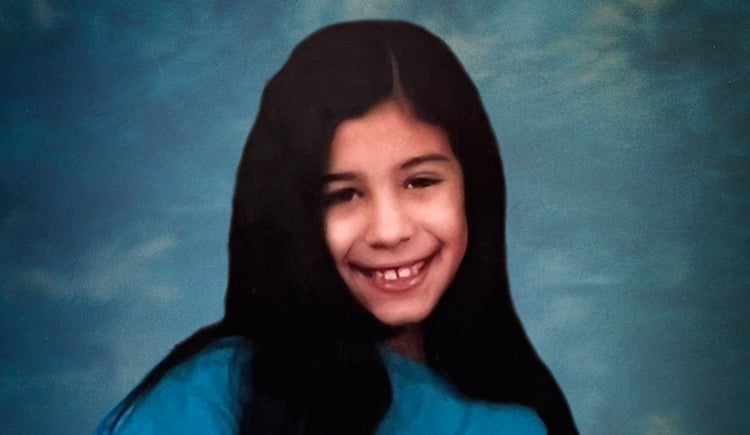 Pagan's parents wanted the girls to try lots of things – softball, karate, swimming, among others. They believed that athletics were an important way to learn about life, about work ethic, about earning your keep, and about dealing with adversity. Sports did not take hold with Melody – singing was more her thing – but India and Tai were clear athletes. Ironically, the last sport Tai and India tried was basketball. Once they did, the two girls were hooked. 
As Tai's basketball abilities got stronger, her childhood career plan waned. Laughing, Pagan says, "Little Tai wanted to be a banker! If she saw me today, she would be in complete shock!"
Pagan was a star basketball player at New London High School – with a long list of accolades that included being named to the Class LL All-State team, and selected as The Day's All-Area Girls' Basketball Player of the Year.   
In 2017, her freshman year, Tai helped the Whalers win the state championship – playing alongside India, a star senior then, who is now a member of the Puerto Rican National Team and playing professionally in Germany.
For all the great memories of the 2017 title, however, it is the 2109 state championship game that she has tried to forget.
New London faced Norwalk High School in that 2019 title game tilt, in front of a raucous crowd of more than 5,000 fans. Norwalk entered the matchup with a perfect 27-0 record – yet, as the final quarter started, Pagan's New London squad held a commanding 11-point lead. In a desperate move, Norwalk increased the defensive pressure by getting much more aggressive, and New London's lead began to dwindle.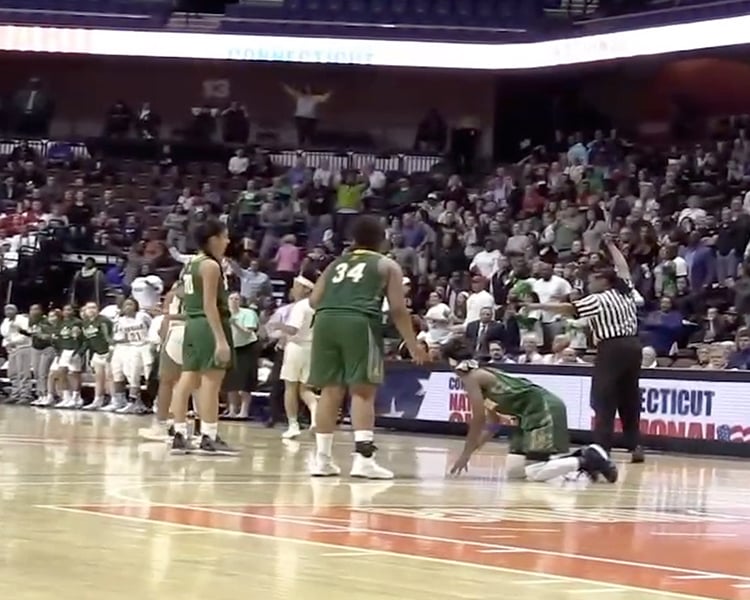 Then, as the Whalers clung to a 53-51 lead with 45 seconds remaining, a championship-changing play occurred. 
New London brought the ball up court, but lost control when the ball handler and a teammate collided. Game footage seems to show that a Norwalk player may have pushed one New London player into the other. As the ball bounced in the open court, Tai and a Norwalk player ran towards it. Pagan dove, and made contact with her opponent. The referee's whistle blew. Tai was called for the foul – her fifth of the game, which meant she was disqualified.
Now relegated to the bench, all Tai could do was watch as Norwalk made two foul shots to tie the game, got the ball back on a turnover with 29 seconds left, and made a game-winning shot with 1.7 seconds remaining. While the Norwalk players flooded the court in celebration, and their fans roared in a deafening state of delirium, Pagan looked up at the scoreboard.
Norwalk 55, New London 53.
"One of My Happiest Moments"
"Walking into this arena, and standing on this court, reminds me of how far I've come in such a short amount of time," Pagan says.

A mere three years after losing in the high school state championship, Tai is back at the same place where that game was played. It is Mohegan Sun Arena – home of the Connecticut Sun, the professional team in the Women's National Basketball Association (WNBA). This time, instead of playing, Tai is working as an intern for the Sun.
In 2022, Post University entered into a multi-year partnership with the Sun and Mohegan Gaming & Entertainment. Through the partnership, the University provides post-secondary education, career development, and continuing education benefits to Mohegan Sun employees, Connecticut Sun players, front office personnel, and their family members.
Knowing that Tai was interested in business administration and marketing, Jon Plefka – the Post University Women's Basketball Head Coach – asked if she might want to be a student intern for the Sun. Pagan jumped at the chance. 
"When I was asked who I would recommend for the internship, I knew Tai, with her infectious personality and intellect, would be the perfect choice," says Plefka. "She leads by example and conquers anything she puts her mind to."
Over the course of the WNBA season, Pagan did post-game interviews with Sun players, crafting her own questions and turning the footage into social media content. Through her exposure to multiple aspects of the Sun operation, Tai was able to find out from professionals what it is like to play at the highest level, to plan for a career beyond the court, and to run a business.
With the internship recently completed, Tai says it was "one of my happiest moments at Post University."
"I would've never thought of media as a career, but now, I definitely see it as something I can do in the future."
"Post really took my interest to heart and connected me to an amazing opportunity,"
With so much success in her high school basketball career, coupled with an exemplary academic record, Tai was recruited by a number of Division I and II schools in the New England area. She took virtual tours online, talked with representatives, met coaches, and attended basketball camps, all in the hopes that the perfect school would present itself. Many touted amenities and an environment that were attractive to Pagan, but no college jumped out as a clear choice.
Unsure of how to narrow down her options, Tai went back to the New London waterfront – and got back to some basics in her mind. Sitting along the seawall, she realized that her biggest priority was "to go somewhere that felt like this place. Home."
She visited the Post University campus, and the homey feeling was instant. Her affinity grew as she talked with students, staff and potential teammates. When Pagan returned for an additional visit, she says, "everyone was like, 'Hey Tai.' I wanted a college that feels like family, and everyone knew my name."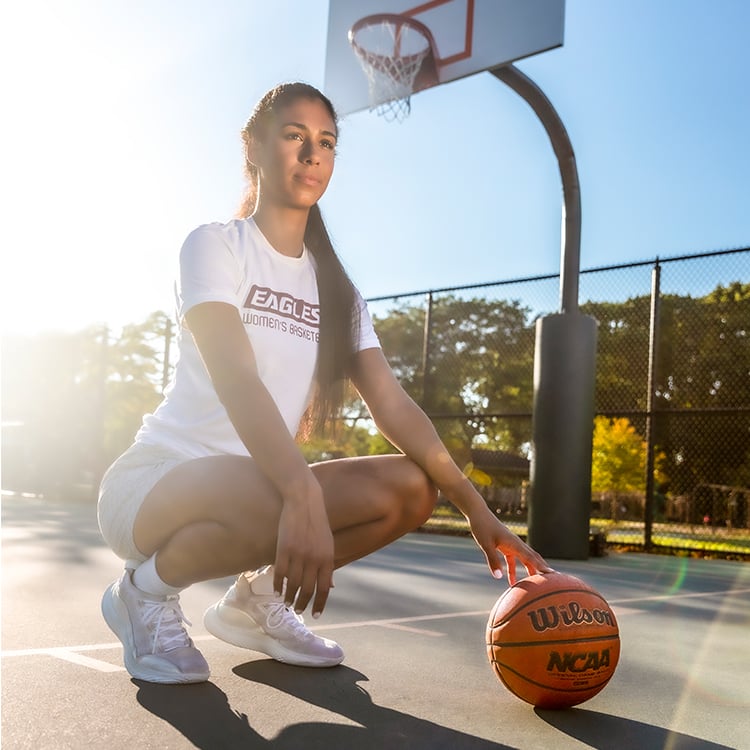 Pagan was set: She wanted to attend Post University. Prior to submitting the application, Tai's high school guidance counselor suggested she apply for The Malcolm Baldrige Scholarship. Pagan did, and recalls getting a response – in the form of a surprise visit.
"I was actually in class, and they called me down to the office. I thought, 'Oh my gosh, what if I'm in trouble?'" Knowing that she couldn't have been facing any discipline, but not knowing the reason she was called upon, Tai nervously walked down the corridor. The walk felt like an eternity, far more nerve-wracking than any basketball game.
Her guidance counselor was there, the school principal was there, and Dr. Jeremi Bauer – the Dean of The Malcolm Baldrige School of Business at Post University – was there. A few words, and a big check presentation later, Pagan knew why she was summoned: She was the recipient of a four-year, full-tuition academic scholarship to Post University.
"I wanted a college that feels like family, and everyone knew my name."
Carmen still has the big check in the house. It represents a very proud moment, especially since her daughter became the first Latina to earn The Malcolm Baldrige Scholarship, something that Tai still says is "surreal."
Explore additional content related to Tai's story, and see how you can do anything with the support of Post University.
Citing the comfort she has felt as a real confidence builder, Tai has gotten heavily involved in the on-campus community. "My friend group is very mixed. Athletes like to support each other, so basketball goes to volleyball games. Volleyball goes to football games. I've made a lot of friends in the classroom, too, through group projects, things like the Honors Club, and also at my campus jobs," says Pagan. She works at the campus store, as well as the business school, and is an Orientation Leader. Tai also loves serving as a representative on the Student Athlete Advisory Committee, where she openly provides perspectives on topics related to social justice, racial equality, and leadership on campus.
Looking back, Pagan recalls the personal attention shown by a professor during her freshman year as a catalyst to her success at Post. 
The course was Principles of Management, taught by Program Chair, Management, Melissa Santos. Santos has had a multi-decade career in finance, working for notable companies including GE Capital, Greenwich Capital, and Yankee Energy. Her thought leadership, experience, and positivity were highly influential on Pagan. Says Tai, "We talked about a lot of real-life scenarios and how to come up with actual solutions. She presented information in a way that felt relevant to me, like it was going to be useful for me in the future."

For her presentation at the 2020 Northeast Regional Honors Conference, Pagan chose Santos as her faculty mentor, and the two continue to speak regularly, even though Pagan is not in any of Santos' courses this semester. They talk "like best friends," says Tai – about interests such as world travel, which both have a passion for.
Tai currently sports a cumulative 3.94 grade point average, which has earned her inclusion on the President's List each year of her college career, as well as selection to the Central Athletic Collegiate Conference All-Academic Team in both 2021 and 2022.   
None of Pagan's success surprises Professor Santos. "Tai showed her aptitude and curiosity for learning right from the start. She is an inspirational role model who values diversity, cultivates positive friendships, and challenges herself. She is a goal-setter and a go-getter!"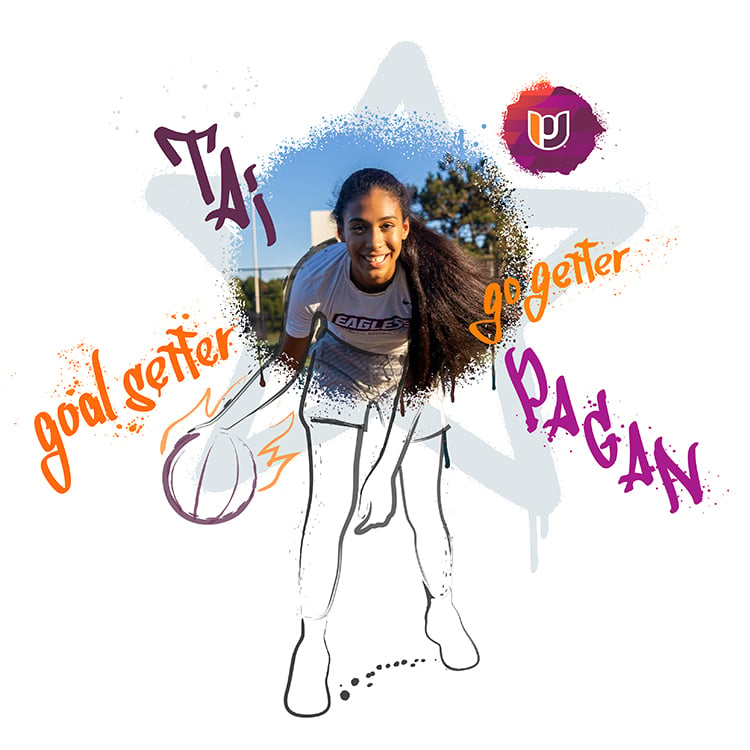 While we chat inside the Pagan's home, one cannot miss the wall-to-wall backdrop of photos, medals, plaques, and newspaper articles from India and Tai's basketball careers. In fact, visitors need to walk through it all, as the shrine stretches over the entire entrance area and spills into the living room. 
On the first-floor support column are photos of a young Taina Pagan, including one from her first youth basketball season. She is eight years younger and thirteen inches shorter in the photo than she is now, but Tai beams with the same vibrance, the same star quality, that has – and will – serve her well.
Tai shies away from compliments like this, politely saying, "Aw, thank you," but she does realize that her career opportunities are so bright because of the work she has put in, and because of the people at the University.
"You know the saying, Post Makes It Personal? I genuinely feel like it's true. The support that I've received at Post University is almost overwhelming. You always have someone that you could turn to. Everyone is there to help you thrive."
"You know the saying, Post Makes It Personal? I genuinely feel like it's true."
Tai is set to graduate in the spring of 2023 with a Bachelor of Science in Business Administration, with a concentration in International Business Administration, and a minor in Marketing. She views her career path as she does her world travels – an exciting trip with multiple destinations where she can fully live her life philosophy, Enjoy Every Moment.
She plans to enjoy every moment of her senior year, and regardless of what occurs on the basketball court this season, Tai Pagan knows she has already won.      
"There's so many resources here," she says, "So many great people who understood me and helped connect me to career and life opportunities. Post has opened so many doors for me. I may continue to play basketball professionally, I may pursue international business, and I know I'm well prepared for either."
"So many great people who understood me and helped connect me to career and life opportunities. Post has opened so many doors for me."
In the last hour of our New London visit, we join Tai at a city park while she does a personal shoot around. As is the typical, self-deprecating banter of athletes in their offseason, Tai cheerfully pleads, "Just so you know, I'm a little rusty!" Pagan dribbles around and sure, she misses a few jumpers – but by our count, Pagan hits sixteen of her first twenty shots, most of them catching nothing but the bottom of the net.
This has quickly captured the attention of the twelve-or-so-person group playing a pickup game on the half court opposite Tai. When she drains the next five shots in a row, another group on an adjacent court literally stops to watch the show across the way. Pagan proceeds to make three more shots consecutively – each time, the people letting out "Oh man!"'s, "Whoo!"''s, and "Daaang!"s with increasing volume.
About thirty minutes after Tai has begun, the city park is still murmuring about the young woman who just put on a shooting display. While Pagan walks towards the car, a teen girl from the second group yells, "Hey, who do you play for?" 
Tai stops, smiles, makes eye contact from afar, and proudly says, "Post University."
EXPLORE MORE SUPPORT STORIES
Because support means everything, you'll get all we've got. Find your program and start getting the support you need.
Get Started on Your Degree!