Welcome Becker College Students!
Post University can help make the transition easier, enabling you to continue on your career plan and finish your degree. Post University is proud to welcome Becker College students into our academic family. We know that you are dealing with uncertainty and that is why we are committed to making the transition to Post as smooth as possible. Our promise to you is to be with you every step of the way.
If you are Equine Studies major, we have an articulation partnership that identifies the credits from Becker College that will apply to your Equine Studies degree program at Post University. For all other majors, we will start with a no obligation opportunity to have your transcript reviewed. We will work with you to maximize your previously earned education and transfer your Becker College credits to Post University.
With 30+ in-demand, career-relevant programs available on campus and online, you'll be able to pursue your degree on your schedule, on your terms. You get the education you want and the skills you need, all while fulfilling your responsibilities on the job and at home.
Why Post
A beautiful New England campus located in nearby Waterbury, CT.
Degree Programs offered on campus
Equine Studies articulation partnership
Other Areas of Study Offered: I.T., Business, Legal and Criminal Justice Studies, and more
More than 127 years of Academic Excellence
Top Online Program – U.S. News & World Report 2018
Top Online Program for Veterans – U.S. News & World Report 2018
Next Step
At Post University, "Post Makes It Personal" and we mean it. Call us today at 800.345.2562  to speak to an admissions counselor and find out how many credits you're eligible to transfer.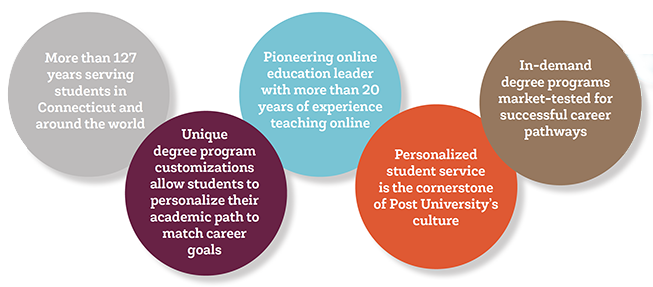 Experience Post
See what it's like to be part of the Post family!