Master of Science in Business Intelligence and Analytics
Improve Business Outcomes with a Graduate Degree in Business Intelligence and Analytics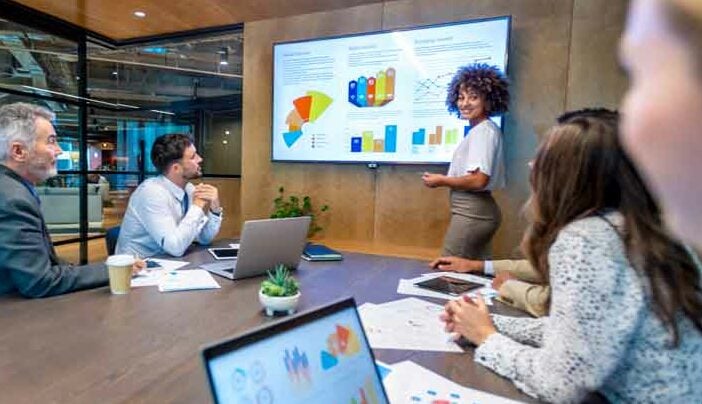 This program is offered online.
Strategic decisions require utilizing the best information available to organizational leaders. You are committed to quantifying business operations and using data to understand and improve them. A master's degree in business intelligence and analytics from Post University could prepare you to identify opportunities to improve processes, operations, and more. This degree could prepare you for well-paying business analyst roles in nearly every industry. 
Program Highlights
Coursework for your business intelligence and analytics degree offers experience in data analytics and management, business performance and customer relationship management, decision support and intelligent systems, and more! 
In the Master of Science in Business Intelligence and Analytics program, develop a skill set on how to assess an organization's business, use data, and help a business to grow by making better strategic decisions based on that data. All too often businesses stumble when they ignore the data or read it incorrectly. With this degree you will how efficiently/effectively collect data, how to clean and filter the raw data, and use the knowledge gleaned from it to make appropriate strategic decisions. 
Plus, at Post University, you will not have to worry about getting lost in the crowd. We keep our class sizes small to encourage in-depth discussions and collaborative problem-solving. We offer learning flexibility with our online MS-BIA. The instructors who lead our courses have the professional expertise to help you take what you learn in the classroom and apply it to real-world situations. We also match you with an Academic Advisor to support you along your college-to-career path – one of the many ways Post Makes it Personal. 
What can I do with

an Online Master's Degree in

Business Intelligence and Analytics

?
Your business intelligence and analytics program offers the opportunity to develop the skills and insights you need to identify, analyze, and define business challenges that require intelligent data-driven solutions. It covers how to use business intelligence to make strategic decisions and improve operations. Coursework helps prepare you to make more informed, data-driven decisions and provides a framework for developing the solid business intelligence and analytics background you need to pursue relevant career opportunities in any industry.  
These are the skills—and this is the degree credential—needed to pursue any number of career options. Depending on your level of experience, you could pursue entry-level or advancement opportunities as a researcher, director of business intelligence, data scientist, business intelligence engineer, forensic accountant, project manager, and more. 
This program is not eligible for Title IV funding through the U.S. Department of Education.

Post University is currently not enrolling new students into this program.  
Get Started on Your Degree!