Post University Partners In Education
At Post University, we believe that every organization has unique educational and financial needs, so we are bringing business and education together through our college partnership program. As strategic partners in the education of your employees, we will work together to create academic pathways that align with your organization's strategic vision and with the educational and career goals of your employees. That's just one way that Post Makes It Personal®.
Personalized Business Solutions
As partners for education, we are partners in your organization's success, which means real-world based degree programs designed and facilitated by educators experienced in their field of study. When your organization partners with Post University, we form a collaboration between our academic team of faculty, that have industry experience, and your organization to create an optimal educational experience for your employees.
Customized Tuition Reimbursement Programs
Does your organization offer tuition reimbursement or employer paid tuition program? Tuition Reimbursement Programs are a great way to attract and retain employees and build a strong team. With Post as your Education Partner, we will work with you to provide reduced tuition for your organization. Reach out to our Partner Engagement team to learn how our Tuition Reimbursement program could benefit your employees and your organization.
A Commitment to Serving Those Who Serve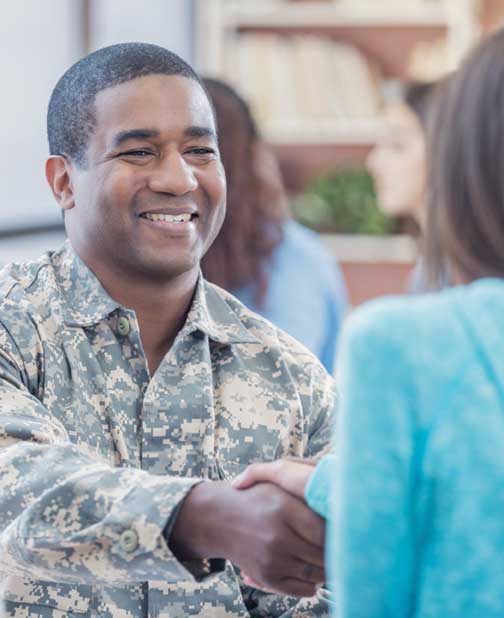 The Educational Partner for Military Friendly Employers®
At Post, we're proud to partner with organizations that hold Military Friendly status to provide opportunities for higher education for military heroes. They've served our country. They work for you. This is your opportunity to add value to their lives in a way that also adds value to your organization. From military tuition assistance to credit for military education programs, we are here to help you reach your organizational goals by helping them achieve their educational ambitions.
Learn more about our Post Eagle Program and military benefits by reaching out to the Partner Engagement team.
Developing an exceptional workforce that can produce extraordinary results means addressing both the personal educational goals of your employees, as well as the goals of the organization.
For a complimentary collaborative consultation to determine your organization's learning needs and how Post can be a resource, contact our Partner Engagement Team.