Undergraduate Admissions Requirements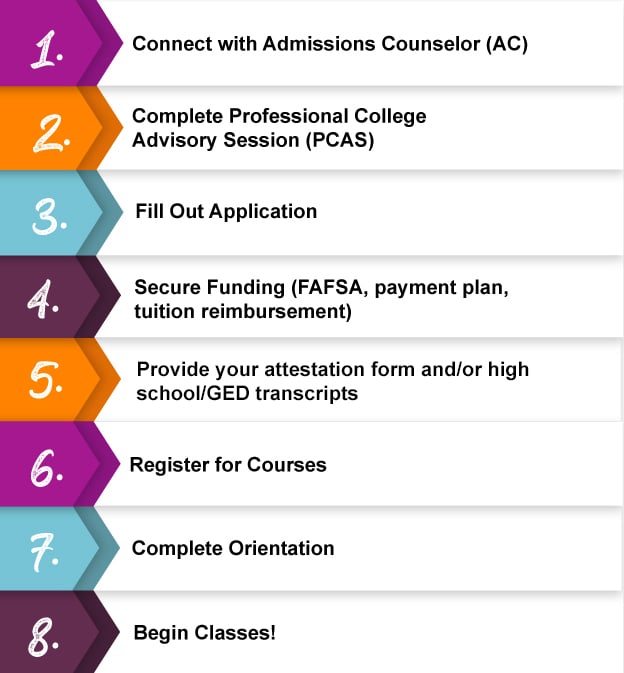 Admissions Requirements
An applicant seeking to apply for admissions to an Accelerated Degree Program online undergraduate program must be a high school graduate or meet one of the following requirements:
Possess a General Education Development (GED) certificate or state-specific equivalent diploma.
Possess a home study certificate or transcript from a home study program that is equivalent to high school level and recognized by the applicant's home state, and they must be beyond the age of compulsory attendance in that state.
Post University will accept attestation as proof of graduation. In addition to attestation Post University may request any proof of graduation as outlined by the U. S. Department of Education. Types of proof of graduation are:
Types of documentation include:
An official high school transcript with proof of graduation.
A copy of Graduate Equivalency Diploma (GED), including scores, or certificate issued by the State.
A copy of service members' DD214 or Enlisted Records Brief (ERB), showing graduation from high school or equivalent.
A copy of service members' Joint Services Transcript (JST), for applicants not applying for Federal Title IV Financial Aid. Service members applying for Federal Title IV Aid must provide applicable proof of high school graduation, listed within these requirements.
Copy of a high school diploma.
An official homeschool transcript.
An official Associate Degree transcript.
Official documentation of successful completion of at least 60 semester or trimester credit hours or 72 quarter credit hours that does not result in an associate degree but is acceptable toward a bachelor's degree at any institution.
Official documentation of enrollment in a bachelor's degree program with at least 60 semester or trimester hours or 72 quarter credit hours successfully completed, including credits transferred into the bachelor's degree program.
Post University relies on the students' attestation of high school completion and will not mandate a separate document for all students.  Additional acceptable forms of attestation may include proof of graduation included on the FAFSA, or any document deemed acceptable by the US Department of Education.
If for any reason, the attestation of high school graduation or GED completion false or untrue, the student will not have met an admissions requirement and will no longer be a regular student and will be subject to immediate dismissal.  Further, if the attestation is false or untrue, Post University may return disbursements of Title IV financial aid and state or institutional financial aid on the student's behalf to the appropriate source. The student will be responsible to Post University for all money it may refund.
---
Undergraduate Certificate Programs Admissions Requirements
Applicants to an undergraduate certificate program must meet and maintain the same admissions criteria appropriate to the program of study that grants the certificate.
---
English Course Placement
First year online (ADP) students are asked to complete an English placement test. Their achievement on the English placement test assesses whether students should be placed into either ENG 107: The Power of Words or ENG 110: College Writing. Students who do not take the English placement test will be automatically placed into ENG 107 during the next applicable term.
*Both ENG 107 and ENG 110 will count as three credit courses on a student's degree plan.
---
Alternative Credit Options
Post University provides an opportunity for students to demonstrate college-level proficiency in certain subjects where learning has occurred in non-traditional ways, such as advanced placement courses, on-the-job training, standardized examinations, or work experience. Learn more about the Alternative Credit Options.
Post University Online Admissions 
800 Country Club Road
P.O. Box 2540
Waterbury, CT 06723-2540
[email protected]
800.345.2562