We're committed to supporting those who've devoted their lives to protecting our country.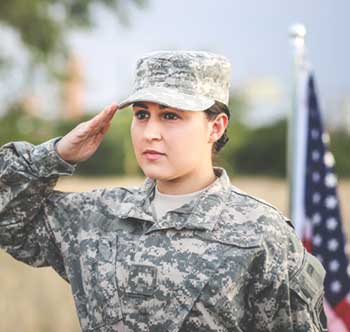 We understand the demands and responsibilities that come with military service. At Post University, we have been honored and privileged to provide flexible and convenient degree options for our military heroes and their families since 1976*.
Our personalized dedication to service members and their families has made Post University a Military Friendly School for seven years running and ranked among the best by U.S. News & World Report for our online programs and commitment to veteran education.
Post stands mission-ready to support your educational needs. Whether you're getting ready for the promotion board or preparing for a civilian career, we are here for you. Service members must contact their respective branch education office or education support officer (ESO) prior to enrolling with Post University.
Post Eagle Program
The Post Eagle Program is designed to help enhance every aspect of the educational experience for our service members and their families with:
Dedicated support – a team of counselors focused solely on our military students
Financial & benefits analysis – ensuring you receive every benefit for which you qualify
Skills assessment – maximizing credits toward your degree through your relevant experience and education
Career & professional development – services to support our students pursuing their next career or promotion
Military appreciation gear – our enduring thanks tangibly represented in apparel for students
Why Post for Military
Undergraduate and graduate degrees at a reduced tuition rate
100% online programs. 8-week courses. 6 term starts a year. Accessible 24/7.
No set login times. Small class sizes. Online tutoring help.
Step-by-step support for the admissions process
Flexible credit transfer policy: potential college credit for military experiences
One-on-one instruction from industry-experienced pros
Yellow Ribbon Program participant and listed in DANTES catalog
Career and professional development
Download your Military Service Member's Guide to learn everything you need to
know about earning a college degree online.
*Post University military benefits extend to active, reservists and veterans of the Army, Army National Guard, Army Reserves, Air Force, Coast Guard, Marines and Navy, and their families, as well as civilian employees of the Department of Defense
Military Programs
Post University, P.O. Box 2540. 800 Country Club Road, Waterbury, CT 06723-2540
[email protected]
Phone: 800.345.2562
Fax: 203.841.1164