Certificate in Human Resource Management
Pursue a Human Resource Management Certificate Online at Post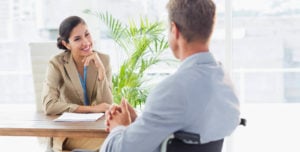 As a student of our certificate in HR management, you will have the opportunity to explore the standards of performance that are expected of everyone on staff—managers and employees—with special attention paid to the importance of supportive relationships between workers and their organizations. Core coursework for your certificate program covers communication dynamics, human resource systems, and labor and employment law. From there, you will have the opportunity to customize your program to your interests with three elective courses in areas like environmental health, compensation and benefits, training and development, and managing cultural differences in the workplace.
What Could I Do with this Certificate in HR Management?
Coursework for your undergraduate Certificate in Human Resource Management is designed to help you better understand the roles and responsibilities involved in the HR field, from HR professionals to human resource managers to front-line managers. Your certificate program explores industry issues, from recruitment and retention techniques to employment law, and offers learning experiences you could use to build skills relevant to your HR career or to the people operations side of your management role.
Industry-Focused Curriculum for Professional Skills
Coursework for your certificate in HR management is designed to help you better understand the HR field with insights for
Staffing, training, compensation, and other essentials of HR management
Identifying and evaluating ethical issues and compliance practices
Applying management principles in private, public, for-profit, and non-profit organizations
Analyzing current issues and challenges involved in human resources
Benefits of Earning a Human Resource Management Certificate Online
From the admissions process to the day you graduate, we are with you every step of the way.
Receive support from a personal Post team of advisors focused on your academic success
Learn from industry-experienced professionals in interactive courses
No class times or set login times for your online HR management certificate
Online courses emphasize practical application of human resource management principles
A Word from Our Program Chair
"The Post University HR management program is aligned with the Society for Human Resource Management competency model. It is relevant for the daily practice of HR in the field, as well as for front-line managers with people management responsibilities."
Philip Espinosa, PhD
Program Chair, Human Resource Management
Pursue Your HR Management Certificate at Post
At Post University, we are focused on your success, in and out of the classroom. A student success advisor will work with you one-on-one to answer your questions and help you address challenges throughout your certificate program. We are here to help you achieve your personal and professional goals.
Ready for an education that offers a better understanding of employment law, compensation and benefits, and what it takes to pursue opportunities in the HR field? Contact us to learn more about our certificate in HR management.