Undergraduate Admissions Requirements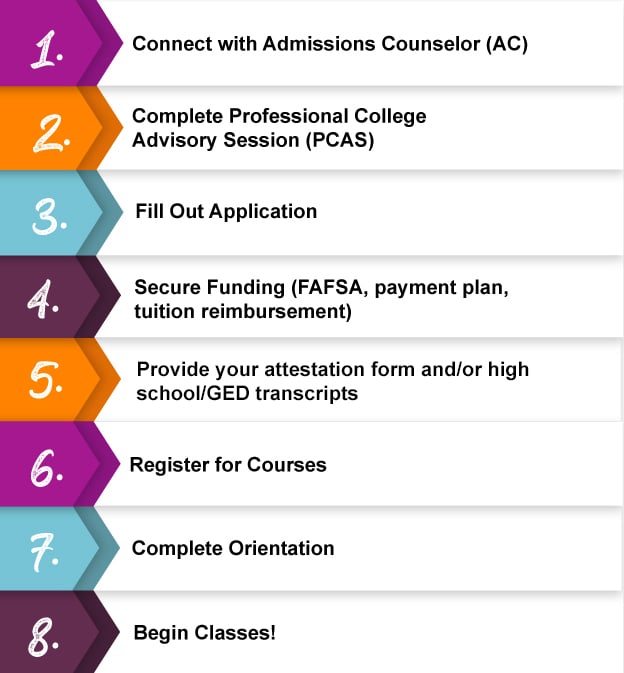 *Post University Main Campus applicants will be permitted to enroll by providing an attestation confirming high school graduation. Post University will accept students based on attestation when all other admission requirements are met. Prospective Main Campus students for Fall 2020 will be provisionally accepted based on an attestation of high school GPA. Once high schools can provide transcripts, we will confirm their acceptance and scholarship package for the Fall 2020 semester and adjust if necessary.
Main Campus Undergraduate Admissions Requirements
Applicants seeking to apply for admissions to a Main Campus undergraduate program must provide a completed admissions application and proof of high school graduation or equivalent. An admissions interview is strongly recommended.
The following are examples of proof of high school graduation or equivalent:
*An official high school transcript.
A copy of Graduate Equivalency Diploma (GED), including scores, or certificate issued by the State.
A copy of service members' DD214 or Enlisted Records Brief (ERB), indicating graduation from high school or equivalent.
A copy of service members' Joint Services Transcript (JST), for applicants not applying for federal Title IV aid. Service members applying for federal Title IV aid must provide applicable proof of high school graduation, listed within these requirements.
An official home school transcript.
An official associate degree transcript.
One of the following forms of documentation will also be accepted as proof of high school graduation or equivalent:
Official documentation of successful completion of at least 60 semester or trimester credit hours or 72 quarter credit hours that does not result in an associate degree but is acceptable toward a bachelor's degree at any institution.
Official documentation of enrollment in a bachelor's degree program in which at least 60 semester or trimester hours or 72 quarter credit hours have been successfully completed, including credits transferred into the bachelor's degree program.
An applicant whose transcript shows less than a 2.00 cumulative grade point average must submit a personal statement to be reviewed by the Provost. High school seniors in courses still in progress must provide current transcripts of work through the date of application.
*Under certain circumstances an unofficial transcript or alternative documentation may be accepted if approved by the Registrar and/or the Chief Regulatory Officer. Other forms of acceptable documentation include but are not limited to an unofficial high school transcript or an unofficial associate degree transcript.
Admissions Interview
It is recommended that applicants visit the campus and meet with an Admissions Counselor in person. If a visit cannot be arranged, the Admissions Counselor will schedule a telephone interview with the applicant.
Scholastic Aptitude Test (SAT) or American College Testing (ACT) Submission
Post University recommends, but does not require, that freshman applicants submit the results of an official SAT or ACT test. However, athletes planning to participate in a NCAA Division I or II athletic program are required to submit SAT or ACT test scores.
Main Campus Honors Program Admissions Requirement
Admission to the Honors Program is highly selective. To be considered for the Honors Program, applicants must have a high school or college GPA of at least 3.25. In addition, applicants must complete the Honors Program Application (i.e., submit a short writing sample and provide two written recommendations from teachers, counselors, coaches, and/or employers, etc.).
English and Math Course Placement: Main Campus Students
Post University recommends that all incoming, first-year Main Campus students complete math and English placement exams prior to registering for classes. Their achievement on the placement exams helps to identify the appropriate level course into which students need to be placed. If a student has transferable credits that will take the place of their introductory math and/or English classes, they do not have to take a placement test.
Admissions Decision Policy
The Office of Admissions makes every effort to notify candidates of their admission decision within three weeks after receiving a completed application with all supporting documents. In some cases, the Office of Admissions may defer making a final decision until it has received a report of the applicant's high school midterm grades, or until a personal interview takes place. Applicants are asked to contact the Office of Admissions to determine the status of the application. 
Readmission
Former Post University students who have been absent for six or more Terms and who now wish to continue their studies must apply for readmission by filing an Application for Admission with the Admissions Office. Former Post University students who have been away from the University for more than two years will also be required to fulfill the degree requirements of their selected major as stated in the current catalog. If, for any reason, the University dismissed a student, the Admissions Committee will review the application for readmission, and the applicant may be required to submit an appeal form and documentation.
Admission to Undergraduate Certificate Programs
Applicants to an undergraduate certificate program must meet and maintain the same admissions criteria appropriate to the program of study that grants the certificate. 
Alternative Credit Options
Post University provides an opportunity for students to demonstrate college-level proficiency in certain subjects where learning has occurred in non-traditional ways, such as advanced placement courses, on-the-job training, standardized examinations, or work experience. Learn more about the Alternative Credit Options
Post University Main Campus Admissions 
P.O. Box 2540
800 Country Club Road
Waterbury, Connecticut
06723-2540
postadmissions@post.edu
800.345.2562 or 203.596.4555
Fax: 203.841.1163