When you decide to become a nurse, the type of training you receive can affect and shape the entire path of your career. Many find their way by pursuing an associate degree in nursing (known as an ADN), while others pursue a Bachelor of Science in Nursing (BSN). Knowing more about these two educational paths toward a career in nursing—associate vs bachelor's in nursing—can help you determine which one is right for you and your career goals. Here are some things to keep in mind when comparing ADN and BSN programs:
What Is an ADN?
An ADN degree is an associate degree, typically a two-year program, that you can earn in order to pursue a registered nurse (RN) designation and work in healthcare. ADN programs provide you with the basic skills needed as a nurse, such as administering patient care.
What Is a BSN?
A BSN degree is a bachelor's degree, typically a four-year program, that is a step higher than an ADN degree. Registered nurses with this degree not only go to school longer, but they also gain a more in-depth education compared to those with an ADN degree. This can lead to better work situations and advancement opportunities throughout your career.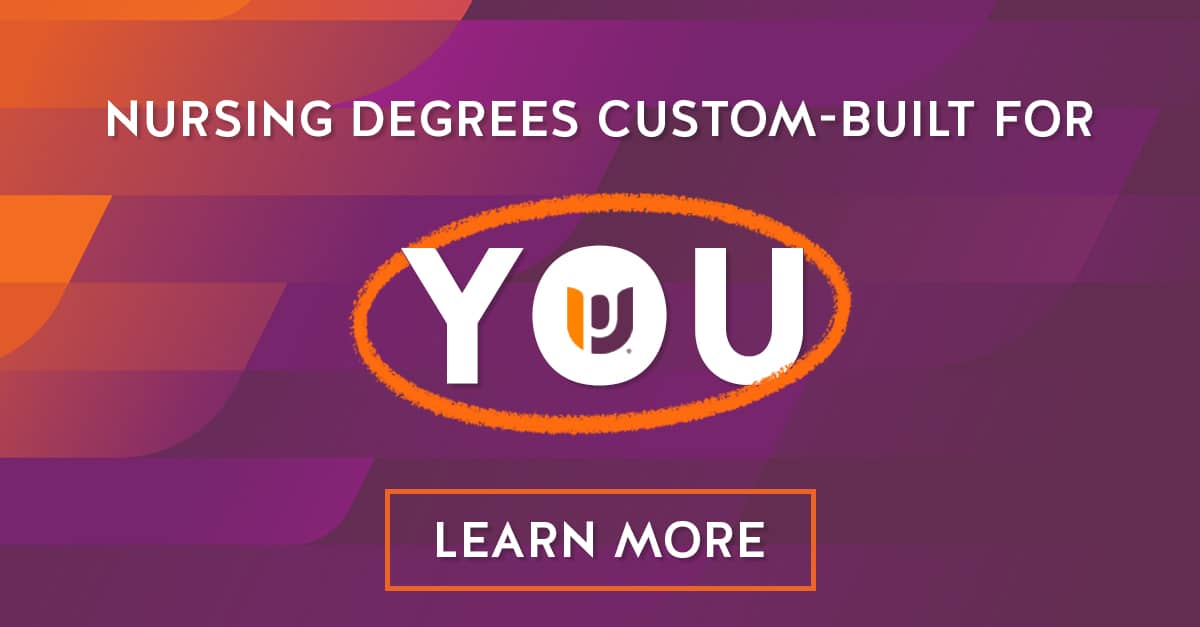 Main Differences Between ADN and BSN
While ADN and BSN are both degree options for registered nurses, they differ considerably. The kind of education you can expect and the types of job opportunities that are available are among the key differences between an ADN and BSN degree. These degree programs also differ in terms of salary and job outlook.
1. Education
Earning an ADN usually means going to a community college or other academic institution for 2 years. Experienced nurses who entered the field with a diploma and earned an RN designation can often participate in accelerated programs. These RNs have the option to transfer credits, which helps reduce the time needed to graduate with this degree.
During an ADN degree program, aspiring nurses learn to provide care for patients, such as monitoring them and updating medical records. These programs focus on helping students learn nursing concepts. Clinical rotations are also part of these programs since they offer students a chance to gain hands-on practice. After earning an ADN, students can obtain their licensing, which includes passing the National Council Licensure Examination (NCLEX).
BSN degree programs typically take 4 years to complete, but accelerated programs are also available for those with experience working as an RN. Courses for BSN programs provide students with a more in-depth nursing curriculum that often includes classes on pharmacology, ethics, and other advanced concepts. Students in BSN programs study nursing theory and concepts through courses such as community health, developing nursing practice, case management, and nursing research. These higher-level classes provide students with the skills and knowledge to handle more complex nursing tasks and responsibilities. Students who earn a BSN must pass the NCLEX and meet other requirements to become licensed.
2. Career Opportunities
Nurses with an ADN can work in a hospital, physician's office, or other medical facility providing patient care. These nurses can also find other kinds of nursing job opportunities, such as travel nurse, home health nurse, occupational health nurse, outpatient care nurse, community health nurse, and psychiatric nurse. These jobs involve providing basic nursing care to patients in different healthcare settings.
Nurses who have earned a BSN have the same job opportunities as those with an ADN, as well as more advanced job opportunities. These nurses can work as pharmaceutical nurses, informatics nurses, operating room nurses, nurse administrators, and nurse case managers. These jobs often have more complex responsibilities and duties, which can lead to a more challenging yet rewarding career.
3. NCLEX Pass Rates
Working as a licensed RN with an ADN or BSN degree requires passing the NCLEX. The pass rates for this exam vary slightly based on the type of degree candidates have.
According to NCLEX, 85 percent of candidates with a BSN passed this exam from January through June 2022. During this same time period, 80 percent of candidates with an ADN passed the exam. In 2020, NCLEX reports that these rates varied even more. Roughly 90 percent of candidates with a BSN passed the exam compared to roughly 82 percent of candidates with an ADN. The education that a BSN provides can better prepare you for this exam.
4. Salary and Job Outlook
Registered nurses overall have an average salary of $75,330 per year, according to the Bureau of Labor Statistics (BLS). This can vary depending on where you work, along with other factors, such as your experience and education. For many facilities today, entry-level education required for RNs is a bachelor's degree, but exact degree requirements vary by organization. These jobs often have higher salaries. In some cases, employers offer a higher starting salary to RNs with a BSN compared to RNs with an ADN.
According to BLS, the job outlook for RNs is 9 percent through 2030. This is about the same as the average job outlook for all careers. However, increased healthcare demands are expected to provide a steady need for RNs in the coming years. Keep in mind that some healthcare organizations and facilities focus more on hiring RNs with a BSN rather than an ADN, such as some magnet hospitals. These are hospitals that have received this prestigious award from the American Nurses Credentialing Center for excellent nursing care. Although you can find job opportunities that require an ADN as a minimum, these might be harder to come by with more focus on hiring BSN nurses.
How to Decide if an ADN or BSN Is Best for You
When deciding whether to earn an ADN or BSN, you should weigh the advantages that each degree offers. Although you will not be in school as long while earning an ADN, nursing careers are more limited with this degree. You should also keep in mind that accelerated BSN degree programs are available. These programs make it possible to earn a BSN in a shorter amount of time by allowing you to transfer in a high number of credit hours needed for graduation. When comparing ADN vs BSN costs, you can look for affordable BSN programs that fit your budget.
Choosing between an ADN and BSN degree also involves thinking about the kind of nursing career you want to build. A BSN degree provides you with more employment opportunities, as well as a chance to earn a higher salary. With a BSN degree, you will also be able to provide a wider range of healthcare to patients. If you are looking for a more challenging nursing career or a career that is more complex, a BSN degree might be the better option for you.
If you are exploring degree options for your nursing career, please contact American Sentinel College of Nursing and Health Science at Post University. We offer an RN to BSN online program that allows you to transfer up to 90 out of 120 credit hours needed. This degree program offers affordable tuition and payment options as well.
Thank you for reading! The views and information provided in this post do not reflect Post University programs and/or outcomes directly. If you are interested in learning more about our programs, you can find a complete list of our nursing programs on our website or reach out directly! 
Please note jobs, career outcomes, and/or salaries highlighted in this blog do not reflect jobs, career outcomes, and/or salaries expected from any Post program. To learn more about Post's program and their outcomes, please fill out a form to speak with an admissions representative.