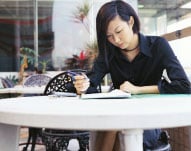 You'll have to write a variety of letters during your job search from the time you start looking and even after you've landed the position.
Writing Cover Letters and Other Professional Correspondence
If your resume is the very first impression you tell to your potential employer about your experience, your cover letter is your chance to introduce yourself in your own words. Cover letters provide context to your resume and give you the opportunity to really sell your skills, experience and passion. In a brief, two- to three-paragraph letter, you can tell the hiring manager exactly why you're perfect for the position that aren't already listed on your resume.
Cover letters aren't the only communication you'll be sending when you're interviewing. It's crucial to send follow up letters, such as reminders and references before you interview, and thank-you emails to each person you meet with in the process.
Not only are employers reading your letters for the information you are providing. They're also observing your attentiveness to detail, grammar, professionalism and the overall quality of your written communication.
Get familiar with the kinds of letters you'll need to write, and learn how to make your letters help you land the job.
Here are some resources to get you started.