Letter from the Dean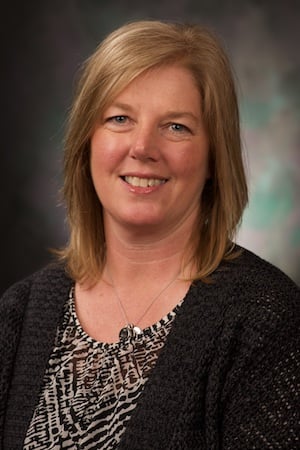 Welcome to American Sentinel College of Nursing and Health Sciences!
I am honored to serve as the Dean of the American Sentinel College of Nursing and Health Sciences (ASC) at Post University and to work alongside our talented faculty and staff to transform nursing and healthcare now and in the future. Our goal is to provide outstanding support, educational excellence, and career-focused training for all our students. Your education should fit your needs, goals, and life, and we capture this experience in our motto: "Post Makes It Personal®." I am proud to be a leader in an accessible, high-quality nursing education environment that is shaping new delivery models that are critical in today's healthcare environment. Post University is uniquely positioned to meet these challenges through strategic partnerships, interprofessional collaboration, evidence-based practice, and leadership.
At ASC, we are proud of the excellence, innovation, and achievement across our graduate and undergraduate programs that support an exceptional foundation for growth and innovation. As we look to the future, our goals include:
excellent and transformative academic and continuing education programs;
strengthening partnerships with organizations and state, regional, and global communities; and
to be a growing, high-performing nursing college.
Our online degrees for nursing and healthcare management are dedicated to helping students gain the skills, credentials, and experiences needed to grow in their professions. We are committed to student success in and out of the classroom.
We welcome you as you begin this educational journey, both for your career and for those you will serve in the future. Let's make it happen together.
Sincerely,
Kimberly Nerud, PhD, RN
Dean, American Sentinel College of Nursing and Health Sciences
About the College
Acquired by Post University in 2021 and renamed American Sentinel College of Nursing & Health Sciences, American Sentinel was established as a school dedicated to providing high quality instruction, student support, and high graduation rates.
Over time, American Sentinel University began to focus on providing healthcare and nursing programs online, including an RN to BSN degree completion program that could be taken in both a traditional term-based online format or with the increased flexibility of a self-paced format (during the 16-week semester) modality known as the Powered by SIMPath™ program. The school also offers Master of Science in Nursing program with distinct, career-focused specializations along with a number of Nurse Practitioner specializations, Doctor of Nursing Practice program, and health management programs
Along the way, American Sentinel earned programmatic accreditations from the Commission on Collegiate Nursing Education (CCNE) for their RN to BSN degree, RN to BSN/MSN dual degree, MSN degree with eight specializations, and the Accreditation Commission for Education in Nursing (ACEN) for their Doctor of Nursing Practice program with four specializations.
Today, American Sentinel College of Nursing & Health Sciences continues a proud tradition of offering online degree programs for nursing and healthcare professionals who want to advance their ability to achieve better outcomes for their patients and their careers.
Our Mission and Vision
Our Mission
At the American Sentinel College of Nursing & Health Sciences, our mission is to provide high-quality, innovative degree and certificate programs that enable students to enhance their professional and civic lives.
Vision Statement
At the American Sentinel College of Nursing & Health Sciences, we hold ourselves to a high standard. We will continuously pursue excellence for ourselves and our students. Our vision is to be recognized as a world leader…
… for providing accessible, quality, advanced education for the motivated learner/professional who seeks success in their chosen fields and communities …
… for our innovative use of technology that creates new standards in outcomes and achievement of academic excellence…
… for our understanding of and meeting the changing needs of our students, communities and other constituents…
… for creating excellence in student and constituent services.
Our Pledge
Nurturing talent is our primary responsibility. We believe the only true measure of our success is your success in your chosen field. To that end, we pledge that, to the best of our ability, we will:
Offer career relevant programming
Provide student services and support
Respond to student requests within 24 hours
Create innovative educational opportunities to equip students with marketplace knowledge
Maintain fiscally responsible operations to deliver the highest value possible
Our Faculty
American Sentinel College is proud to provide the industry experienced faculty our professionally minded students need to improve patient outcomes, advance careers, and achieve more.
For the current list of the American Sentinel College faculty visit Post's Faculty Directory and search for American Sentinel College.
Our Focus on Student Outcomes
At American Sentinel College of Nursing & Health Sciences, we have high standards—and hopes—for ourselves and our students. This is reflected in our learning outcomes. Our curriculum covers the knowledge, skills, abilities and attitudes that students are expected to develop as a result of their overall experience with us. Through their programs of study, students focus on the following:
Critical Thinking/Problem Solving

Demonstrate the ability to recognize problems, judge evidence, analyze and produce arguments, and accurately identify valid inferences
Communication Effectiveness

Demonstrate the ability to clearly and effectively communicate ideas and information to others in written, oral, and multimedia formats
Knowledge Acquisition & Application

Demonstrate the possession of content knowledge adequate for the performance of duties in one's field of study, the ability to engage responsibly as global citizens, as well as the ability to locate relevant and useful information related to a particular problem or topic and accurately judge its veracity and authenticity.
Professional Advisory Board
Experienced Leaders in Nursing and Healthcare
American Sentinel College's programs are updated on a regular basis with input from industry experts to ensure they continue to be of great value to students and employers. We rely on the expertise of our Nursing Professional Advisory Board to make sure all of our nursing programs are well-aligned with the ever-changing needs of the healthcare profession.
American Sentinel College's advisory board is made up of 15 healthcare professionals from around the country with extensive real-world experience in the healthcare industry.
Jenny M. Bauer, MSN, RN, NPD-BC
Nursing Education Supervisor
Mayo Clinic Health System
Dr. Ellen Harper, DNP, RN-BC, MBA
Faculty for Center for Health Informatics
University of Kansas School of Nursing
Angela M. Kersenbrock, EdD, Master's-prepared RN
President
Community College Baccalaureate Association
Dr. Peter McMenamin, Ph.D., MA, AB
Independent Consultant
Health Care Financing Policy Research and Advocacy
Carol Pehotsky, DNP, RN, NEA-BC, ACNS-BC, CPAN
Associate Chief Nursing Officer, Surgical Services, Cleveland Clinic Health System,
and Senior Director, Surgical Nursing, Cleveland Clinic Main Campus
Dr. Jerry Spicer, DNP, MPA, BSN
Regional Chief Nurse Executive & Vice President Patient Care Services – Southern California and Hawai'i
Kaiser Permanente
Daniel Suarez, MA, RN, NYAM Fellow
Clinical Liaison Manager
Mount Sinai in NYC
Wendy Devreugd, MBA, RN, BSN, PHN, FNP
Assistant Medical Center Administrator of Operations for Continuing Care
Kaiser Permanente
Jessica Keller, MSN, BSN
Manager of Clinical Education
SSM Health Cardinal Glennon Children's Hospital
Tina Lear, MHA, BS in Education
National Program Director
National Education Progression in Nursing Collaborative (NEPIN)
Donna Meyer
CEO, Organization for Associate Degree Nursing (OADN)
Executive Leader, National Education Progression in Nursing Collaborative (NEPIN)
Leanne Salazar, DNP, APRN, MBA, MSN
Chief Operating Officer
Oak Hill Hospital
Donna Spivey, DNP, BSN
Director, HESI Content Operations
Elsevier
Shawn Ulreich, DSc, MSN, RN, NEA-BC
Chief Nursing Executive and Senior Vice President, Clinical Operations
Spectrum Health
Get Started on Your Degree!
American Sentinel College of Nursing & Health Sciences at Post University
800 Country Club Rd., P.O. Box 2540, Waterbury, CT 06723-2540
800.729.2427
[email protected]