Letter from the Dean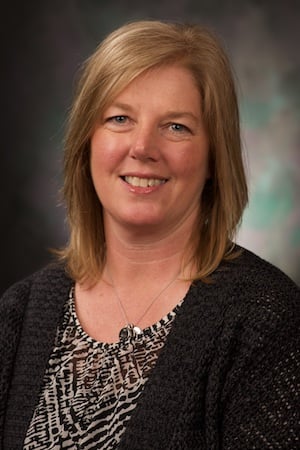 Welcome to American Sentinel College of Nursing and Health Sciences!
I am honored to serve as the Dean of the American Sentinel College of Nursing and Health Sciences (ASC) at Post University and to work alongside our talented faculty and staff to transform nursing and healthcare now and in the future. Our goal is to provide outstanding support, educational excellence, and career-focused training for all our students. Your education should fit your needs, goals, and life, and we capture this experience in our motto: "Post Makes It Personal®." I am proud to be a leader in an accessible, high-quality nursing education environment that is shaping new delivery models that are critical in today's healthcare environment. Post University is uniquely positioned to meet these challenges through strategic partnerships, interprofessional collaboration, evidence-based practice, and leadership.
At ASC, we are proud of the excellence, innovation, and achievement across our graduate and undergraduate programs that support an exceptional foundation for growth and innovation. As we look to the future, our goals include:
excellent and transformative academic and continuing education programs;
strengthening partnerships with organizations and state, regional, and global communities; and
to be a growing, high-performing nursing college.
Our online degrees for nursing and healthcare management are dedicated to helping students gain the skills, credentials, and experiences needed to grow in their professions. We are committed to student success in and out of the classroom.
We welcome you as you begin this educational journey, both for your career and for those you will serve in the future. Let's make it happen together.
Sincerely,
Kimberly Nerud, PhD, RN
Dean, American Sentinel College of Nursing and Health Sciences
About the College
Acquired by Post University in 2021 and renamed American Sentinel College of Nursing & Health Sciences, American Sentinel was established as a school dedicated to providing high quality instruction, student support, and high graduation rates.
Over time, American Sentinel University began to focus on providing healthcare and nursing programs online, including an RN to BSN degree completion program that could be taken in both a traditional term-based online format or with the increased flexibility of a self-paced format (during the 16-week semester) modality known as the Powered by SIMPath™ program. The school also offers Master of Science in Nursing program with distinct, career-focused specializations along with a number of Nurse Practitioner specializations, Doctor of Nursing Practice program, and health management programs
Along the way, American Sentinel earned programmatic accreditations from the Commission on Collegiate Nursing Education (CCNE) for their RN to BSN degree, RN to BSN/MSN dual degree, MSN degree with eight specializations, and the Accreditation Commission for Education in Nursing (ACEN) for their Doctor of Nursing Practice program with four specializations.
Today, American Sentinel College of Nursing & Health Sciences continues a proud tradition of offering online degree programs for nursing and healthcare professionals who want to advance their ability to achieve better outcomes for their patients and their careers.
Our Faculty
American Sentinel College is proud to provide the industry experienced faculty our professionally minded students need to improve patient outcomes, advance careers, and achieve more.
For the current list of the American Sentinel College faculty visit Post's Faculty Directory and search for American Sentinel College.
Our Mission
At the American Sentinel College of Nursing & Health Sciences, our mission is to provide high-quality, innovative degree and certificate programs that enable students to enhance their professional and civic lives.
Vision Statement
At the American Sentinel College of Nursing & Health Sciences, we hold ourselves to a high standard. We will continuously pursue excellence for ourselves and our students. Our vision is to be recognized as a world leader…
… for providing accessible, quality, advanced education for the motivated learner/professional who seeks success in their chosen fields and communities …
… for our innovative use of technology that creates new standards in outcomes and achievement of academic excellence…
… for our understanding of and meeting the changing needs of our students, communities and other constituents…
… for creating excellence in student and constituent services.