Master of Science in Gaming and Esports Management
Pursue Your Master's in Esports Management 100% Online at Post University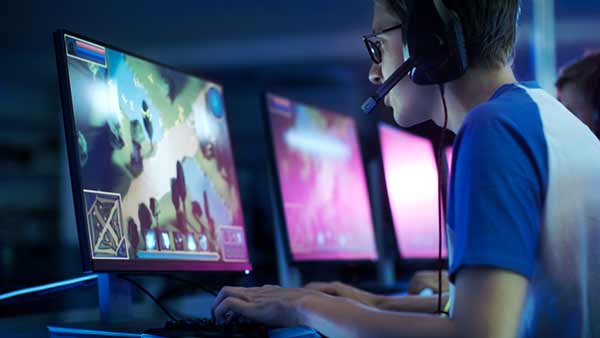 With the rapid rise of online technologies, mobile hardware, and advanced computer systems, graphics, and sound systems, it is a brand-new video gaming and esports world out there. Are you ready to get in the game? Explore your opportunities in the industry with a Master of Science in Gaming and Exports Management from Post University.
Our gaming and esports graduate degree program offers the learning opportunities to build the industry insights and business skills you could use to make your mark in the industry. Our master's in gaming program explores the field of esports and electronic gaming with courses that cover operations, emerging trends, gaming communication, market dynamics, esports sales and marketing, and more.
What Could I Do with a Master's in Gaming and Esports Management degree?
This Master of Science in Gaming and Esports Management is a graduate degree program focused on the gaming and esports industry. Through a blended program of interdisciplinary learning, it covers various aspects of the gaming industry, from game design and broadcasting to competitive play and industry development. Because the esports industry is relatively new, your esports master's degree program is built with both introductory- and master-level concepts to give you the opportunity to fully grasp the business as a whole.
Upon completion, you will have had the opportunity to work toward a better understanding of industry dynamics and how to guide organizations through the financial and investment issues around gaming. It also explores what it takes to plan, develop, deploy, and monitor esports competitions and events.

Industry-Focused Curriculum for Professional Skills
Coursework for your program is designed to help you build competencies and professional skills to:
Understand the complexity of the gaming industry's business process, finances, culture, and U.S. and international market dynamics
Apply industry knowledge to leverage emerging market dynamics
Plan, execute, monitor, and control esports events
Promote healthier people outcomes in gaming with a better understanding of the psychology and physiological issues involved
Write, speak, and communicate to a variety of audiences more professionally
Benefits of Earning an Online Master's in Esports Management Degree
From the admissions process to the day you graduate, we are with you every step of the way.
Receive support from a personal Post team of advisors focused on your academic success
Learn from industry-experienced professionals in interactive courses
No class times or set login times for your online esports master's degree program
Online courses emphasize practical application of esports management and gaming principles
What can an esports degree do for me?
If you are interested in the esports and video gaming industry and already hold a bachelor's degree, our Master of Science in Gaming and Esports Management covers a host of industry fundamentals. It covers the knowledge and skill set used to guide organizations to better outcomes, from the planning and deployment of esports events to using market dynamics in the promotion of competitions.  
What kind of opportunities are there in esports?
Because there are many aspects of esports management, there are a wide variety of areas for professionals to pursue opportunities, depending on their interests.
Not eligible for Title IV funding through the U.S. Department of Education.
Get Started on Your Degree!
POST UNIVERSITY® 
Varsity Esports Teams