Master of Science in Gaming and Esports Management
Take Your Business Career in the Esports Industry to the Next Level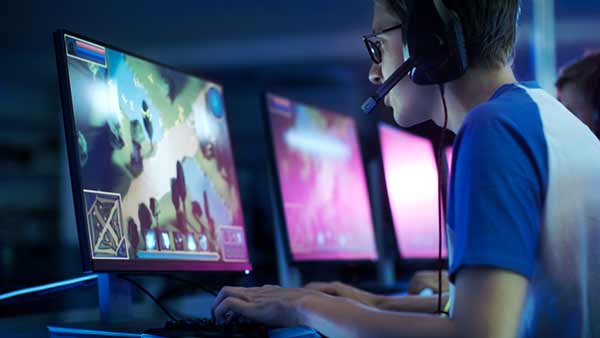 This program is offered on Online.
With the rapid rise of online technologies, mobile hardware and advanced computer systems, graphics and sound systems, it's a brand new world out there … for gaming and esports. As more people choose to spend their entertainment dollars on this now billion-dollar industry, there is room for business leaders and entrepreneurial-minded professionals to not only get in the game, but to profit from it. Let Post University help you take the next step. With our Master of Science in Gaming and Esports Management, you'll get the unique insights, skills and credential you need to make your mark in the business of gaming and esports management and leadership.
Program Highlights
Because the business of competitive gaming and esports competitions is still young, not many colleges or universities offer undergraduate degree programs for it—and even fewer offer relevant graduate degree programs. Those that do tend to focus strictly on the field of Esports. At Post University, we go beyond the esports industry to explore the entire field of electronic gaming. Get the education you need advance your business career with graduate-level courses that cover operations, emerging trends, gaming communication, market dynamics, esports sales and marketing, and more!

What can you do with a MS in Gaming and Esports Management degree?
Upon graduation, you'll have the breakthrough business and leadership skills you need to take your career to the next level, from esports manager to tournament director to C-suite executive.
This Master of Science in Gaming and Esports Management is a graduate degree program focused on the gaming and esports industry. Through a blended program of interdisciplinary learning, you'll cover all aspects of the game industry, from game design and broadcasting to competitive play and industry development. Because the esports industry is so relatively new, this program is built with both an introductory and master level of concepts to help you fully grasp the business as a whole and the opportunities it presents. Upon completion, you'll understand inter-industry dynamics, helping guide your company through the financial and investment issues around gaming. You'll know what it takes to plan, develop, deploy and monitor Esports competitions and events. And you'll have the skills to recognize and take advantage of unique opportunities in the industry.
What degree do you need for Esports management?
If you're looking to move into Esports and already have your bachelor's degree, our Master of Science in Gaming and Esports Management is perfect to gain intro and mastery level skills to excel in the industry. Whether you want to be employed as a manager, tournament director, or move up to a C-Suite executive, you will gain the knowledge to guide your company and learn the ins and outs of planning and deployment of Esports events and competitions.
What does an Esports manager do?
Esports managers have a wide-range of skills to organize every aspect of events and competitions. They book venues, determine time and financial perimeters, organize vendors, make hiring decisions, oversee marketing initiatives, and even nurture players across platforms. They can be responsible for leading strategy, creating content and engagement for social platforms, while also monitoring brand voice, and even can be the face of brand outreach. Esports managers are involved from idea inception to the end-product, making it an interesting and fulfilling career.
How do I become a successful Esports manager?
If you have the ability to understand complex issues in the gaming industry and are intrigued by changing market dynamics you're on your way to a successful career. Like any successful role, networking and attending industry events is the perfect way to meet people and further your position and knowledge of the industry and helps hone your communication skills. Staying on top of emerging technologies and trends that can further your insights into the rapidly evolving industry can also help nurture a successful career.
How much do Esport managers make?
Depending on skill level, your location, and experience, Esports management salary numbers can vary greatly. Check out ZipRecruiter to see averages in your area and also see the highest paying cities and job titles for the field.
What kind of jobs are there in Esports?
Because there are many aspects of Esports management, there's a wide variety of areas that you could go into depending on your interest. 
Esports jobs can include: coaching and analysis of teams to increase performance, product management from conception to launch, communications, event management (production, post production), league and tournament management, partnership sales and relations with players, sponsorships, or franchises, social media community management, brand engagement and content creation. There are a variety of career possibilities and these are just a few of the specializations available in the field.
Whether you're moving straight from your undergraduate into graduate studies or you're coming back to school to expand your experience and get ahead, Post University provides the personal support you need to excel in the field of gaming and esports management. Contact us to enroll in our graduate degree program today.
Not eligible for Title IV funding through the U.S. Department of Education.
Get Started on Your Degree!
POST UNIVERSITY® 
Varsity Esports Teams