Associate of Science in Early Childhood Education
Sharpen Your Teaching Skills
This program is offered on Campus and Online.
Teaching is your passion. You love helping and watching kids grow and learn through play. With an early childhood education degree from Post University, you can pursue a new position or promotion in a variety of early childhood education jobs, such as paraprofessional, teaching assistant, assistant teacher, home visitor, family service worker, social service specialist or in-home care provider (nanny). Many of our graduates go on to complete their Bachelor of Science in Child Studies at Post University. Completion of the program's courses will not only lead you to your Bachelor's degree but also prepare you for one of many further career advancements.
Program Highlights
Through rich class discussions, research assignments, and off-site learning opportunities, you will learn appropriate skills and techniques to support the development of children aged birth through 8 years old. Gain an understanding of the characteristics and developmental stages of infants, toddlers, and young children; and build strategies that support children developing typically as well as those with special needs. This program will also help you:
Apply your knowledge and understanding of family, culture and community characteristics when building effective relationships with families and children
Create appropriate program plans that foster positive self-esteem, promote social skills and increase multicultural awareness
Effectively and professionally communicate (verbally and in writing) with classmates, children, families, cooperating teachers, and community workers
As part of the coursework, you will participate in two internship experiences in educational settings, where you will apply your knowledge of best practices for planning, teaching, observing and assessing children's ongoing development and learning as you work collaboratively with your peers, cooperating teacher, and your course instructor.
Upon completion of your early childhood education classes, you will have learned to formulate a developmentally appropriate approach to the educations of young children. This program is in alignment with the National Association for the Education of Young Children (NAEYC) standards, and teach young children using the Connecticut Early Learning and Development Standards (aged birth through 5 years old).
Each early childhood education course at Post University is taught by faculty who have extensive experience in the field. They bring their expertise and integrity into the classroom, while our professional staff provides a level of personal support to help you reach your goals. From the moment you enroll, they will be available to answer any questions and help you overcome any obstacles.
Your future and future generations are waiting. Contact us to enroll in our Waterbury, Connecticut-based or online early childhood education courses now.
Licensure is a professional process that varies from state to state. Please consult the appropriate state agency to determine the specific requirements for licensure in your state.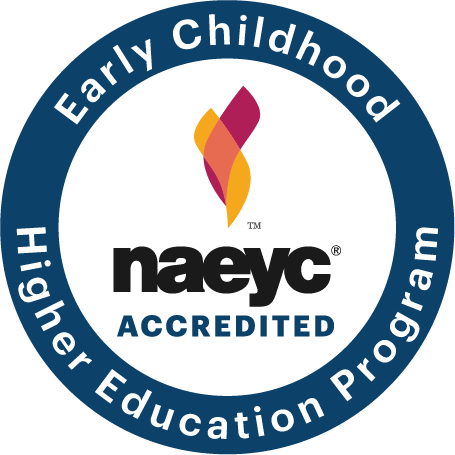 The Associate of Science in Early Childhood Education program holds programmatic accreditation from the Commission on the Accreditation of Early Childhood Higher Education Programs of the National Association for the Education of Young Children, 1313 L Street, NW, Suite 500 Washington, D.C. 20005, (202) 232-8777. The accreditation term for the Associate of Science in Early Childhood Education program runs from March 2019 through March 2026.

AS Early Childhood Education & BS Child Studies – 2020 NAEYC Program Outcomes