Out Now: The Inaugural Issue of Post University Magazine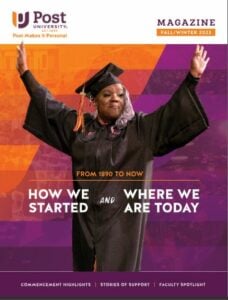 From our early beginnings as a business school in downtown Waterbury, Post University has embraced changing market dynamics. It evolved and innovated over the years. The institution today has been transformed over the decades, especially over the past few years.
This first issue of the Post University Magazine is a window into the remarkable world of Post University. Dive in, explore its pages, and share it with your friends, family, and networks.
Have you seen our new nursing commercial? This is more than just a promotional video; it is a tribute to the dedication, compassion, and resilience of nurses. Nurses are always on the move for the well-being of their patients.  At Post, we are ready to keep pace with them as they look to advance with graduate nursing degrees. You will be able to see this spot on YouTube and audio streaming platforms like iHeart, as well as on many smart TVs.
Reminder for Your Student:
Your student should register for the Spring 2024 semester. Students recently received an email from their academic advisor. If they register early, they have the best chance to get the classes they need and a schedule that works best for them.
The Center for Career and Professional Development Career Fair is November 16. With over 40 companies participating, there is an opportunity for your student to engage with employers. Encourage them to visit the Center so they are ready to talk about their experiences with employers.
Student-Athletes Spent More than 4,000 Hours Volunteering in the Greater Waterbury Community
It is no secret that the life of a student-athlete is demanding. But that did not stop athletes at the University from putting in major work off the field, too.
During the 2033-2023 academic year, our Eagles banked over 4,100 hours volunteering in the community. On any given day, our 200 student-athletes logged hours at local schools, organized fundraisers and food drives, and demonstrated their commitment to the community in between practices, workouts and games.  In total, our Eagles participated in over 30 events and supported over 27 local organizations.
The University finished 25th, overall, in the NCAA Division II, according to Helper Helper, an online volunteer management tool used by over 350 NCAA colleges and universities.  Our Men's Lacrosse Team placed second overall amongst all Division II teams.
Several of our individual teams have also been recognized in the top-10 in services hours.  Post Women's Ice Hockey finished first, Women's Lacrosse finished second and Women's Golf was seventh. Both the Men's Lacrosse and Men's Hockey each finished first.
We are proud of the culture of service which our student-athletes continually take to heart.
Team Impact: Our Eagles are active supporters of the national non-profit organization Team IMPACT.  This group develops unique multiyear programs that match children facing serious illness or disabilities with college athletic teams.  Every signing ceremony of a new Team IMPACT member is a commitment to excellence in athletics, character and heart. The Men's Soccer Team signed Banfana, a 9-year old from Naugatuck.
University Received Compliance Innovation Award
Post University was one of four schools in the country to receive the 2023 State Authorization Network's SANsational Award, given to schools for their efforts in developing comprehensive solutions to challenging state issues. The University was recognized for its innovative approach to regulatory compliance.
The University's Accreditation Department, guided by Shawn Fields, developed a comprehensive program designed to guide and support students when they are in a field of study that leads to professional licensure. Students are provided personalized credentialing advice before, during, and after their enrollments by a four-person team of credentialing specialists.  Read more here about this award.
High School Dual Degree Programs
In late September, the Connecticut Governor and the Department of Education Commissioner announced the expansion of the Dual Credit Program to enable school districts to create new partnerships with colleges and universities in the state. Dual credit courses enable students to earn college credits while still in high school, helping to reduce the financial burden of higher education. For the past six years, the University's High School Academy has provided high school students with a quicker way to college.  Today, there are over 470 high school students taking courses at the University and more than 30 educational partnerships in Connecticut, Massachusetts, Pennsylvania, Florida and Texas.
Recently, High School Academy Director Chad McGuire spoke with a CNBC reporter on the rise of dual programs. If you have a high school student who would benefit from this program, please reach out to Chad.