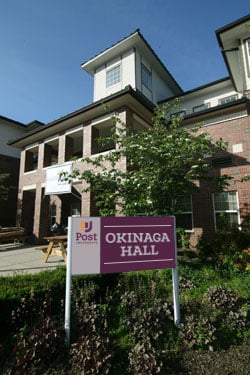 There are six residence halls of varying sizes available to students. Each residence hall contains standard-sized windows, access to cable television at no additional cost, wireless Internet access at no additional cost, hallway phones available for local/emergency calls, emergency blue light phones throughout campus for student safety, well-lit parking lots, and kitchen and laundry facilities. All residence halls are a short walk from classrooms, the cafeteria, the library, administration offices, student services, and sports playing fields. Whether students live in West Hall, East Hall, South Hall, Middle Hall, Paparazzo Hall, or Okinaga Hall, it is within the residence halls that they will find a safe and encouraging environment to grow academically and socially.
West Hall
Housing approximately 100 students, West Hall was renovated in the summer of 2011. Its spacious lounge area features a ping pong table, large HDTV with gaming system, and vending machines. West also houses five Peer Educator Resident Assistants to help the first year students housed in this building acclimate to the college environment easier. Learn more information about our First Year Experience program.
South Hall
Renovated during the summer of 2012, South Hall houses approximately 60 upper classmen students. On its lower floor lounge, South boasts a beautiful pool table and large HDTV to facilitate a comfortable and fun common area where students can relax and bond. South houses three Resident Assistants to provide support for its residents.
East Hall
Also housing approximately 60 upper classmen students, East Hall provides a more affordable option for our students, while still offering some updated amenities. The lounge was recently updated over the 2013-2014 academic year to feature new, comfortable furniture and a large HDTV and gaming system. East Hall also houses three Resident Assistants to support its residents. East Hall will be renovated during the summer of 2021.
Middle Hall
Middle Hall is one of our smallest communities, housing just 44 first year residents and two Peer Educator Resident Assistants. It is an affordable option for first year students. Its common area, updated over the summer of 2014, features new, comfortable sofas, a vending machine and a large HDTV and gaming system. Middle Hall will be renovated during the summer of 2021.
Paparazzo Hall
Renovated over the summer of 2013, is the second of our smallest communities, also housing 44 first year students and three Peer Educator Resident Assistants. Paparazzo Hall offers a lounge area with comfortable seating and a large HDTV and gaming system.
Okinaga Hall
The sixth and newest constructed residence hall is our upper classmen, apartment-style hall. For an additional fee, upper classmen students can opt to live in a fully furnished suite with two, three or four single bedrooms, a common living room, a full-sized kitchen, and one or two full bathrooms. Okinaga Hall also offers a spacious "Great Room," which offers a large HDTV, vending machines, pool and ping pong tables, and is an excellent venue for programs. Okinaga Hall has ample washers and driers for residents to use.
Check out the campus virtual tour to see more of a standard dorm room.
Residence Hall Guest Policy
Post University permits residents to host guests in the residence halls. Guests are defined as individuals who are not residents of the resident hall they are visiting. Residents are strongly encouraged to communicate with their roommate(s) prior to hosting guests. Post University reserves the right to refuse guest entry and revoke guest privileges for a residence hall, specific floor, and/or individuals at any time. Residents may sign in no more than two guests at the same time. All guests must properly sign-in at the South Gate security kiosk. Failure to do so may result in a Post University and/or police action.
Residents are permitted to have short-term guests seven days a week between the hours of 7 am and 11:59 pm. Guests who remain on campus after 12 a.m. are considered overnight guests.
Residents must sign-in all guests at the South Gate Security Kiosk.
Residents may not have an overnight guest for more than three nights in a seven-day period. In addition, residents may host overnight guests no more than six nights per calendar month. This includes other Post University residents and outside guests.
Hosts must accompany guests at all times.
Guests must carry the issued guest pass at all times and present it when requested.
Guests under the age of 16 are not permitted in the residence halls overnight.
Guests under the age of 14 are not permitted in the residence halls at any time without the presence of their parent or legal guardian.
Guests must abide by all University policies, procedures and regulations, as outlined in the University Catalog and Student Handbook. Residents are responsible for the actions of their guest(s) on campus.
There is a no-guest policy in effect during 24-hour quiet hours (this includes, but is not limited to, final examinations and all Post University academic breaks).