Graduate Certificate in Alcohol and Drug Counseling
Pursue an Online Drug and Alcohol Counseling Certificate Program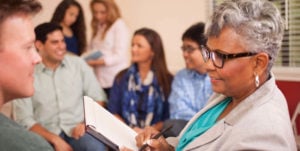 Through this online drug and alcohol counseling certificate program, you will have the opportunity to develop a better understanding of the complex issues regarding alcohol and drug addiction in society. You will also explore the effects of short- and long-term substance abuse on the individual, family, and community as well as best practices for assessing, planning, and treating those addictions.
To complete your online drug and alcohol counseling certificate, you will participate in two field placements where you will have the opportunity to apply what you have learned in professional settings.
At Post University, we strive to make your learning experience practical and meaningful. We foster an engaging online community that encourages critical thinking and real-world application of theory. Courses are taught by industry-experienced faculty who share their insights to enhance the class experience.
What Could I Do with a Certificate in Drug and Alcohol Counseling?
With coursework focused on the biology and psychopathology of addiction, you may develop an in-depth understanding of what it takes to help individuals with addictions and their families walk the long road to recovery. You could pursue this alcohol and drug counseling certificate for personal or professional edification.
While this online drug and alcohol counseling certificate is not designed to fulfill licensure requirements in an individual state, the program may be used to partially fulfill licensure requirements.
Post University assists in researching and providing information regarding licensure; however, each state has different requirements for such licensure outside of the required education. Such state requirements may include licensure exams, background checks, certain work experience, and more. It is ultimately the responsibility of each student to manage their own licensure process and to ensure that all requirements are met in order for the student to obtain licensure. Post University does not speak on behalf of any licensing board or body and does not guarantee licensure. Requirements for licensure are subject to change without notice.
The tables at the following links show whether Post University, with completion of the appropriate curriculum, does or does not fulfill the educational requirements for a specific license:
Benefits of Earning an Online Drug and Alcohol Counseling Certificate
Online grad certificate students receive support from a personal Post team focused on their academic success
Learn from experienced industry professionals
Flexible class times
Online courses use group discussion to encourage engagement and learning
Support for Your Academic Goals
Post University is here to provide the support you need to continue supporting others. From the moment you enroll, you will be assigned a personal academic advisor. They are here to answer your questions and help you succeed in your academic goals.
Get the personal support you need to continue supporting others. Contact us today to learn more about Post University's online Graduate Certificate in Alcohol and Drug Counseling program.
Get Started on Your Degree!