Graduate Certificate in Alcohol and Drug Counseling
Your Guide to a More Fulfilling Career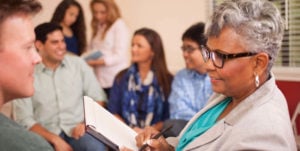 This program is offered Online.
You are an advocate for people when they need it most. You offer support and guidance to those suffering from addiction — from the individuals battling substance abuse to the families and communities in turmoil as a result. Further, extend your reach and move ahead in your career with a graduate alcohol and drug certificate from Post University. Our online counseling program allows you to advance your professional development and sharpen your clinical skills without having to put your important work on hold. You may also be able to apply these credits toward earning your professional counseling licensure.
Through your coursework, you will gain a clearer understanding of the complex issues regarding alcohol and drug addiction in society. You will learn the effects of the short and long-term use of substances on the individual, family and community and how to assess, diagnose and treat those addictions using the latest and best practices. Specific topics include:
Biology of Addiction
Theories of Alcohol & Drug Counseling
Psychopathology of Addiction
Group and Family Treatment in Addictions
To complete your studies, you will participate in two field practicums, where you will have the opportunity to apply what you've learned in professional settings.
At Post University, we strive to make your learning experience practical and meaningful. We have fostered an engaging online community that encourages critical thinking and real-world application of theory. Each course is taught by a professional faculty member, who brings years of expertise in the field into the virtual classroom.
Graduate Certificate in Alcohol and Drug Counseling
Normal Program Completion Time: 1 Year
This program is offered online.
The Certificate in Alcohol and Drug Counseling is designed to meet the educational needs of individuals interested in providing support and guidance to those suffering from addiction. Students will have an opportunity to advance their professional development, as well as sharpen their clinical skills.
| wdt_ID | Courses | Credits | Headers |
| --- | --- | --- | --- |
| 1 | GRADUATE CERTIFICATE IN ALCOHOL & DRUG COUNSELING TOTAL CREDITS | 18 crs | h |
| 2 | HSV530 Biology of Addiction | 3 crs | |
| 3 | HSV532 Theories of Alcohol & Drug Counseling | 3 crs | |
| 4 | HSV534 Psychopathology of Addiction | 3 crs | |
| 5 | HSV536 Group and Family Treatment in Addictions | 3 crs | |
| 6 | HSV593 Field Practicum I* | 3 crs | |
| 7 | HSV594 Field Practicum II* | 3 crs | |
*HSV595 and HSV596 Advanced Counseling Internship I and II can be substituted for HSV593 and HSV594.
Note: The Post University MSHSV program affords students the opportunity to take additional coursework toward licensure eligibility, but it is not a licensure program. As licensure is a professional process, it is up to each student to fully understand the licensure process as it varies from state to state and area of specialization. The faculty and staff in the MSHSV program are here to support and advise students on program requirements, but it is ultimately the responsibility of individual students to be in charge of his/her own licensure process and to make sure that all requirements are met in obtaining licensure. Post University does not speak on behalf of any licensing board or body .
The University reserves the right to change or update the curriculum at any time. The University will notify students of any changes officially through the university website.

For full course descriptions please refer to the University Catalog for the current Academic Year.
Though you will study at your pace in an online environment, you will never be alone. From the moment you enroll at Post University, you will be assigned a personal academic advisor. They are always available to answer any questions you may have and help you through any challenges you may face.
Get the personal support you need to continue supporting others. Contact us to enroll in Post University's online counseling certification today.
Students who wish to enroll in this graduate certificate program are required to have a bachelor's degree.
Currently not enrolling students from California, Colorado, Idaho, Kentucky, Mississippi, Missouri, New York, Pennsylvania.