After two years of virtual ceremonies, the 2022 Swoopy Awards returned in-person on May 3, 2022 with excitement and fanfare. The annual banquet recognizes the hard work and dedication on the fields and courts and in the classroom of our student-athletes and teams. It also honors other members of the University community who volunteer their time to support the Athletic Department and our teams.  This year also saw the addition of recognizing and honoring our esports student-athletes who were named to the ECAC Esports All-Academic for the fall 2021 semester.
While not every team and student-athlete could be honored with a Swoopy, in his opening remarks, Athletic Director Ronnie Palmer recognized each team and their successes throughout the academic year, and the resilience of each student-athlete during the last two years.
Congratulations to all the recipients of a 2022 Swoopy Award!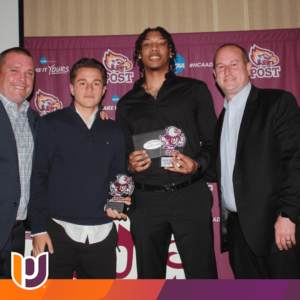 | | |
| --- | --- |
| Team of the Year Award | Men's Basketball Team |
| Top GPA for a Large Team Award | Women's Ice Hockey (3.68 team GPA) |
| Top GPA for a Small Team Award | Women's Tennis (3.78 team GPA) |
| Team Community Service Award | Men's Lacrosse |
| Male Scholar-Athlete of the Year Award | John Krapian (Men's Ice Hockey) |
| Female Scholar-Athlete of the Year Award | Jazmin Andrews (Softball) |
| Best Game Award | Men's Soccer team's CACC 2021 championship game |
| Best Moment Award | Men's Basketball team's 3-point buzzer-beather vs. Felician |
| Best Upset Award | Men's Ice Hockey team beating Southern New Hampshire University in the NE10 Playoffs |
| Male LaMoy Award | Jack Engdahl (Men's Ice Hockey) |
| Female LaMoy Award | Jazmin Andrews (Softball) |
| Rob Roman Award | Niko Grollman (Men's Ice Hockey/Men's Lacrosse) |
| Swoopa Star Award | University Pathways Program Students and Associates |
| Unsung Alum Award | Rose Varrone, Community Director – Class of 2022 |
| Male Hard Hat Award | Nicholas Meier (Men's Lacrosse) |
| Female Hard Hat Award | Allyson Wallauer (Softball) |
| Comeback Athlete Award | Brianna Koref (Softball) |
| Carmody Award | Mike "Big Mike" Chisholm, Director of Equipment Operations/Assistant Contest Manager |
| Best Dressed Coach Award | Ashlee Phillips, Assistant Women's Basketball Coach |
| Male Rookie of the Year | Ethan Phillips (Men's Golf) |
| Female Rookie of the Year | Alyssa Hebb (Women's Soccer) |
| Coach of the Year Award | Marc Kuntz, Head Men's Basketball Coach |
| Male Athlete of the Year | Devonte McCall (Men's Basketball) and Sergio Diaz (Men's Soccer) |
| Female Athlete of the Year | Annunciata De-Souza (Women's Tennis) |
| Ultimate Swoopy | Men's Golf Team |
| ECAC Esports All-Academic Honors | Esports All-Academic Fall 2021 student-athletes |