Celebrating the Women of Post
This year, Post University is commemorating our 130th anniversary. As part of our celebration, in March we are highlighting the Women of Post. Learn about who influenced them and their favorite 'Post memory." Our profiles include current students who are excelling as well as women from our past, who may no longer with us, but whose efforts made significant contributions to the University.
By sharing these stories, we acknowledge and celebrate the women at the University. Each one is unique, but together they tell a larger tale about the University.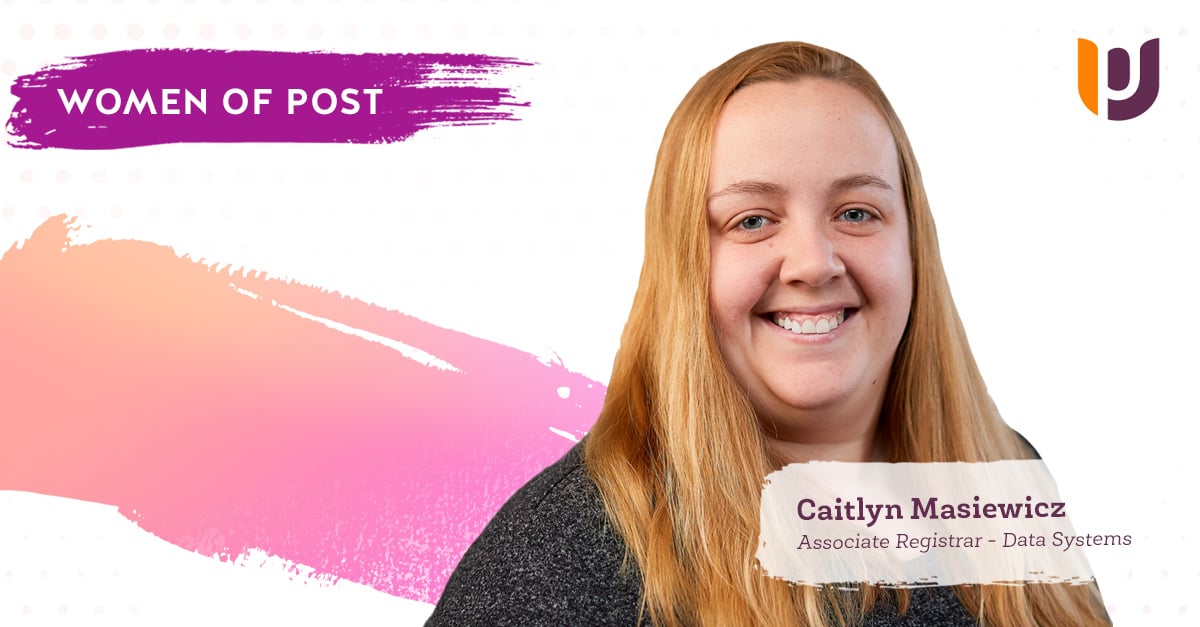 Caitlyn Masiewicz
Associate Registrar – Data Systems
Kathy Walker, MPA
Reporting and Insights Analyst 
Stephanie Caban
Chief of Staff, Office of the Deans
Elisa Murphy
Director of Associate Experience Services
Lauren Gelati
Academic Success Counselor
Megan Lucia
Assistant Dean for Academic Success
Christina Billings
Associate Director of Career Services, Employer Relations
2020 Women's Basketball Team
Stephanie Payzant
Director of Instructional Design
Alicia Garfield
Undergraduate Marketing Program Chair
Karin Mann
Senior Associate Director of Athletics
Sandra Wilson
Program Chair, Criminal Justice
Jeanna Sinn
Vice President of Admissions
Jennifer Labate
Title IX and Disability Coordinator
Abigail Nemec
Director of Programs, Program Chair for Equine Studies, School of Arts and Sciences
Elsa Jones
Program Chair of Early Childhood Education and Assistant Professor
Alisa Hunt
Director of Graduate Studies in the Malcolm Baldrige School of Business
Tanya Pistawka
Associate Experience Team – Director of Associate Learning
Victoria Meehan
Director of Main Campus Admissions
Katherine Mills
Head Coach Women's Lacrosse
Joan Huwiler
Director of Communications
Bridget Muniz
Head Trainer

"My mom is my hero and role model. Her giving nature, strength and perseverance is a source of inspiration."
Alicia Garfield, Undergraduate Marketing Program Chair

"Through all of the years, what inspires me is the dedication our associates feel towards our students and helping them change their lives."
Elaine Neely, Chief Regulatory Officer

"I have many people to thank who helped me along the way and who continue to help and support me."
Stephanie Payzant, Director of Instructional Design