Master of Science in Nursing (8 Specializations)

​
Pursue Your Master of Science in Nursing Online!
With the online Master of Science in Nursing (MSN) at American Sentinel College of Nursing & Health Sciences at Post University, you could pursue your degree goals while continuing to provide quality patient care. In addition to the convenience of online courses, this flexible Master of Science in Nursing program offers several specializations to tailor your degree to your future goals in areas of nursing education, leadership and management, infection prevention and control, case management, informatics, and advanced practice nursing. Plus, practice experiences are built into the courses for the opportunity to apply online class learnings to real-world situations.
Commission on Collegiate Nursing Education (CCNE) Programmatic Accreditation
The baccalaureate degree program in nursing and master's degree program in nursing at Post University is accredited by the Commission on Collegiate Nursing Education, 655 K Street NW, Suite 750, Washington, DC 20001, 202.887.6791.
The Master of Science in Nursing Online Program at a Glance

Flexible Online Classes

Monthly Start Dates

36-54 Credit Hours

3 Nurse Practitioner (NP) Specializations


5 Non-NP Specializations
Practice-Focused Curriculum for Real-World Skills
The curriculum for this program is grounded in advanced nursing concepts for improving healthcare, creating quality patient outcomes, and fostering strategic change in the healthcare delivery system. Online coursework provides learning opportunities to gain practical insights into evidence-based practice, quality improvement, nursing informatics, and patient safety.
Plus, our nursing courses are designed and taught by nursing professionals with the knowledge and experience needed to provide an effective understanding of course material and the healthcare industry overall.
MS in Nursing Specializations
Once you complete the core coursework covering leadership, contemporary healthcare issues, improving healthcare practices for better patient outcomes, and more, you will customize your degree to your future goals with one of these relevant specializations:
Online MSN Degree Learning Flexibility
At Post University, we offer the traditional term-based learning modality for each of our online MSN specializations, including the three nurse practitioner specializations. In addition, we offer the competency-based SIMPath® learning modality for those who choose to pursue one of our non-NP Master of Science in Nursing online programs.
Term Based (All Specializations)
100% online classes
8-week terms
Monthly class start dates
Consistent due dates
Take one class at a time
SIMPath® (Non-NP Specializations Only)
100% online classes
16-week semesters
Monthly class start dates
Self-paced format
Complete as many classes as you can*
* Start with two classes. Add in more as your schedule allows. You can register for additional classes up to the 13th week. Unfinished courses will need to be repeated.
State Authorization, Licensure, and Disclosures
While the Master of Science in Nursing (Adult Gerontology Primary Care Nurse Practitioner, Family Nurse Practitioner, and Psychiatric Mental Health Nurse Practitioner specializations) is not designed to fulfill licensure requirements in an individual state, the program may be used to partially fulfill licensure requirements.
Post University assists in researching and providing information regarding licensure; however, each state has different requirements for such licensure outside of the required education. Such state requirements may include licensure exams, background checks, certain work experience, and more. It is ultimately the responsibility of each student to manage their own licensure process and to ensure that all requirements are met in order for the student to obtain licensure. Post University does not speak on behalf of any licensing board or body and does not guarantee licensure. Requirements for licensure are subject to change without notice.
The table at the following link shows whether Post University, with completion of the appropriate curriculum, does or does not fulfill the educational requirements for a specific license:
Curriculum, Course Descriptions, & Program Outcomes
Please see the
University Catalog
for the online MSN program's full curriculum with course descriptions and program outcomes.
MSN Online Admissions Requirements
View the full list of the Nursing Admissions Requirements
Our admissions team is available to walk you through the application process and answer any questions on the online MSN degree program requirements. Contact us to learn more!
Tuition & Payment Options
View the Tuition and Fees section for information on the online MSN degree program costs.
We offer several funding options as you pursue your education. Please see the Scholarships and Other Ways to Save section to learn more about our:
External Scholarships
Nursing Tuition Reductions
Education Partnership Program Tuition Reduction
Post Eagle Program (Military)
Payment Plans
And more!
Also the Nurse Faculty Loan Program (NFLP) is now available to qualified MSN – Nursing Education Specialization or DNP – Educational Leadership Specialization students at the American Sentinel College of Nursing & Health Sciences at Post University. The purpose of this program is to increase the number of qualified nursing faculty nationwide. NFLP seeks to accomplish this by providing funding to accredited schools of nursing to establish and operate a student loan fund and provide loans to students enrolled in advanced education nursing degree programs who are committed to becoming nurse faculty. In exchange for completion of up to four years of post-graduation full-time nurse faculty employment in an accredited school of nursing, the program authorizes the cancellation of up to 85 percent of the original student loan amount (plus interest thereon). If you are interested in learning more and applying for this exciting opportunity, email [email protected].
This program is not currently eligible for Title IV funding for new enrollments.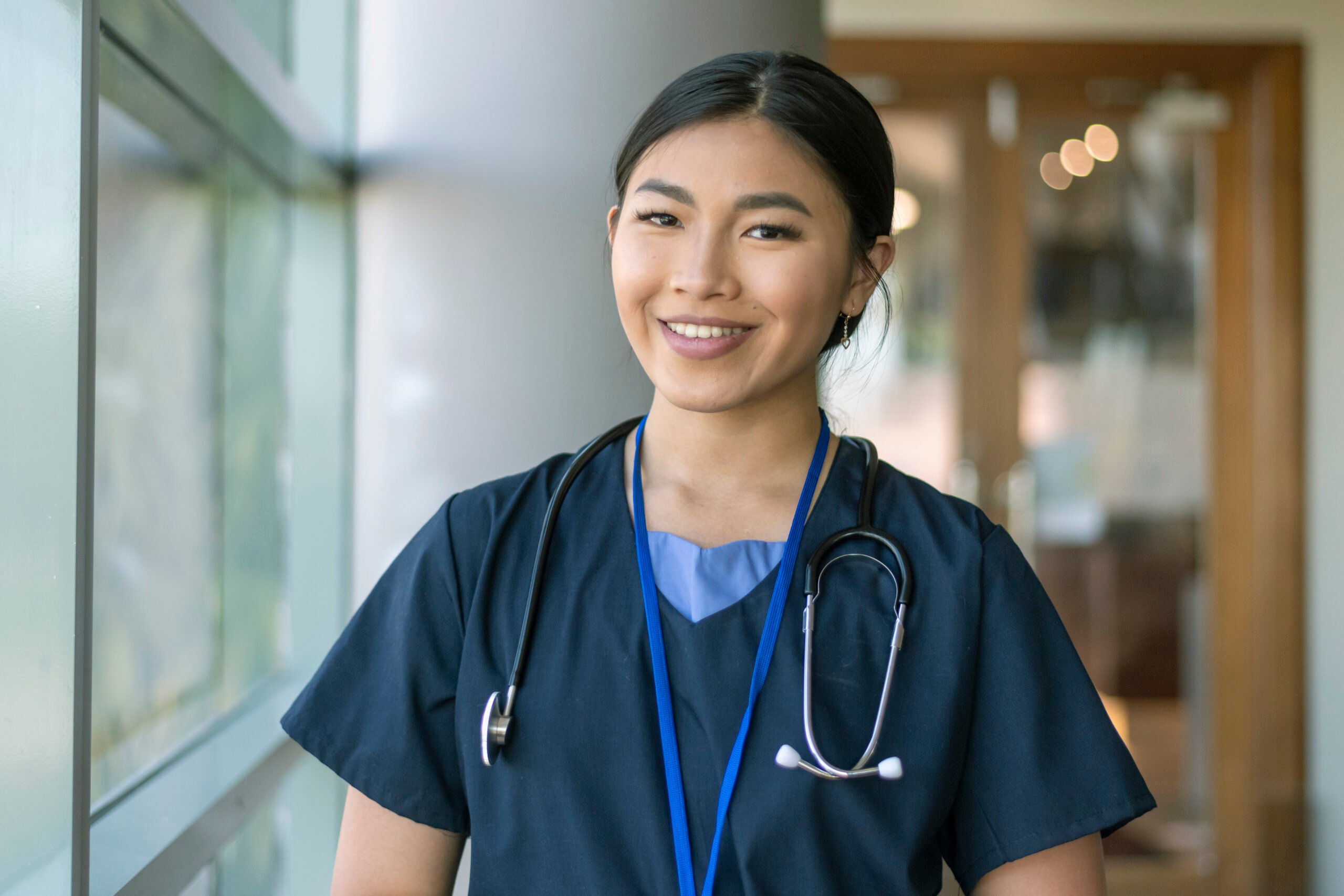 What Our Students Are Saying
The first assignment in her Post University Master's Degree course inspired Ash Lee Hicks – a practicing nurse with over a decade of experience – to tackle a big community health issue. Now, she is impacting lives across the state of Arkansas, heading toward her ultimate career goal of teaching the nurses of tomorrow, and showing her four children how education is the tool to overcome anything.
Watch the video to learn more about Ash Lee's amazing story.
Pursue Your MSN Program Online at Post!
At Post University, we are committed to your success. From day one, a student success advisor will be there to answer your questions and guide you from registration to graduation day for your Master of Science in Nursing online program. As you work toward fulfilling your degree dreams and building the skills to achieve your goals, we will be with you every step of the way.
Ready to make a difference for your patients and your future? Contact us to learn more about an online MSN degree with eight career-relevant specializations to choose from.
This program is not currently eligible for Title IV funding for new enrollments.